The first thing most people do, and you are probably guilty of this, is go online for solutions to all problems. Which is why, it is not very surprising that when you lose some of the photos on your SD card, your first solution may be finding a free online photo recovery sd card method. There are lots of reasons why most people will choose an online solution. First of all, they are quick and easy and many of them are even reliable. At the same time, most people don't like the idea of installing a program on their computer just to recover a few missing photos. In this article, we are going to analyze whether or not it is a great idea to use online photo recovery tools and give you a far better alternative.
Part 1. How to Perform Free Online Photo Recovery from SD Card
The following is a simple way to recover photo from a SD card using an online recovery tool. We are using Office recovery to do this but the process should relatively be the same regardless of the data recovery tool you use.
Step-by-Step Guide to Do Free Online Phone Recovery from SD Card
Step 1. Navigate to the online recovery tool website https://online.officerecovery.com/recover-corrupted-photo-file-online/ on a browser on your computer. You should also ensure that you have connected the Micro SD card you wish to recover the photos from. Click on "Choose File" and the browse your computer for the file you wish to repair and recover and then click on "Secure Upload and Repair".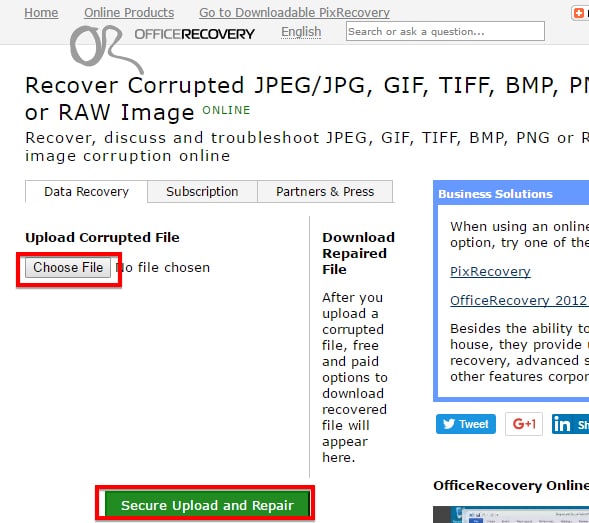 Step 2. The tool will immediately begin repairing the file. You can click on "Cancel and Reset" anytime to stop the process.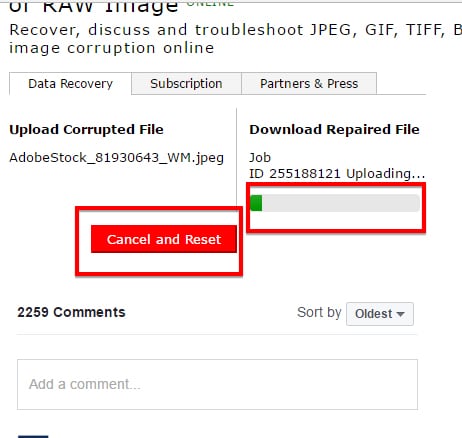 Part 2. Why It is not Recommend to Use Free Online Tool to Recover Photo from SD Card?
As you can already guess, there are various problems with using an online tool such as the one above to recover your deleted photos. Let's take a look at some of the most prominent ones.
1. Not all photos were recovered
We extensively tested the free online tool and while some photos were successfully repaired, most of them were not. And what is peculiar, is that a lot of users of this program complained of the same problem. It is therefore a less than ideal way for you to recover your missing photos especially if you want to recover more than one image.
2. Can only recover one image at a time
This is another major disadvantage of using this online tool to recover your missing photos. It could take well over a whole day to recover all your images if you can only upload one image at a time. This is a major problem and even if the upload and repair speed for one image is significantly fast, you would still take a very long time to recover say 10 or 20 images and we know you have better use for your time.
3. It can be expensive
Unless you want to share a link of the site on social media every time you upload a photo, the overall cost depending on the number of images you want to repair and recover can be astronomical. If you pay $9.99 for an image, this would translate to about $100 for 10 images. There are definitely more effective and efficient data recover programs that will recover even 1000 images at just a fraction of that price.
Therefore, while the online recovery tool may work if you need to only recover one or two images, it is unrealistic to use it if you have a heavy data recovery need. But don't' worry! The next section will help you with that particular problem.
Part 3. The Best Method to Do Photo Recovery from SD Card
As we have already seen it is unrealistic to use the above data recovery method to recover images from an SD card. Not only is it not completely effective, the overall cost in terms of both time and money can be very high. For this reason, you need a data recovery tool that will not only ensure that you actually recover the missing photos but that you do so in a manner that will not waste your time and money. This data recovery tool is none other than iSkysoft Data Recovery for Mac (or iSkysoft Data Recovery for Windows) and while you will have to install it on your computer to use, the benefits far outweigh this minor inconvenience.
Why Choose This Online Photo Recovery Alternative Method: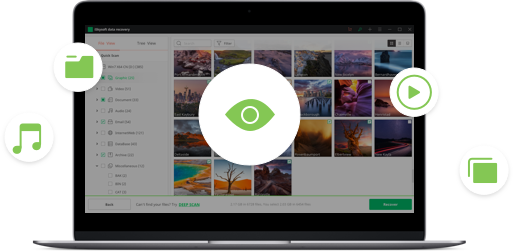 It is very easy to use. A three step process ensures that you are able to recover all of your missing photos regardless of how many they are.
It is fast and effective meaning that you will not need to spend more time than is necessary recovering the photos.
Because of the fact that you can use it to recover all types of data from all types of drives, it is a worthy investment. You never know when you may lose some of the data on any of your drives
It can be used to recover the photos regardless of how they were lost in the first place. It works whether the data was lost due to accidental deletion or for another reason.
It is compatible with all versions of Mac OS X including macOS Sierra and supports all types of drives
Step-by-Step Guide to Use Alternative Method to Online Photo Recovery from SD Card
The following is a step by step guide to help you recover photos from your SD card using Recoverit (IS) for Mac. Begin by first of all installing the program on your Mac computer and then follow these very simple steps. It should go without saying that since we want to recover data from an SD card, you may want to connect the SD card in question to your computer. Once this is done, follow these simple steps to get your data back.
Step 1. Launch the program and from the main menu select "Photo" tab from the 6 file type options in main window. Then you can click on "Next" button to go on.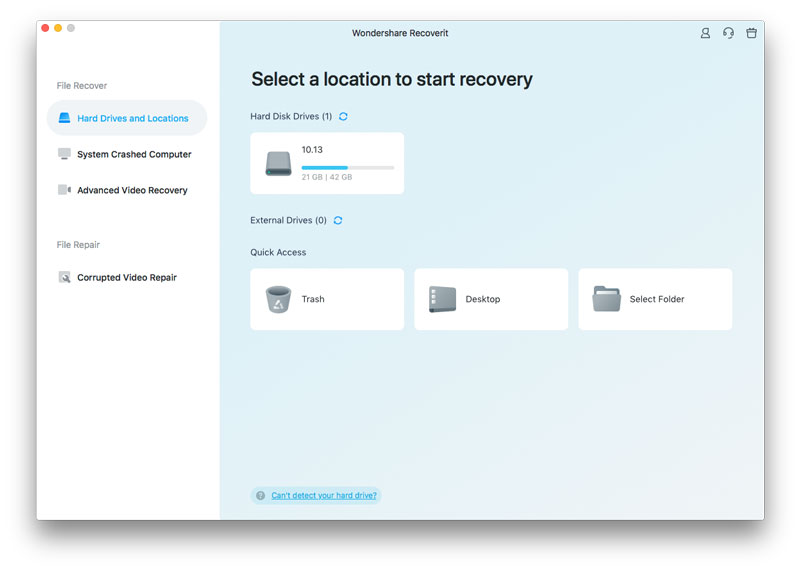 Step 2. In the next window, select the drive you want to recover the photos from (in this case the SD Card). If you don't see it, simply click on "Refresh" icon to coax it out of hiding. In this same window, you can click on "Start" to officially begin the recovery process.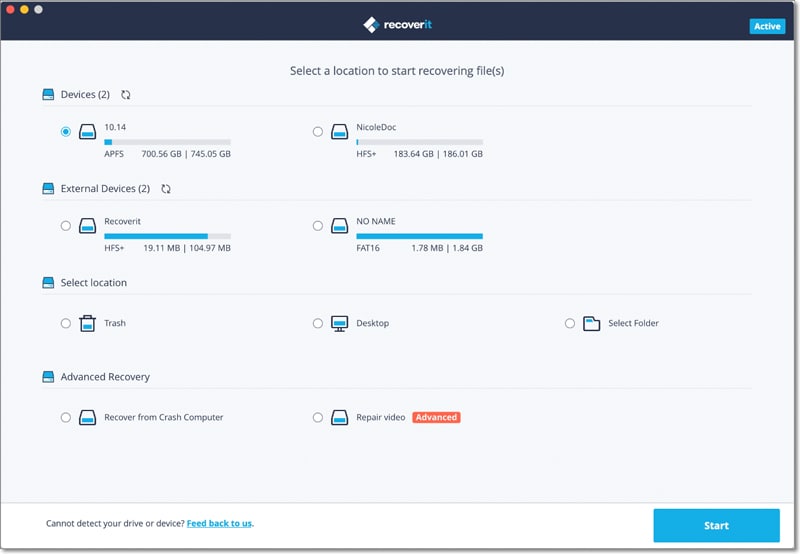 Step 3. Once the scan is complete, you will see all of the recoverable photos in the next window. Select the ones you wish to recover and the click on "Recover" to save them on to a separate drive.