Is there any easy tool I can use to split MP3 file online?
For many reasons, you might wish to split an MP3 file into two or more parts, then you need a professional yet easy-to-use MP3 Splitter as your personal assistant.
But the problem is...
...that it is hard to pick up a reliable MP3 trimmer and splitter on the Internet. And sometimes, you even feel hard to make a decision between online MP3 splitting software and desktop application.
So,
This post is here to list the top 10 MP3 Splitter online program and an alternative desktop software for your reference. You can compare their features, interface and pros, then decide which one is more suitable for your own needs.
[Bonus] If you're more interested in the MP3 splitter and joiner for Windows and Mac, please read this post - How to pick up the proper MP3 Splitter by yourself.
Now, let's get started...
Part 1: 10 Advanced Online MP3 Splitter You Can't Miss
This web based online splitter supports audio formats such as; M4A, OGG, WAVMP3, MKA, and AAC. Other than that, this online tool can also convert and merge audio files.
Pros:
• It supports several audio formats.
• You can save files to Google Drive storage.
Cons:
• The file size limit is 200MB.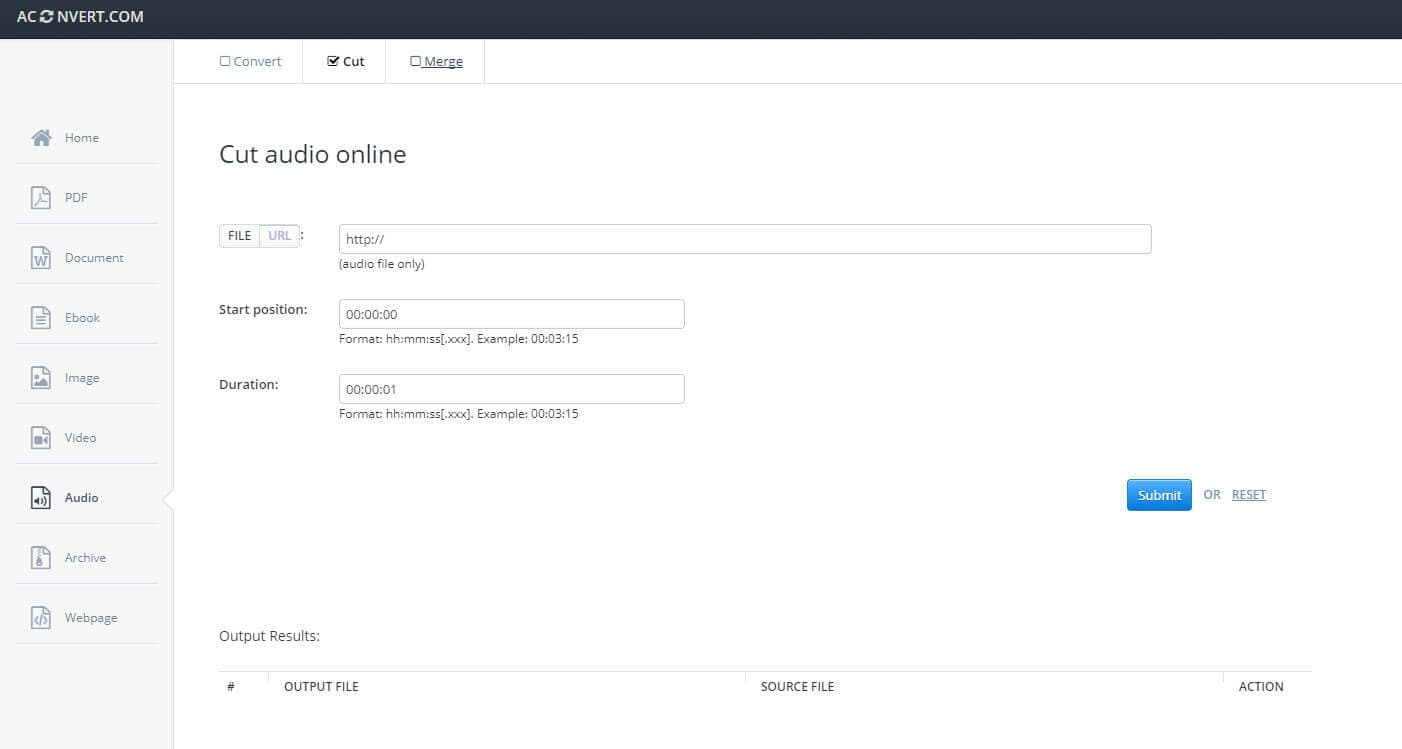 How to Split MP3 with AConvernt Online MP3 Splitter:
Step 1. Open from your browser the Cut Audio online platform at https://www.aconvert.com/audio/split/.
Step 2. Double click on the link "FILE" for an in stored MP3 audio file or "URL" for an online audio file and then on what subtends click on "choose file" then upload the intended file from your computer or the URL for the online audio file.
Step 3. Select the part you want to cut by entering the start and end point.
Step 4. Click on the submit button to start. "Results output" contains the final output.
---
Besides the primary function of splitting audios, Toolur enables the users to convert MP3, create ringtones, cut ringtones and convert video to audio formats. On this platform, you will also get a GIF maker, image resizer, word counter and image compressor among others.
Pros:
• It enables you to edit audio's volume and pitch.
• You can fade in and fade out audios.
Cons:
• Supports only up to 300mb file size to be uploaded.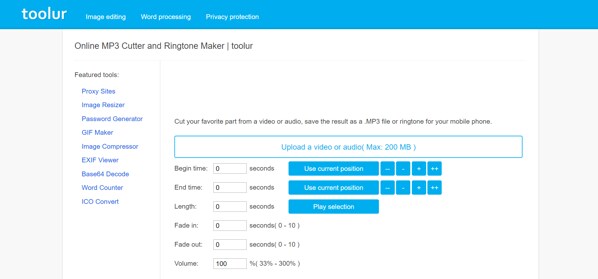 How to Split MP3 Files with Toolur:
Step 1. On your browser visit http://mp3cutter.toolur.com/.
Step 2. Click on "Upload audio" and then upload the MP3 audio you want to split.
Step 3. Input the times for starting and ending the process in the slots provided.
Step 4. After that, click on "cut now" Button.
---
With Bear Audio online tool, you can cut and delete audio, fade in, fade out, mute audio and adjust volume. One can also import audio files from sites like YouTube. This tool also has advanced options like "undo" and "redo" which gives the user the best experience when using.
Pros:
• It supports different export formats.
• It has several editing features compared to other listed tools.
Cons:
• It supports limited input formats.

How to Split MP3 using Bear Audio Cutting Tool:
Step 1. Open Bear Audio cutting tool on your browser.
Step 2. Go to click on "Import audio from" and upload the MP3 file that you want to split.
Step 3. From there, click on "Cut" button and then enter then enter the start point and the insert the length desired and cut.
Step 4. Click the "save" icon to save the edited audio file.
---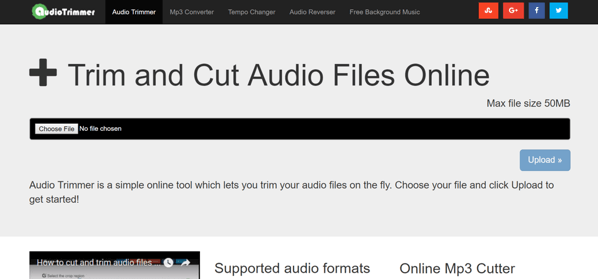 This another online splitter that lets you upload audio files and trim them on the go. What is more exciting about this online tool is that it supports various audio formats like MP3, WAV, 3GPP, AIF, M4R, and WMA.
Pros:
• Easy to use, it does not involve numerous steps.
• It also a ringtone cutter.
Cons:
• The maximum file size that one can upload is 100MB.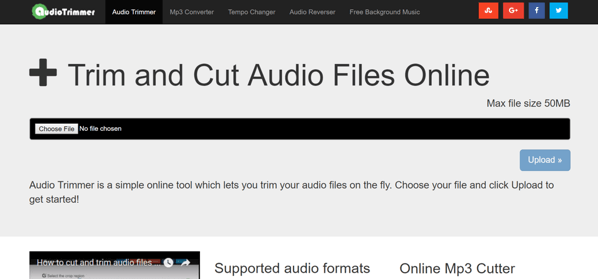 How to Split MP3 with Audio trimmer:
Step 1. Open its online platform from your browser via, https://audiotrimmer.com/.
Step 2. Select the MP3 audio file you want to trim from the storage of your PC.
Step 3. Now enter the seconds that you want to crop.
Step 4. After that you can click on "crop" Button.
---
This is a free online application which supports more than 300 file formats and enables the user to cut audio files, create ringtones, facilitates fade out and fade in features.
Pros:
• There is an automatic deletion of data after editing from the server, therefore, guaranteed security.
• It supports a variety of file formats.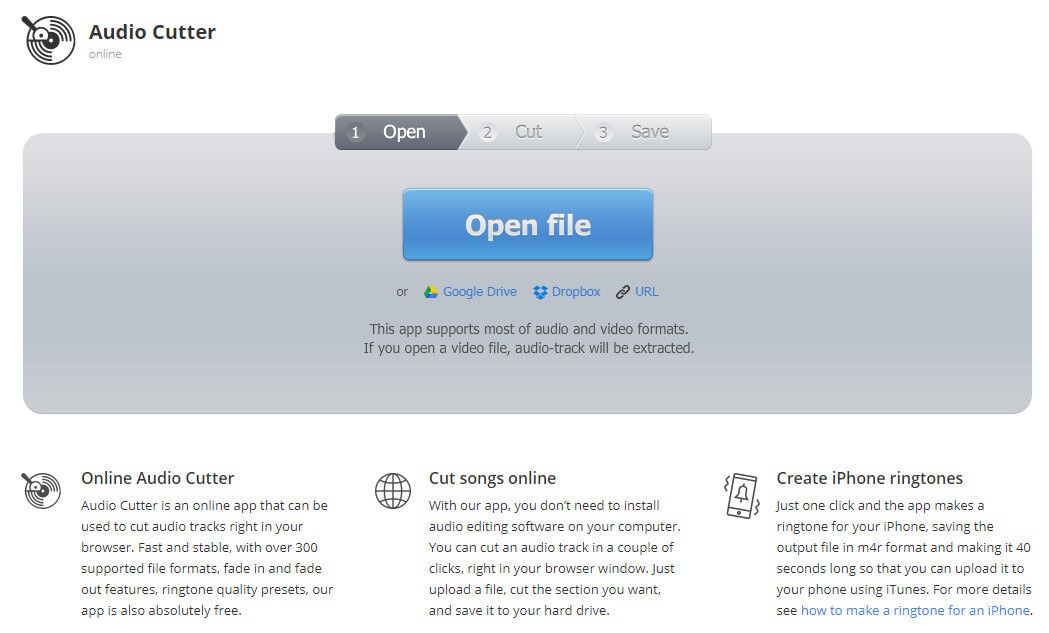 How to Split MP3 using Audio Cutter:
Step 1. From your browser open the audio cutter web page using https://mp3cut.net/.
Step 2. Open the audio file you want to edit from the storage of your PC by clicking the "open" icon.
Step 3. Choose the section you want to cut using the mouse cursor to move sliders.
Step 4. Select the format you want your final edited work to be.
Step 5. Press the "cut" icon and "Download" the files to your computer.
---
Part 2: How to Split MP3 Files using Filmora Video Editor?
Filmora Video Editor offers the best option for video editing for desktop versions like Mac and Windows. Moreover, it simplifies complex audio and video editing procedures owing it to its easy to use editing features. With Filmora Video Editor users can readily upload share the finished to platforms like YouTube, Vimeo and Facebook. A need may arise where one wants to split an mp3 file into manageable fragments. This software can be used to divide or cut out unwanted segments of a video. Furthermore, it is built with powerful features highlighted below.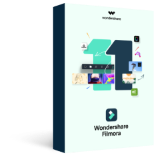 Best video editing software for beginner and semi-professional, that comes with powerful editing skills like trimming, splitting, rotating, editing, etc.
Advanced video effects like green screen, PIP, audio mixer, etc. can also be found and applied to your video within few clicks.
500+ free special video effects to customize and create an awesome movie by yourself.
1000+ standalone effects downloading resources to make videos in all kinds of styles.
Export videos to Chromebooks compatible format with 1 simple click.
Steps on Splitting MP3 Files on PC or Mac
Step 1. Import MP3 files
Begin by opening uploading MP3 files to the program. Click on "Import" button and then click on "Import Files" browse the MP3 file and open with program. This program also supports drag and drop options thus you can use that to upload files to the program.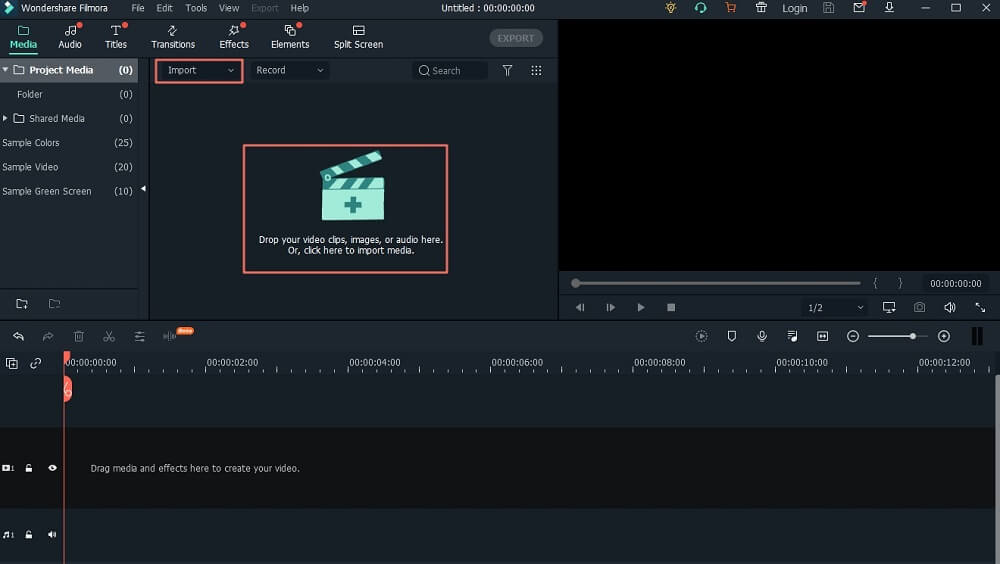 Step 2. Split MP3 files
Move the MP3 file to the music timeline below to start editing it. Drag the time indicator to the point where you want to carry out the split operation. Now, click on split icon and the program will split the files. Alternatively, you can right click and click on "Split Audio" to split the MP3.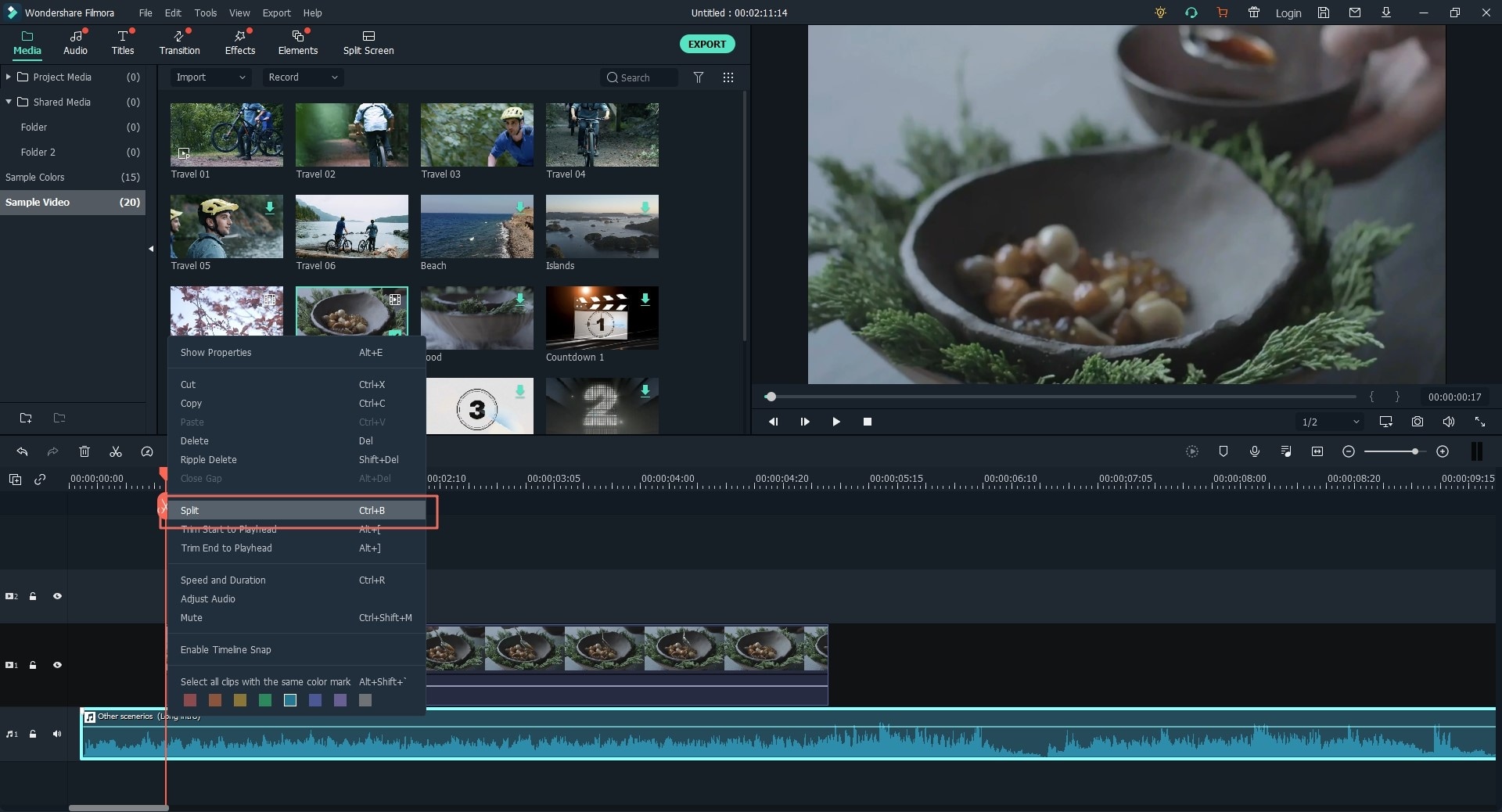 Step 3. Export the final edited file
After splitting the file, it is now time to save the file. By clicking on the "Export" button, it gives the user option to export the file in MP3 format under "Format" tab. Save your file as desired and click on "Export" button.
Note: You can directly choose to burn the MP3 file to DVD as you like.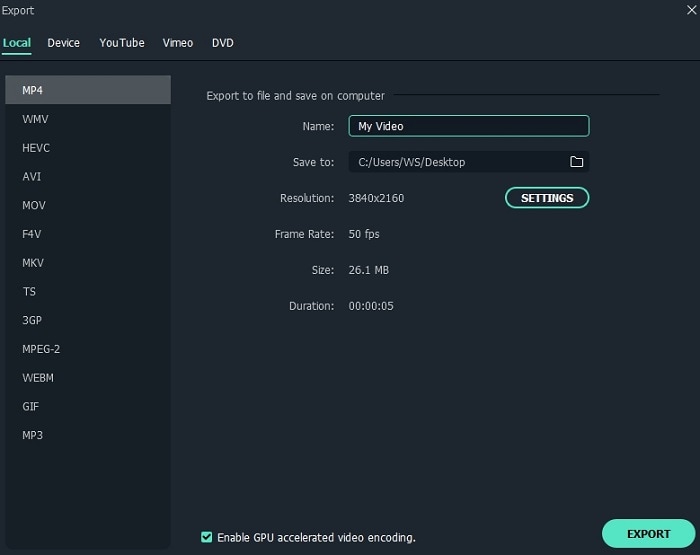 Splitting Files with online tools might be easy but it has some limitations thus you need to use Filmora Video Editor. This program is a fully featured video and editor that you can ever have.