How to find deleted videos can be quite a tedious question. It is especially problematic when the data is something as heavy and possibly irreplaceable as a video file. We've all been in frustrating situations where our data has been accidentally deleted (sometimes even intentionally), and we find ourselves wondering how on earth to get it back. Data loss may have occurred due to a power outage, your hard drive crashing, or even theft and hacking. Whatever the reason, we are here to reassure you that the video can be found again. There are plenty of software to choose from (available online and in any computer store) that can find and recover your videos for you. If these don't work, you can also hire an online professional who can skilfully replace your video.
Part 1. How to Find Deleted Videos from Mac and Windows
There is one especially excellent software that is a great help with recovering lost or missing data files. iSkysoft Data Recovery for Mac (or iSkysoft Data Recovery for Windows). Recoverit (IS) is very user-friendly: this means you can use it at home without any assistance. The interface, along with its Scan, Preview and Recover features make your data recovery quick and efficient.
Why Choose This Software to Find Deleted Videos:
You can restore images, videos (of course), documents, archives and emails from all sorts of devices (including your Mac computer, memory cards, or even cameras).
It has flexible settings, you can pause and resume scan progress anytime you want.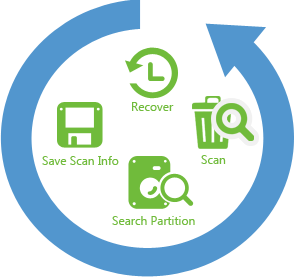 It use file filters and folder trees, scan specific file types only, distinguish between files using the Validity attribute, or even recover files via original file folders and names.
It is 100% risk-free.
Step-by-Step Guide to Find Deleted Videos
Step 1. Download Recoverit (IS) and install it on your Mac computer. Run the program. You will be greeted with the following window. Click on the file types that you want to recover and then click "Next".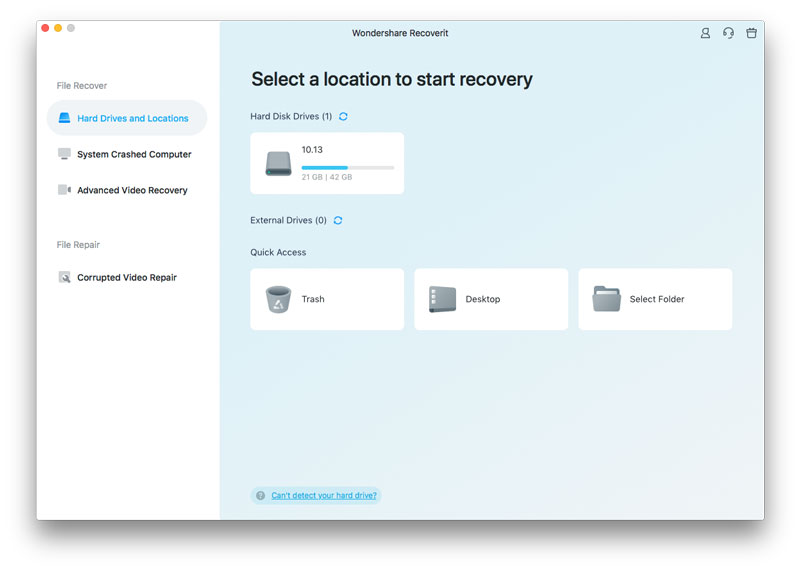 Step 2. A window will appear, displaying all the drives and devices that have been found on your system. Click on the drive you lost the file from, then click "Start". If your drive is not listed, click on the refresh icon. It should come up.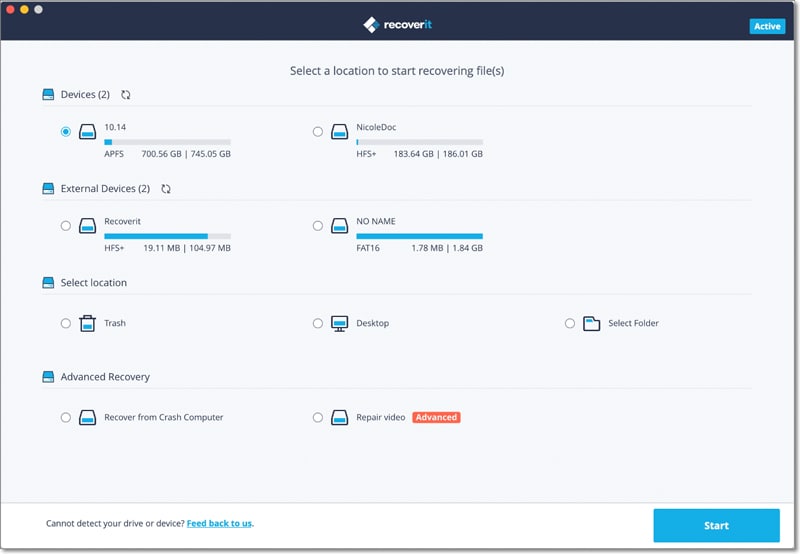 Step 3. Once scanning is complete, a list of all found files will be displayed – this is the Preview feature where you get to take a look at all files. You can use the filter option to view videos only. Once you have located your file, click on it, then click "Recover". Choose a destination path other than the one you lost the file from. And your video will be restored!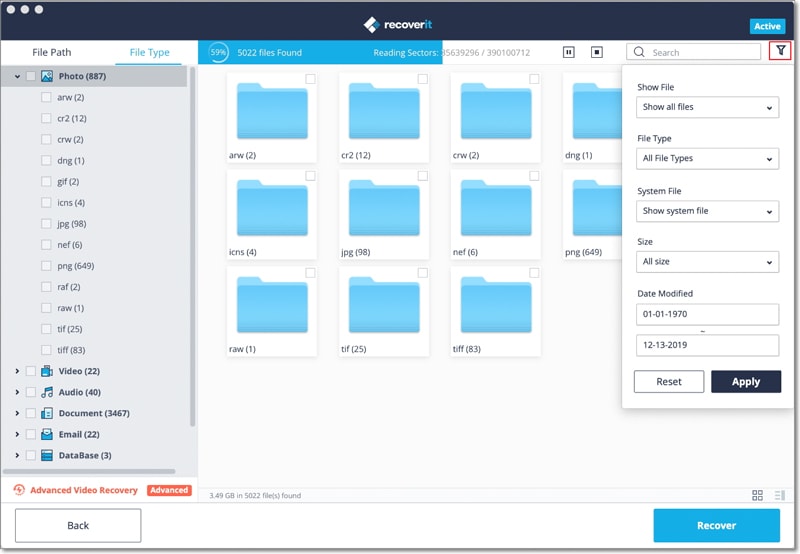 Part 2. How to Find Deleted Videos on Facebook
How do you recover videos that may have been accidentally deleted from your Facebook account? Facebook is a mega-famous social media site that seems to be growing stronger with each passing day. What with all the additional users, it doesn't look like it is disappearing anytime soon. Users of Facebook may accidentally deleted their videos, but there really isn't much to worry about. Deleted files can be recovered from your Facebook account. Here is a step-by-step guide on how to go about recovering accidentally deleted videos, pictures, or messages from your Facebook account.
Step-by-Step Guide to Find Deleted Videos on Facebook
Step 1. Log into your Facebook account. Click on the arrow at the top right corner of your Facebook home page, and click on "Settings".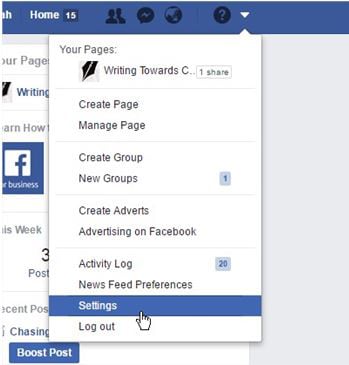 Step 2. Go to General Account Settings. Click on "Download a copy" of your Facebook data. Click on "Start my archive".

Step 3. Again, click on "Start My Archive" in the pop-up window. You will be greeted with the following message. And hey presto, you will receive an email with an archive attached, containing all your video files, messages and pictures. You can simply unzip that file, and gain access to all the videos, Pokes, and various Facebook data you have accumulated over the years. Think of it as a backup!