Gmail is one of the most widely used email client in the world. People use it for their personal use and they also use it for their work related emails and data transfers. Its powerful tools like document, PowerPoint and excel editing, make it quite popular. Sometimes, people can lose their important emails from Google if they aren't too careful about the buttons they press. On a number of occasions people can delete some emails only to find out that they need them on a later date. If you have been looking for ways on how to recover deleted emails from Gmail, we have got you covered.
Part 1. How to Recover Deleted Emails from Gmail in Different Situation
If you own a business or love saving important information on emails or online, it is highly recommended that you get the iSkysoft Data Recovery for Mac (or iSkysoft Data Recovery for Windows). It is available for download for both Mac and windows. It has versatile usage and can be used to recover deleted emails, documents, images or audio clips. This software has a user friendly interface and doesn't take long to install.
Why Choose This Deleted Gmail Email Recovery Software:
It is an easy to use software which supports to easily recover videos, photos, music, emails, archives, folders, etc.
It supports to recover data from Mac hard drive, external hard drive, SSD, SD card, digital cameras, etc.
You can preview the recoverable data before you go to get them back.
For your convenience, you can pause and save the recovery process and resume it the next time.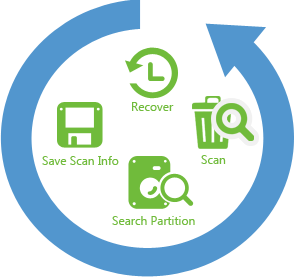 Step-by-Step Guide to Recover Deleted Emails from Gmail
Step 1. The first step is to get the software. You can download the software for Mac online. Once you have downloaded it, you will be able to see the following dialog box with 4 options. The strongest and most widely used options is the "Lost Data Recovery" option. You can use this option to recover all kinds of data that is lost. From images to audio clips to even PowerPoint presentations, all of it can be recovered if you use the software.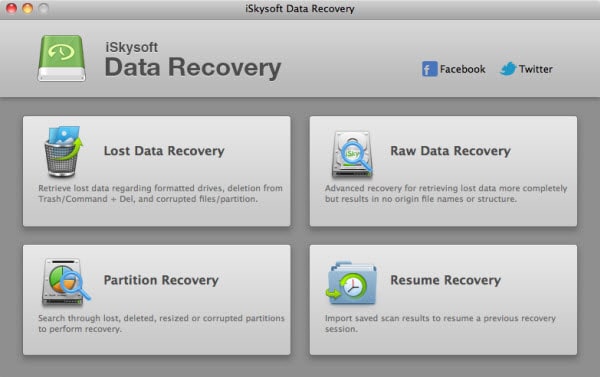 Step 2. Once you click on the data recovery Mode, all of the drives that you can recover data from will become visible to you. If you cannot find the drive that you want to recover data from, you can click on "Refresh Drives". All the drives that are available to you should be visible now. You then need to "Scan" the drive that you want to recover data from.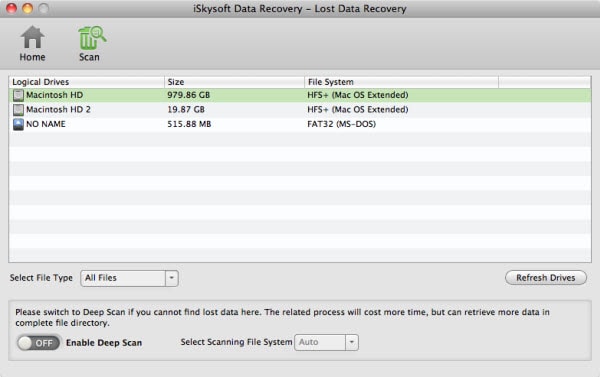 Step 3. Sometimes when you are scanning the files it is highly possible that all of the files do not show up, you can then use the "Deep Scan" option, which enables users to see just about every file available for users to recover from. When the scanning completes, you can preview the recoverable data at first, then select your deleted emails and click "Recover" button to get them back.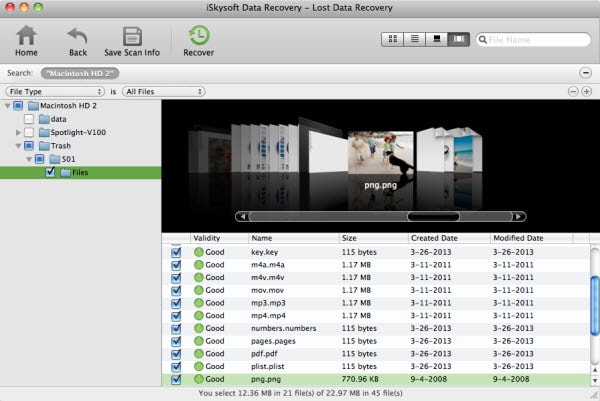 To make the Lost Data Recovery mode more effective, here are certain tips that you should follow:
• If you are aware of the kind of file that you need to recover, you can narrow your list of scanned items by filtering them using the type of file that you are looking for. Let's suppose you are looking for a video file, you can filter the scanned results so that only the video files appear in the results after scanning.
• If you use Deep Scan on drives that you have formatted, you can recover all kinds of files from that drive.
• If you want to save the results you got after scanning, you can save them by clicking on the "Save Scan Info" option present on the top.
• You can preview the files before you recover them, this gives you a chance to make sure that you are recovering the right files.
• There is a validity button that lets you know whether a file can be recovered and restored to its original state or not.
Part 2. How to Recover Deleted Emails from Gmail Account
There is a very simple procedure on how to recover deleted emails from gmail.
Step 1. You need to open the following link in your browser: https://support.google.com/mail/contact/missingemails. You need to fill up the form with the correct information. Just make sure that the email id mentioned on the form is correct.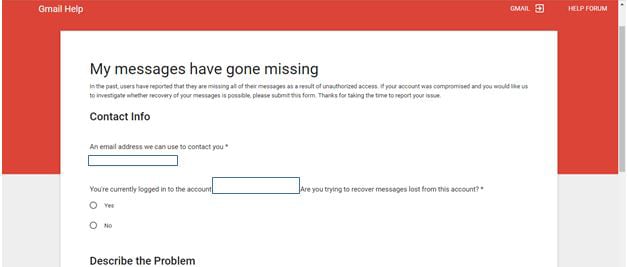 Step 2. You need to mention the date that you want to recover the data from and the exact problem that you have faced. Once you have added all of the required info, you just need to press on submit and wait for Gmail to recover your emails from their servers.