Contents
2. Recover iPhone Files

6. Recover iPhone Voiceamail
One of the main features that distinguish iPhones from regular phones, among many others, is the fact that you can access the voice mail in a stylish way. These phones tend to keep all your important data, including the voice mail in a safe place, which is really useful, of course. However, even the iPhones aren't error-proof and at some point they do tend to break, which is really unfortunate. Recovering your voicemail from your phone can be a nightmare in this regard, but thankfully, with the help of some great applications or recovery techniques you can easily get the voicemail back, even if you have a backup or not, although in the latter case that can be a little harder to perform.
Part 1: How to Retrieve Voicemail Directly from iPhone
There are lots of situations in which you just want to make sure that your iPhone data is kept as safe as possible, far from any intruders. However, you might also lose this data from time to time as a result of crashes for example. Sometimes your phone will malfunctions and this can lead to numerous problems, but fortunately you have the iSkysoft iPhone Data Recovery to help you in this regard.
With the help of this particular application you can easily recover all the necessary items you want, be it contacts or voicemail, and it's very important to use it whenever you want without hassle. iSkysoft iPhone Data Recovery brings numerous features that you can enjoy whenever you ned a fast and reliable conversion.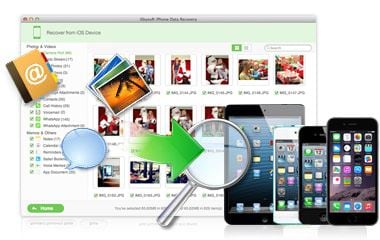 Retrieve Deleted Voicemail from iPhone with One Click
Anyone can handle it to recover data from their iPhone SE/6s(Plus)/6(Plus)/5c/5s/5/4s/4/3GS.
2 Recovery Modes: Allows to recover data directly from iPhone and extract iTunes backup files.
Up to 12 File Types: Recover lost text messages, MMS messages, iMessages, contacts, photos, videos, notes, etc.
Various Data Loss: Retrieve data lost for deletion, factory settings restore, jailbreak failure, iPhone lost or broken, etc.
Preview: Lets you read and preview found data before recovery.
Flexible Recovery: Selectively recover any item you want from iPhone and iTunes backup files.
Step 1. First of all you need to open the iSkysoft iPhone Data Recovery application. You then need to select the option that allows you to "Recover from iOS Device".
Step 2. Connect your phone and then press the "Start Scan" button. This will allow you to check your phone for recoverable voicemail. Wait until the process is completed, but be aware that this might take a while, depending on the amount of data you have on your iPhone.
Step 3. Once the process is completed, you will be presented with a preview of the files that can be downloaded and processed. Be aware that you have a category set to choose from and all of them are very easy to access. You will need to go to the voicemail category. Then choose the item you want and "Recover" it.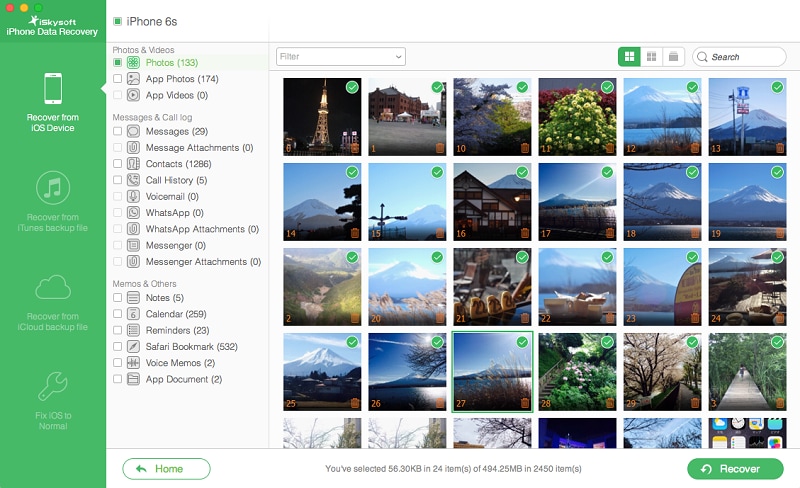 Part 2: How to Retrieve Voicemails from iTunes Backup
Creating an iTunes backup for your phone is very easy to do when you connect it to the popular software, and you should do one at least once or twice a week, just to make sure that all your data is safe. If you do lose the voicemail, you can use the iSkysoft iPhone Data Recovery utility to get the job done fast and without too much effort.
Step 1. Open iSkysoft iPhone Data Recovery and choose to "Recover from iTunes Backup File". After that select the desired iTunes backup from the list that's displayed.
Step 2. Once you select the backup you need to scan it in order to check the data which can be recovered from it. The scan process doesn't take that long to complete. The results will be displayed in categories, so choose the voicemail category and locate the file you want to recover. Once you find the file you need to press the Recover button and wait until the recovery process is completed.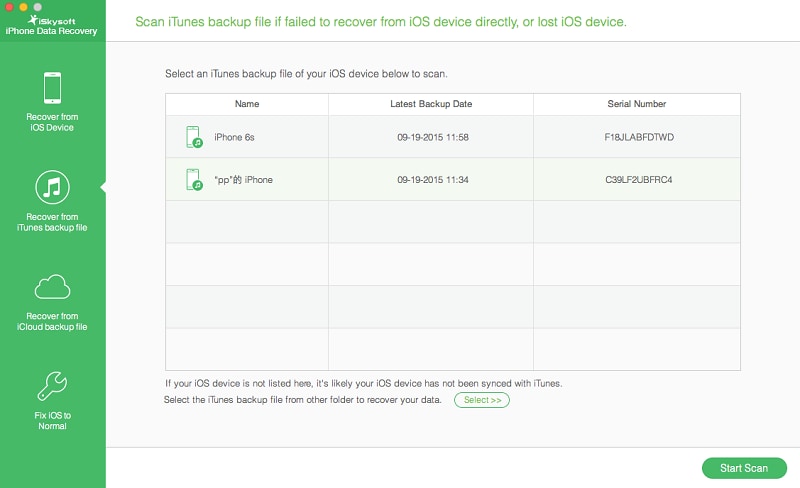 Part 3: How to Retrieve Voicemails from iCloud Backup
iCloud is a wonderful piece of engineering created by Apple that allows you to keep all your necessary, important information in a single place. It's very useful for just about any type of user, be it business or home. It also helps you keep all the data on your phone in a secure environment which can be accessed at a later time. Keep in mind though that in order to recover data from iCloud you need to perform a full restoration for your phone, so do make a complete backup of your phone before attempting such a recovery.
Step 1.After launching iSkysoft iPhone Data Recovery, please choose "Recover from iCloud backup file" mode. Then log into your iCloud account.
Step 2.Here you need to download iCloud backup by clicking "Download". After that, you can check "Scan Downloaded" to preview all backup data on iCloud.
Step 3.Here you can freely preview the backup files and then selectively recover voicemails to your Mac/PC or iPhone device as needed.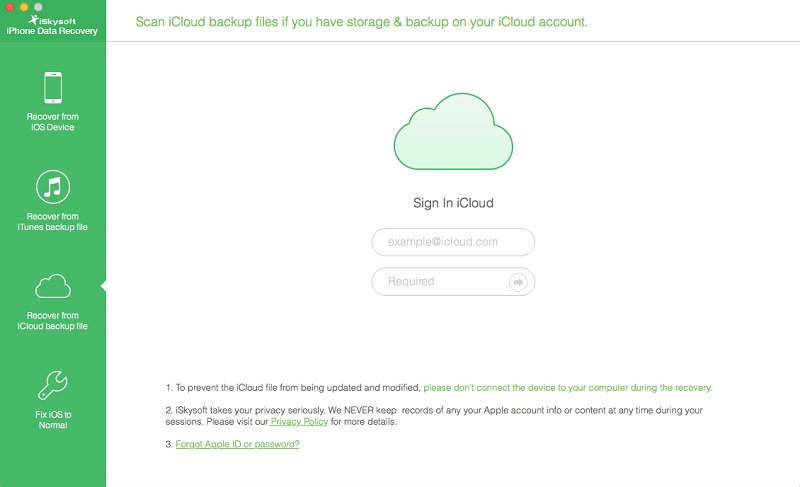 Know about Visual Voicemail and Basic Voicemail
Visual Voicemail
Visual voicemail is a great feature that allows you to access all your voice messages within an easy to use and reliable random access interface. This means that the voicemail is much easier to access and manage than before thanks to a state of the art way of displaying the voice mail messages on your phone. The Visual Voicemail app for the iPhone is very easy to use and process, and it even brings a lot of fast recovery methods as well. Recovering a voicemail with it is as simple as undeleting it by swiping down to the bottom of the list and then tapping Deleted Messages. The process is very easy to perform.
Basic Voicemail
On the other hand, the basic voicemail doesn't provide a visual interface but it does bring you the ability to listen to the voice mails that you receive from your friends, family and colleagues without too much effort. The application is very useful when it comes to recovering data in an efficient manner.
As you can see, it can be really easy to retrieve voicemail from your iPhone as long as you have the necessary tools to get the job done. The best application in this regard is iSkysoft iPhone Data Recovery, a powerful tool that offers an easy interface with your iPhone, making the voicemail recovery process seamless and very easy to perform as well.