As one of the most recognizable data recovery programs in the business, Kernel Data Recovery for Windows is one of the initial data recovery programs you are likely to come across when looking for a data recovery program. It is a great tool to recover all types of data from nearly all types of storage devices including external hard drives, SD cards and USB drives. But the program does come with a few shortcomings as we shall soon see and these shortcomings make it necessary for a better equipped, easy to use and effective data recovery program. During the course of this article, we will introduce you to one.
Part 1. The Best Kernel Data Recovery for Windows Alternative Software
Let's cut to the chase. If you are looking for an easier way to recover data on your Windows system, there is better, easier and more comprehensively effective way to do it. This method comes in the form of a powerful data recovery program known as iSkysoft Data Recovery for Windows. Not only can it recover all types of data you can think of, but it will also recover data from all types of drive and in perfect condition.
Key Features of Recoverit (IS):
This application allows you to preview your videos, audio files, photos, documents, archives files, and emails before you decide to retrieve them.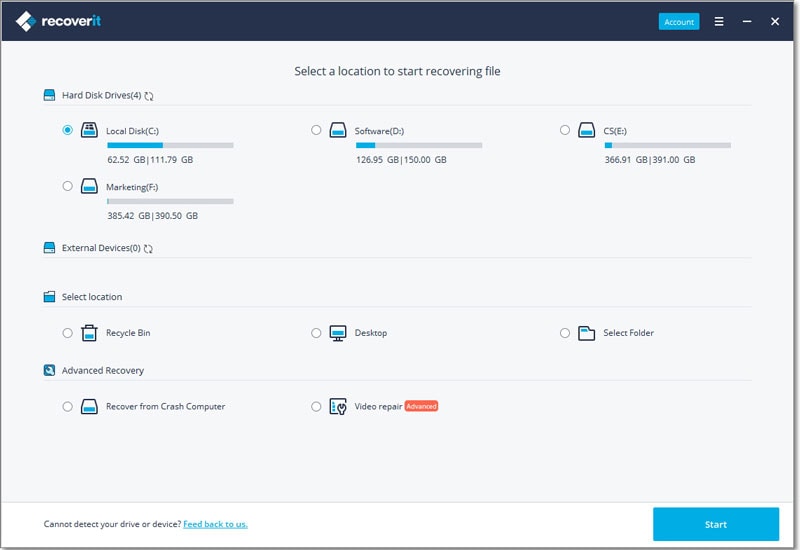 Recoverit (IS) is a do-it-yourself data recovery software. You do not have to seek professional help to recover your data.
Lost Data Recovery mode allows you to recover lost data deleted by Command+Delete or emptied from Trash bin
Raw Data Recovery which completely scans your drive and recovers files by file signature. Partition Recovery for data recovery from deleted, lost, resized or corrupted partitions, and Resume Recovery. The Resume Recovery mode allows you to save your scan results in order to perform data recovery later.
Step-by-step Guide to Use Kernel Data Recovery Alternative
Begin by downloading and installing the program to your computer. It is however very important that you install the program on a separate drive rather than the one containing the missing data. This is to prevent overwriting the missing data and hence making it nearly impossible to recovery. Once you've installed the program correctly, follow these simple steps to get your missing data back.
Step 1

Launch this Program

Launch the program and then select which data types that you want to recover.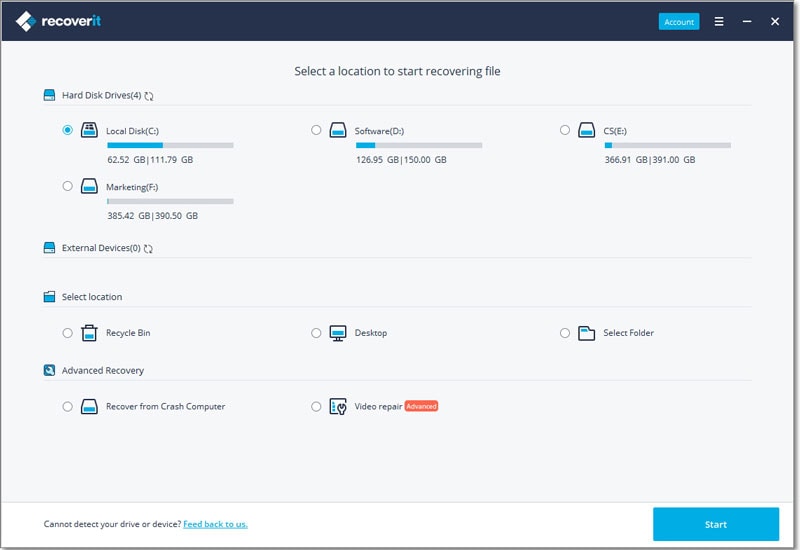 Step 2

Scan the Selected Drive

Next, select the drive with the missing data and then click "Start" to allow the program to begin scanning the drive for the missing data.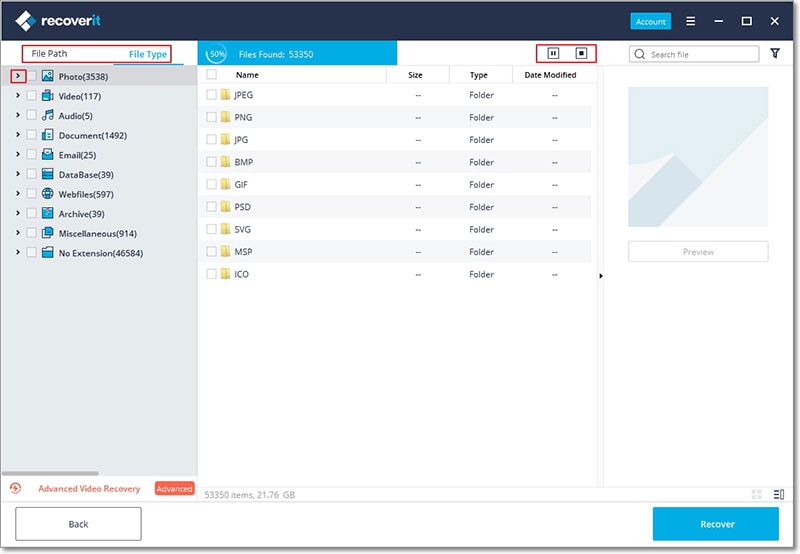 Step 3

Complete Recovery Process

Once the scan is complete, you will see all of the missing data on the results page, select the files you would like to recover and then click "Recover". Save the recovered data to a separate drive to avoid losing the data again. You can also choose to "Enable Deep Scan" if you want the program to perform a more thorough search.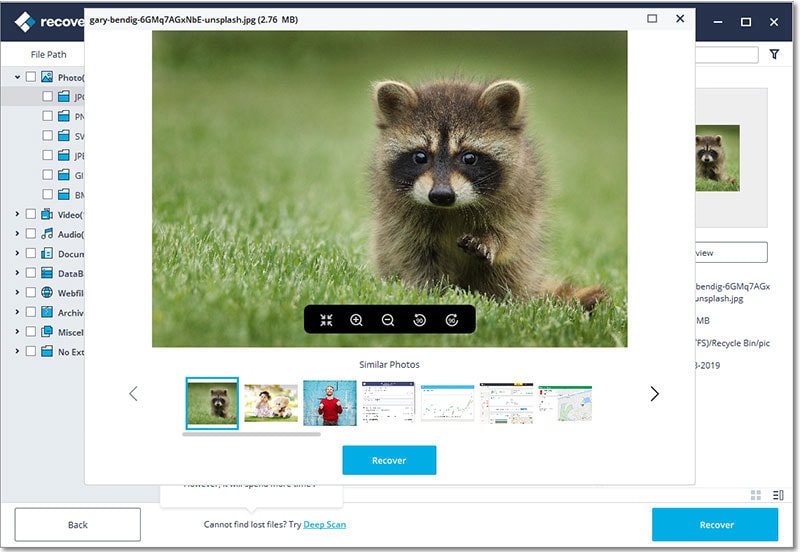 Part 2. How Does Kernel Data Recovery Work?
Kernel Data Recovery for Windows offers a good way to recover lost data on your windows system. Among other things it can be used to recover deleted data, repair error messages on your system and even recover data from a formatted partition.
Here's how to use Kernel Data Recovery for Windows to get your data back.
Step-by-step Guide to Recover Data Using Kernel Data Recovery
Step 1. Download and install the program to your computer and then launch it. Select the affected drive and then choose the type of scanning mode you want to use. You can choose between a "Standard Scan" or an "Advanced Scan" and then click on the "Play" button to begin.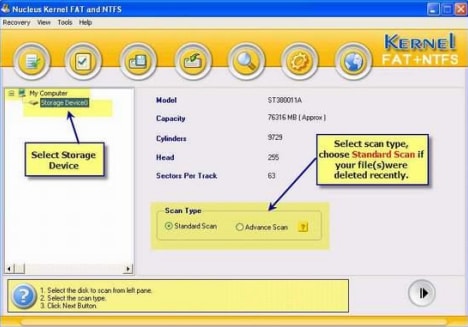 Step 2. All of the partitions on that drive will be displayed. Select the partition with the missing data. If you don't see the partition click on the "Search Partition" button to find it. Click on the play icon gain to continue.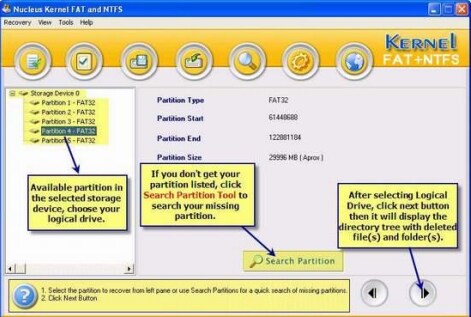 Step 3. The next window will display the results of the scanned partition. The files and folders marked in red are the deleted ones.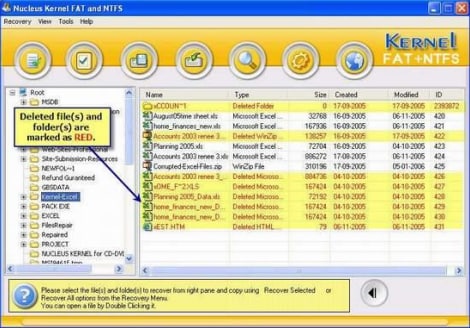 Shortcomings of using Kernel Data Recovery:
While Kernel Data Recovery can work to help you recover missing data on your Windows system, it is not lacking in a few shortcomings. Some of the more common ones include the following.
The program interface doesn't make it very easy to recover data. You may be unable to find the particular partition with the missing data and scanning all the partitions could be counterproductive not to mention the time it would take.
There is also no way to preview the missing data before recovery so in essence you cannot selectively recover data.
Some lost data also failed to show up on the results page despite performing an advanced scan using the software.
Part 3. Recoverit (IS) vs Kernel Data Recovery Comparison
Software

Supported File Types

Platform

Pros

Cons

Recoverit (IS) for Mac

Documents, emails, videos, photos, music and many more
Windows and Mac OS
- it is very easy to use with a pleasing user interface
- Can recover all types of data from just about any type of drive
- Preview of the recovered data is available
- You can save the scan results to recover later
None

Paretologic Data Recovery

Documents, Videos, photos, audio files
Windows
- Data recover is easy
- All types of data can be recovered from most storage devices
- The interface is a little difficult to navigate
- The recovered data couldn't be previewed, eliminating the