MOV File refers to an MPEG-4 video container and a common multimedia format that uses a proprietary compression algorithm developed by Apple. The file format is often used for saving movies & videos. Moreover, MOV file is compatible with both Windows and Macintosh platforms, and it's a QuickTime Player native file format. Although MOV format is considered to be a stable and reliable file format for storing movies and other video files, it can get lost, formatted, corrupted or accidentally deleted due to various incidents, and become unplayable on QuickTime player. However, you can still perform the original MOV file recovery with the right data recovery tool.
Part 1: How to Perform MOV File Recovery on Windows in 3 Clicks
iSkysoft Data Recovery for Windows (or iSkysoft Data Recovery for Mac) is the simplest, safest, and most effective solution to recovering lost, formatted, or deleted MOV files from Windows PC drive, memory cards, external disks, USB flash drives and other devices.
The comprehensive data recovery tool supports not only MOV files but also other 550+ file types, including documents, photos, audio & music, movies & videos, message & emails, archives and more. Along with the high level of data recovery technology, the recovery modes help you retrieve your files with ease. Furthermore, the data recovery process is a read-only process, and Recoverit (IS) only scans your drives without removing, changing or damaging anything on your devices.
Key Features of Recoverit (IS):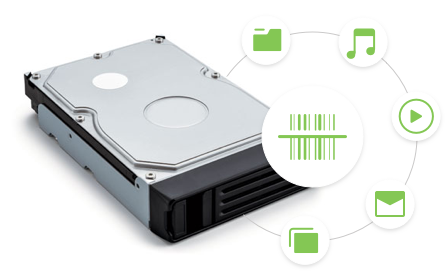 The software scans your devices quickly and allows you to preview files before you can recover them.
Recoverit (IS) is easy to use since it comes with an extremely simple interface.
You can pause or stop the scanning process whenever you want and even save the recent scanning result for future use.
After scanning your devices, you can search for the lost files with names.
"Deep Scan" feature enables you to scan your devices deeply, increasing the success rate of recovering lost data.
Step-by-Step Guide to Recover Lost File
Step 1. First, you will have to download, install and launch the program on "ANOTHER" Windows PC. Note that you can't install the software on the original drive from which the lost MOV files were saved since your files can be overwritten. Once you launch the software, you'll see the 6 file type options displayed on the primary interface.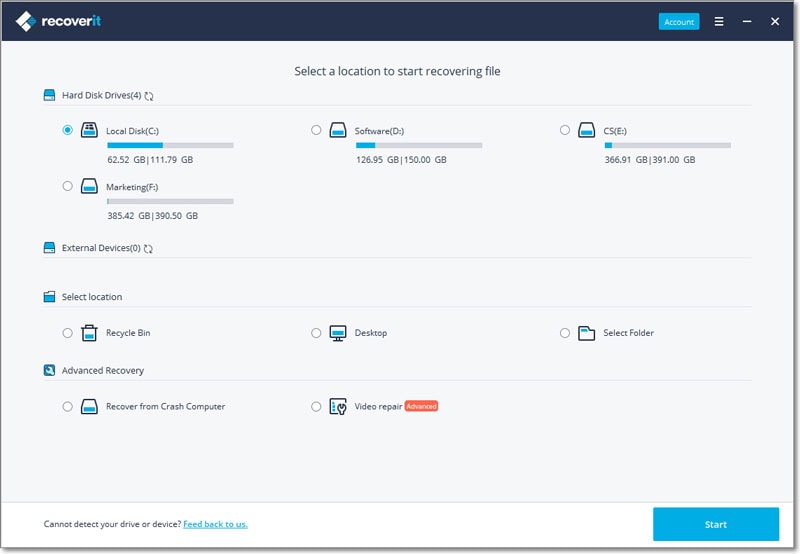 Step 2. A window will then appear like the image below. Click on the drive that you would like to restore data from and then click the "Start" button to start the scanning process.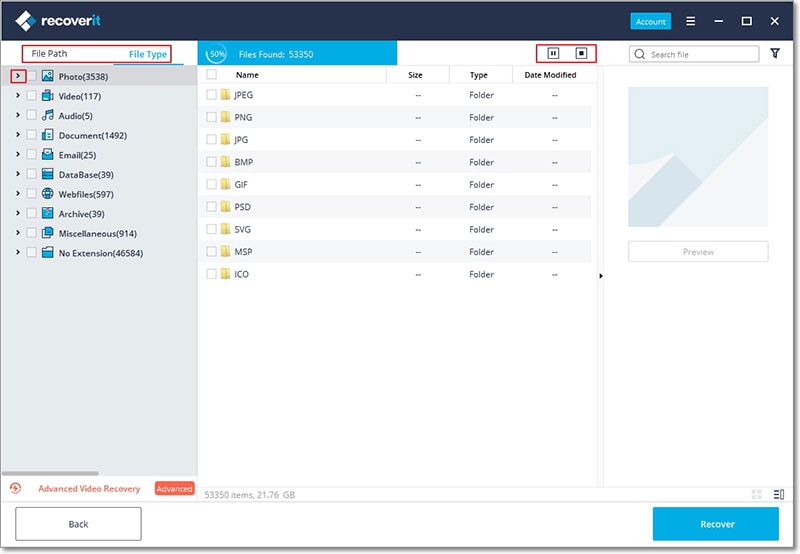 Step 3. When the scanning process is complete, the found content will be displayed on the software interface based on "Name", "Size" and "Status". This is where you can preview the MOV files before recovery.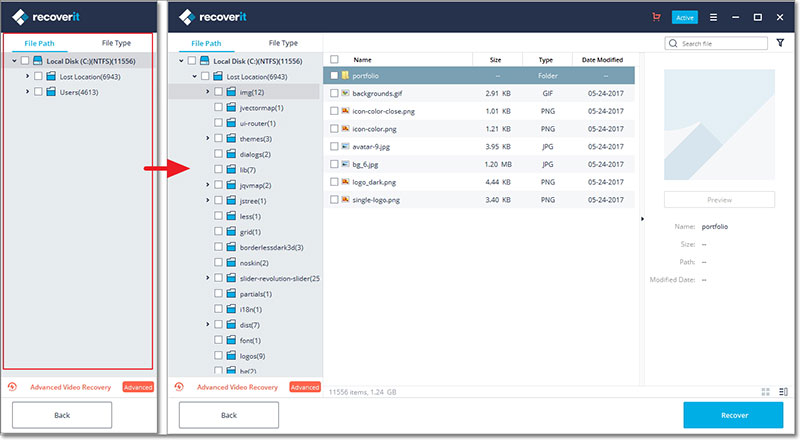 Step 4. Recover the lost files by marking the specific MOV Files in the scan search list and clicking the "Recover" button to save them to the selected path on your PC, and not to the drive where the lost MOV files were initially saved. An external storage device is highly recommended as the selected destination.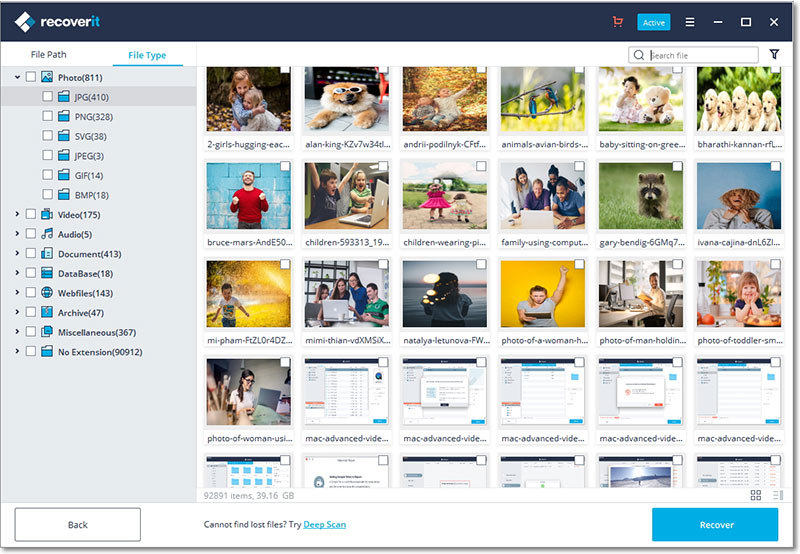 Part 2: Something You Should Know on MOV File Recovery
If you have accidentally deleted an MOV file from your SD Card, you should not be worried since the file is not deleted permanently. It just shifts to a hidden location and then leaves a blank space. You can still recover the same file with ease, but not manually. You need the help of an MOV File recovery tool such as Recoverit (IS) for Windows. Apart from accidental deletion, MOV files saved in an SD Card can get lost due to the following reasons:
Interruptions While Sharing MOV Files
Interruption that occurs while you transfer MOV movie or video from PC to your device or vice versa can damage your files. Some of the scenarios that may cause interruptions include a sudden system shutdown, power failures, unexpected unplug of the data cable and more.
Opening an MOV File on an Unsupported Player
If you play an MOV file in any other player apart from QuickTime Player, the file's header can be damaged, which can make it to become inaccessible. In severe cases, such a file can also alter or corrupt the QuickTime software as well.
Converting MOV File to Another Format
Some sort of software and hardware issues can also lead to data corruption. In fact, some of the software comes with certain viruses or bugs that hang the entire system when installed. This can corrupt your data and may make it undecipherable. Failure of hardware is another popular cause of corruption which is caused due to hard drive failures like bad RAM etc.
Improper Removal of the SD Card
Before you can remove an SD Card from a smartphone, digital cameras, PCs and more, any you should always ensure that you eject it first and then remove it with great care. The MOV file can get corrupted if you do not eject the SD card first or if you remove it from any device while watching the MOV file.
Software Malfunctions and Conflicts
The SD Card port of your device may not support the SD Card due to software conflicts which may damage MOV files.
Virus/Malware Attack
Virus and Malware can corrupt data on your SD Card, including your MOV files and you'll be unable to play them.
Additional Tips on MOV File Recovery
Once you have realized that your MOV files are lost, formatted, deleted, or missing on your SD Card, you must keep the following in mind
Do not add any new data on the SD Card to avoid overwriting the deleted MOV files, or else the missing MOV files will be lost permanently.
Never use your Memory Card to transfer data.