PhotoRescue recovers lost photos from corrupted, erased, or damaged Memory Sticks, Compact Flash (CF) cards, XD cards and SmartMedia. The software lets you retrieve all photo formats, but its algorithms are specifically optimized for JPG/JPEG files, GIFs, BMPs and TIFF photo formats. It also supports various RAW file formats including CR2, CRW, RAW, RAF, ORF, NEF, MRW and more. However, the program doesn't allow you to save even one photo without spending your cash on the registration key. PhotoRescue (Demo version) only shows the recoverable photos, but it doesn't allow you to save them. The software also doesn't recover lost photos from system hard drives or partitions. In this article, we cover everything you would like to know about the perfect alternative to PhotoRescue.
Part 1. The Best Alternative to PhotoRescue for Mac and Windows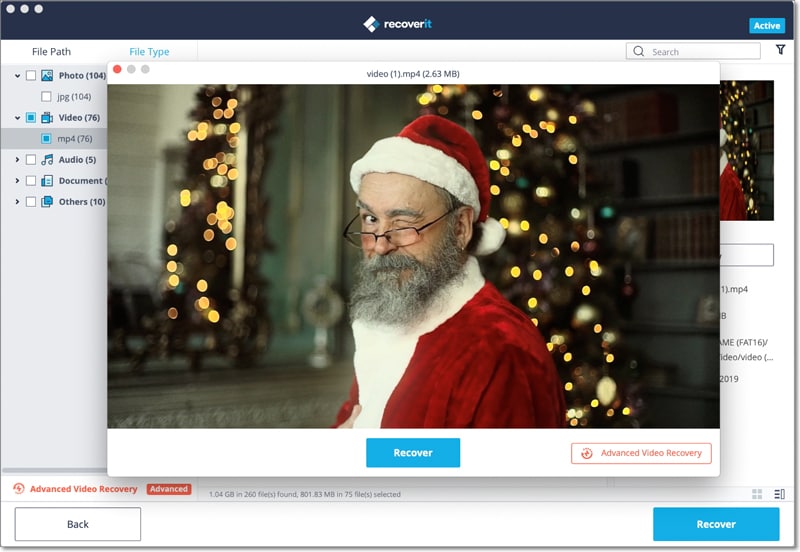 If you are a digital photographer, (we all are these days), you must be looking for the easiest, safest and fastest photo recovery solution. We recommend that you download and install Recoverit for Mac (or Recoverit for Windows). The comprehensive program is designed with the latest powerful scanning algorithms that enable it to scan Mac/Windows based hard drives & Mac/Windows-compatible devices and recover deleted, formatted, corrupted, inaccessible or lost photos easily and quickly.
The software allows you to retrieve not only photos, but also videos, audios, documents, emails, archive files and more, regardless of the causes of data loss. Your data isn't destroyed since Recoverit uses a risk-free, read only scanning and recovery process. Generally, the software offers top-notch, user-friendly and flexible settings which make it the best alternative to PhotoRescue for Mac and Windows.
Why Choose This Alternative to PhotoRescue:
● Supports data recovery from HFS+, HFSX, FAT16, FAT32, exFAT, and NTFS files systems.
● You can save your time by scanning only files of a selected file type.
● The recovery process can be paused or restarted at any time with just one click.
● The file filters and folders tree lets you find your files in seconds.
● You can preview audios, videos, photos, emails, documents and archive files before recovery.
Step-by-Step Guide to Use Alternative to PhotoRescue
Step 1. Download PhotoRescue Alternative Software
Connect your digital camera, external hard drives, player, Smartphone and more, to Mac using USB cable. Alternatively, you can decide to remove the Memory card from your device, insert it into a card reader and then plug in the card reader to Mac. Download Recoverit for Mac. Install it on your Mac by dragging the "downloaded file" to "Applications". When the installation process is complete, double-click the software's icon to launch it. From the main window of the software, please select "Photo" option and click "Next".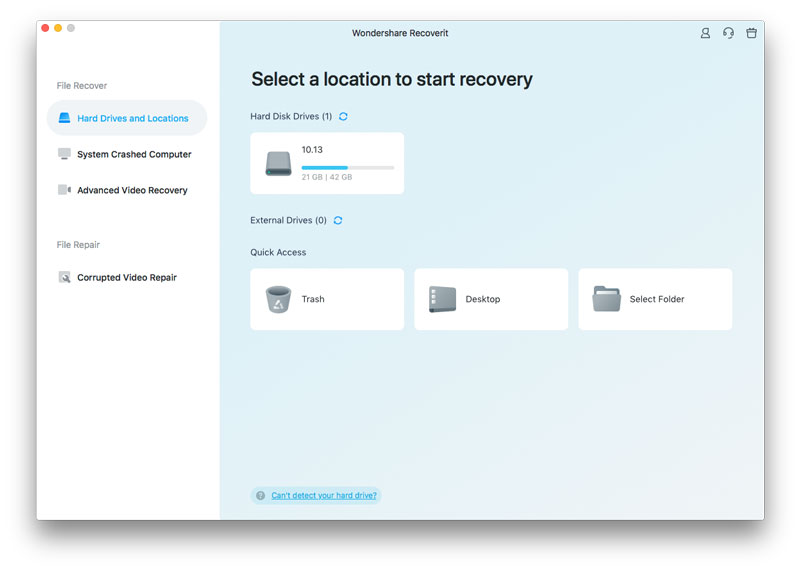 Note: If you would like to retrieve photos from your Mac's hard drives or partitions, you'll have to get another Mac computer, download the software on USB flash drive and then recover data while the program is installed on the USB flash drive. This helps prevent permanent loss of your files due to data overwriting.
Step 2. Scan the Hard Drive
A new window will open, and it displays all the internal and external drives. Select the drive from where you have lost your photos and then click the "Start" button to start the scanning process. If your drive isn't listed, select the refresh icon, and it will appear.
Step 3. Recover Photos on Mac
When the scanning process is over, another window will open. Here, you can preview and even distinguish the validity of your photos before recovery. To start the recovery process, mark the pictures in the list and select the "Recover" button to save your photos to the selected path. Note that you shouldn't save the pictures to the device from where you lost them.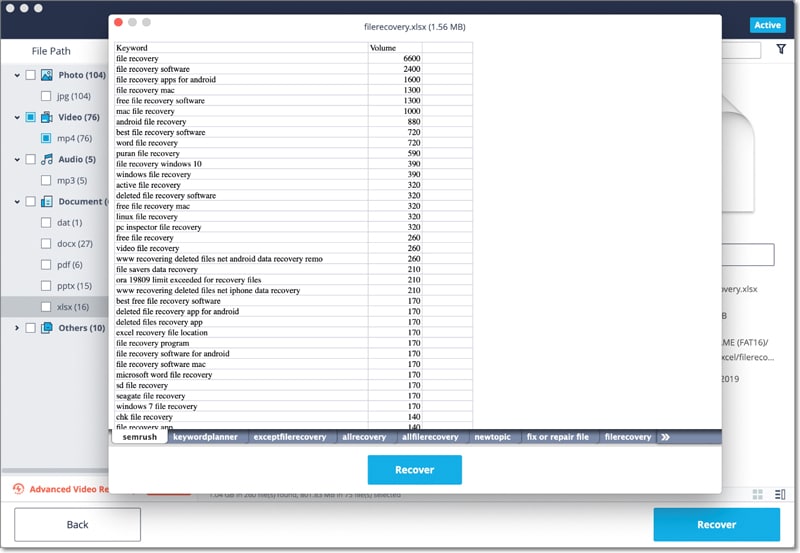 ---
Part 2. Troubleshooting on How to Use PhotoRescue
Problem 1: The Software Locks up Hard
While recovering data, PhotoRescue may lock up hard. This may be caused by a severe physical card failure, particularly at the surface level. To fix this issue:
i. Try using the recovery range limitation feature to skip or avoid the area that's causing a crash.
ii. If the lockup occurs at the end of the recovery, specify the card size that's inferior to the total memory card size by a margin that depends on when you start to experience the trouble.
iii. If the lockup occurs when the software tries to determine the media size, uncheck the "Determine the card size box".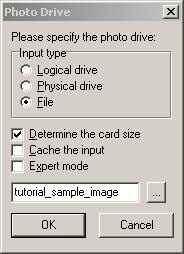 Problem 2: PhotoRescue Doesn't Recognize the Digital Camera
The software doesn't support direct recovery from all cameras. It's recommended that you use an external dedicated Firewire, USB, or eSATA card reader. The card should also be properly inserted in these devices.
Problem 3: Data Scanning and Recovery Process Takes Too Long
The time taken depends on the size of your card, the speed of the card reader/ computer as well as the free memory of your computer. This means that if you have a large card inserted in a "small computer", the recovery process can take hours. To speed up the data recovery process, you should get a powerful computer.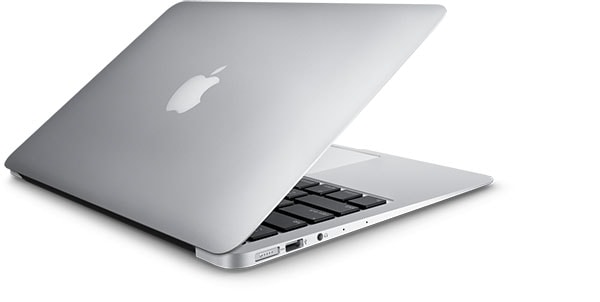 ---
Part 3. Comparison of Recoverit and PhotoRescue
Software
Platform
Supported Files
Pros
Cons
Recoverit
Mac and Windows
Recovers all file type including photos, videos, audios, documents, emails, archive files and more.
• Users are free to save the scan results when busy and resume recovery when they have time.
• You can distinguish the "Good" and "Bad" files before recovery.
• Lost files are recovered in high quality with original file names and file folders
None
PhotoRescue
Mac and Windows
Supports only photo recovery.
• The attractive interface makes it super easy to use.
• It's a standalone program, and you don't have to download any other software to get it running.
• The advanced version is offered at an affordable price.
Since the demo version doesn't allow you to recover and save photos, the software's effectiveness can't be properly checked/ determined.