Even though we have warmly welcomed the digital cameras, the possibility of photo loss is still not eliminated. We remain under the constant threat of losing our valuable memories someday because of the corrupted memory card or camera malfunction. But with various data recovery tools being introduced in the market, it has become possible to retrieve all your files that you might have lost due to any reason. However, with so many choices, it is quite confusing to choose the perfect tool for your loss. Here, in this post, we have reviewed an amazing recovery tool that can prove to be the best alternative for PicaJet Photo Recovery software.
Part 1. Free Download PicaJet Photo Recovery Alternative Software for Mac and Windows
If you have had problems with PicaJet Photo Recovery in past and find it less effective, you probably need a tool that is specifically designed with users' convenience in mind. We recommend you to try iSkysoft Data Recovery for Mac (iSkysoft Data Recovery for Windows). This well-designed and highly interactive tool works remarkably well for any kind of data loss. Recoverit (IS) is an outstanding program that can help its users in recovering important files they might have accidentally deleted from their computers.
The tool features a single window graphic user interface which is remarkably easy to navigate and use. It also allows you to choose the storage device you wish to scan such as any of the memory cards used in digital cameras, SD cards and more. The scanning process of the program is super powerful and takes the least possible time. However, the actual time may depend on the size of the device and the amount of data stored in it. Overall, this is an amazing tool for recovering any kind of data like photos, videos, music, documents, archive files and others.
Why Choose This PicaJet Photo Recovery Alternative Software: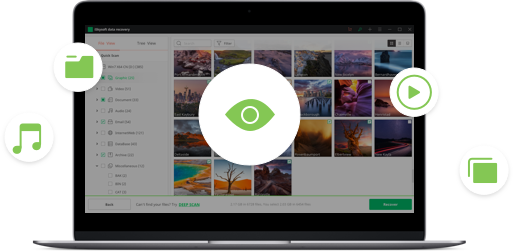 The tool performs a read-only process. This enables it to recover data in its original form.
You can also preview your files before recovering them.
The tool offers two scanning modules: normal and deep scan. Deep Scan is more powerful and proficient.
Step-by-Step Guide to Recover Lost Photos
Step 1

Launch PicaJet Photo Recovery Alternative Software

Download and install the program on your Mac computer. Launch it on your system to go to its main interface. From the supported file types, choose the types to be recovered, no matter it was been deleted, lost or formatted on your system. Then click "Next".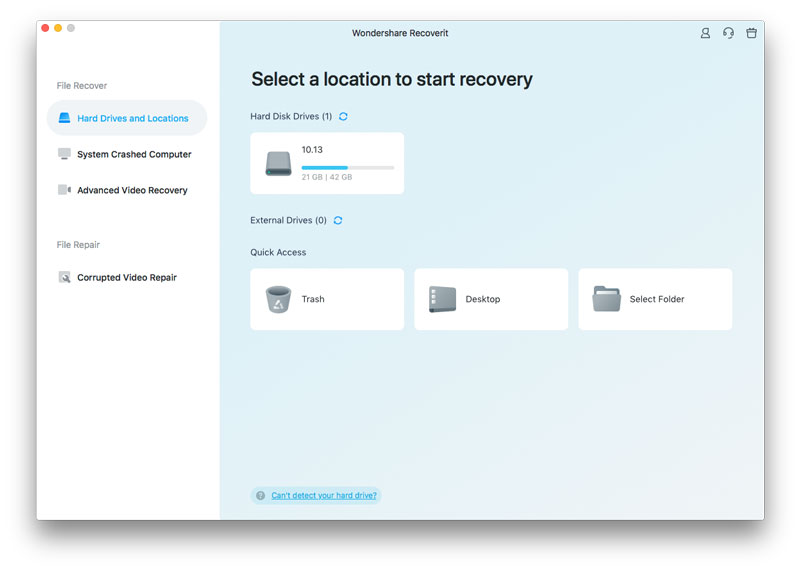 Step 2

Scan the Hard Drive

A list of all the internal and external hard drives and external storage device that are connected to the computer will come up on your screen. Choose your drive and click on the "Start" button. If you can't see your drive on the list, click on the refresh icon.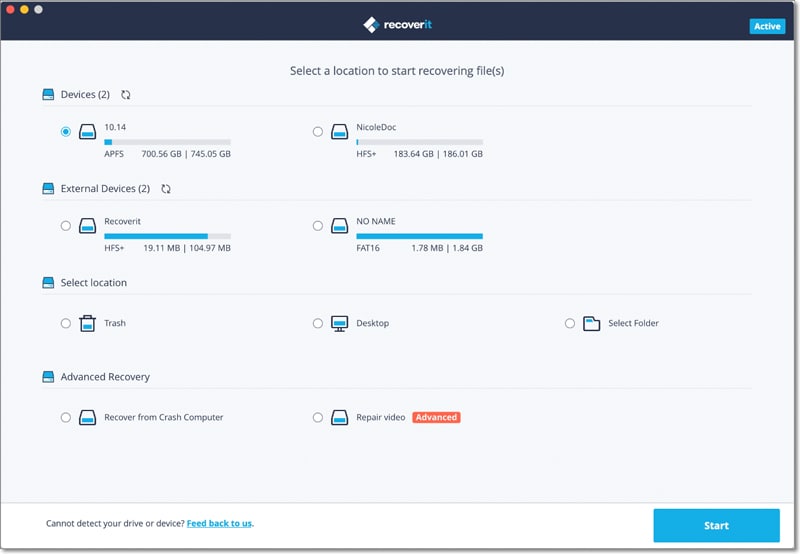 Step 3

Recover Lost Photos from Mac

After the successful completion of the scanning process, all your lost photos or any other media will line up on the right side of the screen. You can preview all the recoverable files and choose one or more files to restore them. For recovering data, click on the "Recover" button and then on "OK" for saving them to other folder. The "Deep Scan" is designed for deeper scanning on your chosen drive.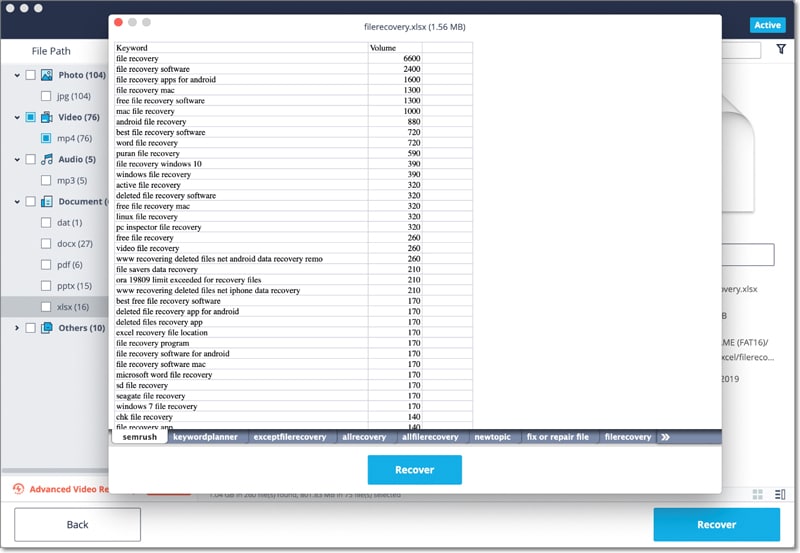 We always recommend users to save the recovered files to some other drive or external storage device and not on the same device from where the data was originally lost or deleted.
Part 2. Troubleshooting on How to Use PicaJet Photo Recovery
PicaJet Photo Recovery enables you to recover formatted or deleted images from almost any type of media storage devices like Memory Stick, Secure Digital and other such cards used by digital cameras. You can select any drive and perform its scan which will present you with thumbnail images of all pictures. The tool also offers an option to view all those images in their full sizes as well. It works exceptionally well for recovering photos in most of their popular formats. It has a panel intently designed for showing file name, its size, height and width.
Step-by-Step Guide to Recover Lost Photos Using PicaJet Photo Recovery
Step 1. First step of the process is to download and install the application on your system. Now click on the program's icon and launch it to go to its main menu. On the main menu, you will see a space for selecting your drive. Choose the card or drive that you want to scan and then click on the Start button to initiate the scanning process of that particular drive.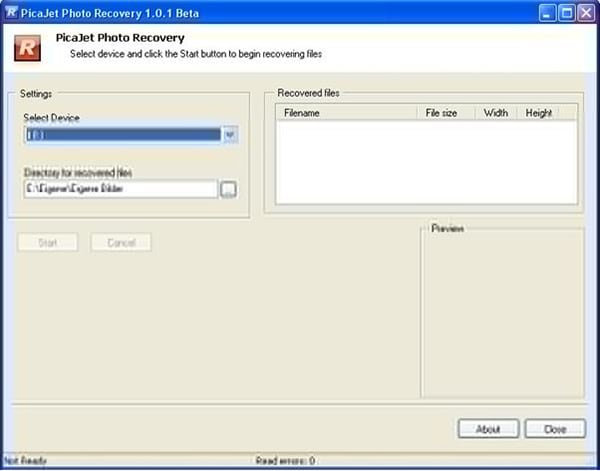 Step 2. When the scanning will accomplish successfully, all your recoverable photos will queue up on the right side box of the screen. You can also choose the photos to see their previews but it is not possible to save this recovered data to the system again using PicaJet Photo Recovery.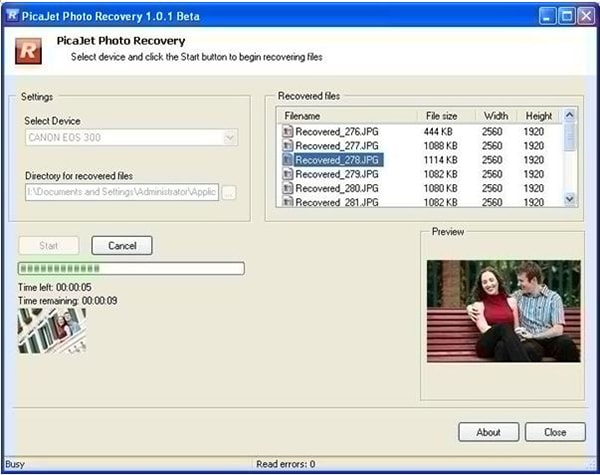 With this tool, you can only see the data which is lost, formatted or deleted from your system and you can do nothing to save it back.
Troubleshooting on PicaJet Photo Recovery
PicaJet Photo Recovery software deserves a chance to be trusted and used for data recovery. However, one cannot expect it to save all of the data that is lost, deleted or formatted from a certain drive. The tool has some drawbacks associated with its functioning that make it difficult to recover data sometimes.
The main disadvantage of the tool is its inability to work on corrupted cards. If your memory cards, SD cards or other media devices like this are corrupted, there is no possibility to recover data from them.
Most of the times, the tool fails to detect certain cameras. This problem can be solved if you try to unplug and plug the camera again and run the program after the process once again. But if the tool does not detect the camera even then, it means it will not work for that particular camera.
The biggest limitation of the program is that it cannot save the recovered files again.
Part 3. Comparison of Recoverit (IS) and PicaJet Photo Recovery
| Software | Scanning Mechanism | File Formats | Compatible OS | Recovers Formatted, deleted or Lost Files | Rescue Files From Drives with Bad Sectors |
| --- | --- | --- | --- | --- | --- |
| | Very Strong | Audio/Video/Photo/Emails/Contacts/Documents and more | Windows/Mac | Yes | Yes |
| PicaJet Photo Recovery | Strong | Photo | Windows | No | No |