Microsoft has made Windows 10 the finest OS of Windows. Most Windows users would like to upgrade to the new Windows 10. But wait! There are certain limitations and issues you need to subject. Those automatic updates for Home users seems to be a major headache, but one of the biggest issues that users encounter after updating to the Windows 10 is loss of data.
The biggest loss of data will be seen in the form of software losses. For example, the Windows 7 desktop gadgets, Windows Media Center and the game Hearts are all expected to be shelved. Luckily, the Windows 10 upgrade will essentially reposition your C drive, which means that many files or folders from your My Documents folder or other similar folders might end up getting misplaced and end up a data loss. But you need to backup your data before upgrading to Windows 10. However, even if you forget to back up your files and misplace something important after an upgrade, all is not lost. There are a number of solutions that allow you to recover lost data from Windows 10 upgrade within minutes.
Part 1. The Best Data Recovery Software for Windows 10 Upgrade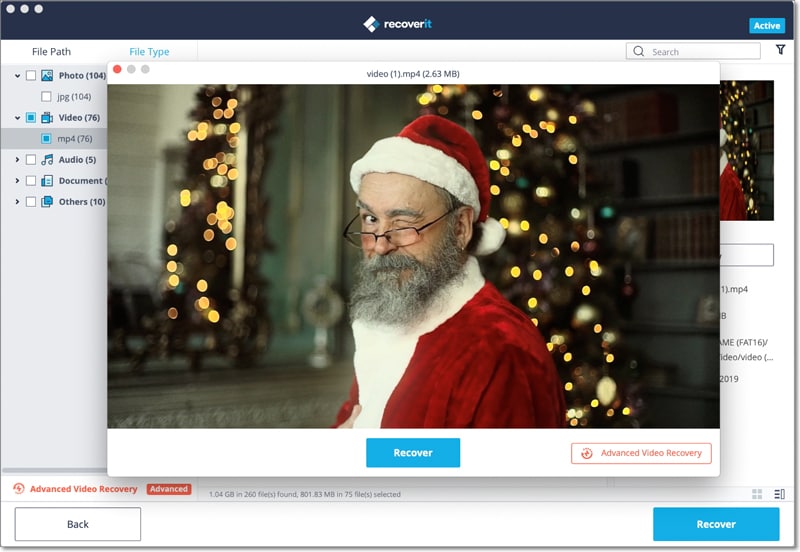 Recoverit is an exciting data recovery tool that makes life much simpler for you. It helps you get rid of all your data loss issues, that too across all devices. Using the software allows you to recover data from different file systems such as NTFS, Fat32, Fat16 and exFAT. It also makes it possible to recover data that was lost by because you pressed the Shift + Del buttons by mistake or accidentally cleared your Recycle Bin.
Furthermore, even if your device ends up becoming corrupt or you lose data due to invalid partitions, damaged drives or formatting, using the software still allows you to bring it all back. Using Recoverit means that you can also recover all types of data, right from image, video and audio files to documents, emails and archives. Better yet, the software comes with an exciting preview and recover feature, which lets you preview your lost data, and only recover the items that you really need.
---
Part 2. How to Recover Files from Your Windows 10 Computers
Most Windows users have a habit of storing our commonly files and folders in My Documents in the C drive. This means that all sorts of things, right from our video and audio files to memorable photographs, from important Word and Excel documents to files and folders of personal importance, find a place here. When upgrading your Windows 7 or Windows 8.1 to the Windows 10 version, you might see that many of these files end up getting misplaced after you install the new Windows OS. This is where Recoverit come into the picture. You can easily use these programs and recover all lost files and folders so that you don't have to end up losing valuable data simply because you just upgraded your Windows! Here's a quick guide on how to recover lost files from your Windows 10 PC.
Step 1.Select the File Types
Install the Windows 10 data recovery software on your PC after downloading and launch it. The software offers 6 different file type options to choose from. All you should do is to check one or more file types you want to recover. Click on the "Next" button after selection.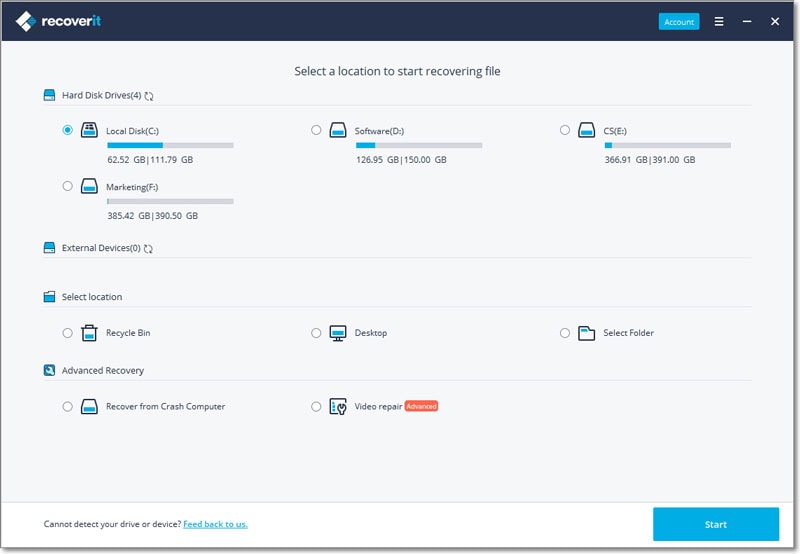 Step 2. Choose Destination Location
The next thing to do is select the drive you wish to scan. The software lets you select specific location to save valuable time and make the process simpler and faster. Click on "Start" button when you're ready.
Step 3. Recover Data from Windows 10
After you click on "Start" button, this Windows 10 data recovery software will start scanning process. Once the scan is complete, the software will show you all files that can be recovered. You need to mark the files that you want to recover and click on the "Recover" button.
Note: It helps to click on "Deep Scan" to enjoy better and more comprehensive scanning results. However, a deep scan might take more time to complete.