Contents
3. Recover Text Messages from Samsung
6. Recover Videos from Samsung
8. Top Samsung Data Recovery Software
9. Best Samsung Recovery Solution
Have you ever been in a situation where you have lost data on your phone? If you are a Samsung user and you are facing troubles of data loss, there can be various causes for the same. Some of the common ones among them are as follows.
Faulty OS update: Sometimes, when you update the OS version or the build, you may find that you have accidentally erased all data on your phone.
Software corruption: Sometimes, installing harmful or corrupt software may infect your phone and erase all data from your mobile.
Computer virus: It has also been seen that too often virus and Trojans tend to enter your system and this in tune can wipe away all the data from your phone as well.
Phone crash: Sometimes, your whole phone may crash and this can lead to complete loss of data. At times, it is difficult to explain why your phone has crashed, but it can lead to complete data loss.
But don't panic. In this article, I will introduce you the best Samsung recovery solution.
Part 1. The Software for Samsung Galaxy Recovery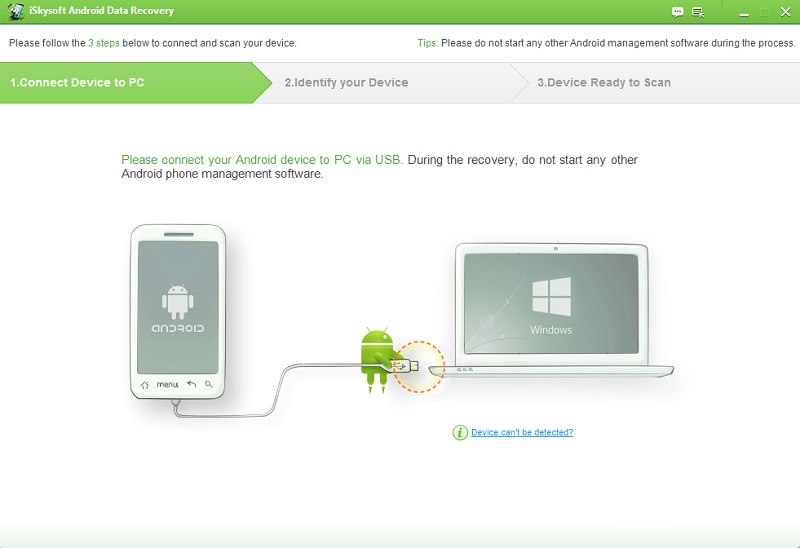 In case, you have lost your data for any of the above reasons or anything else, you can always use iSkysoft Android Data Recovery. Here is a snapshot of the key features which this tool has to offer.
It supports more than 6000 Android devices and various OS versions as well.
You can restore files like text messages, contacts, videos, audio files, and documents as well.
There is a provision to restore Whatsapp history as well.
It directly scans the internal memory of your mobile and recovers the file.
The tool is completely secure and there is no threat to loss of privacy.
Part 2. Step-by-Step Guide for Recovering Samsung Galaxy and Other Samsung Phones
When you are looking to recover your lost data, simply follow these steps.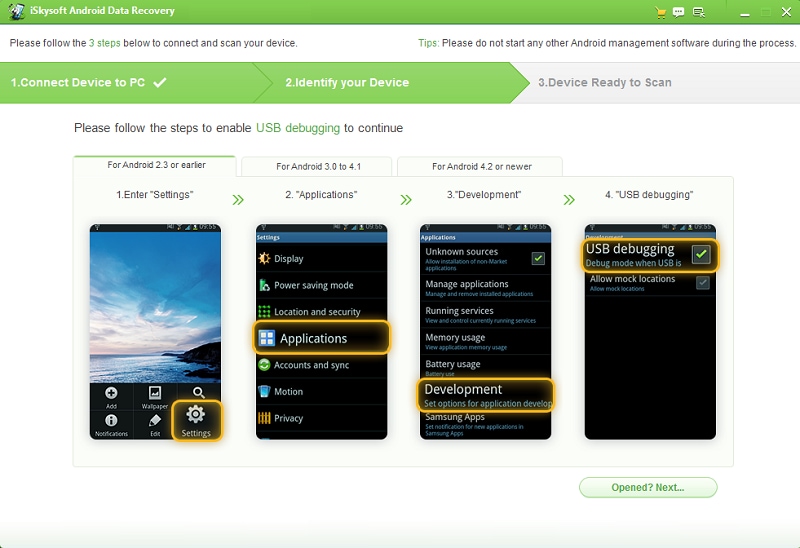 Step 1. Plug in Your Samsung Phone
Take your Samsung device and connect it to the computer with the help of your USB cable. The next thing is to enable the "USB Debugging" mode in your phone. There will be an on-screen instruction to tell you what to do. You can also follow the steps below:
Android 2.3 and earlier: Settings > Applications > development > USB Debugging.
Android 3.0 to 4.1: Settings > Development Options > USB Debugging.
Android 4.2 or later: Settings > About phone. You will find the option "Build Number" and keep tapping it for 7 times. You will find the message, "You are under developer mode". Now, follow this navigation. Settings > Developer Option > USB Debugging.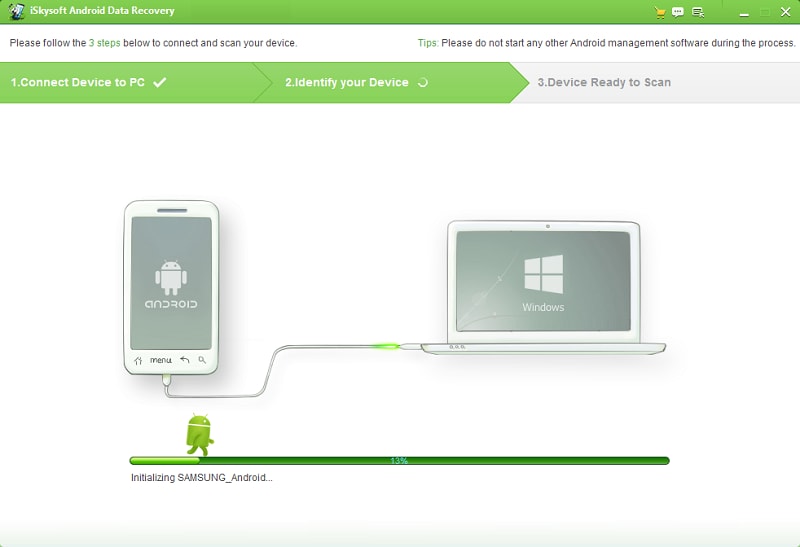 Step 2. Prepare for the Scanning
Once you are done with the debugging, this Android Data Recovery tool will recognize your device. Hit "Next" on the screen and allow the tool to scan your device.
Make sure that you have minimum 20 percent battery when you start the scanning step. In case you have rooted the Samsung device before, you will have to allow super user authorization which will be popped on your screen. Once you have approved, go back to the PC and click "Start" to scan your device.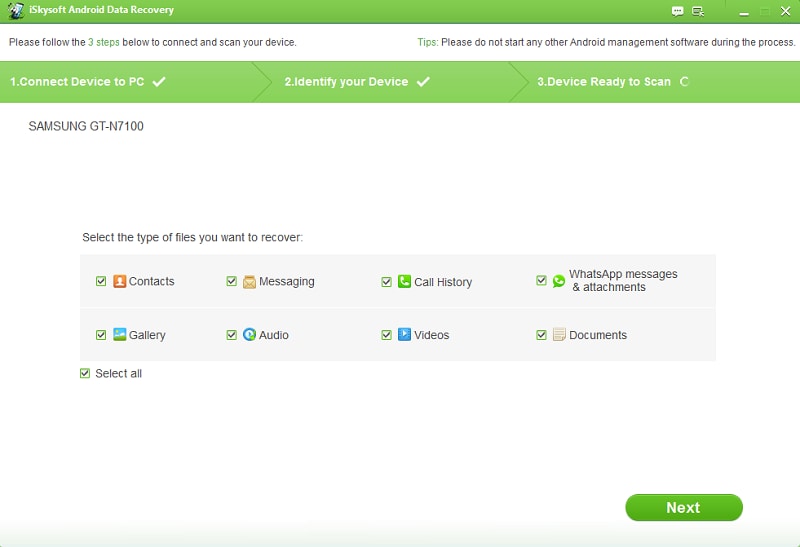 Step 3. Choose File Types and Scan Mode
A list of possible file types will be displayed which the software can scan. In order to minimize the scanning time, check the items you want to scan like messages, videos, photos and more. If you want to recover all items, click "Select All".
You will then be prompted for the scanning mode. There are two modes namely "Standard" and "Advanced". Use "Standard Mode" as default. If you want to save time, choose scan for deleted files. Those who want complete recovery can choose scan for all files. This will take longer time. In case, you think that not all your files are recovered, you can choose the "Advanced Mode" as it runs a deeper scan of your files.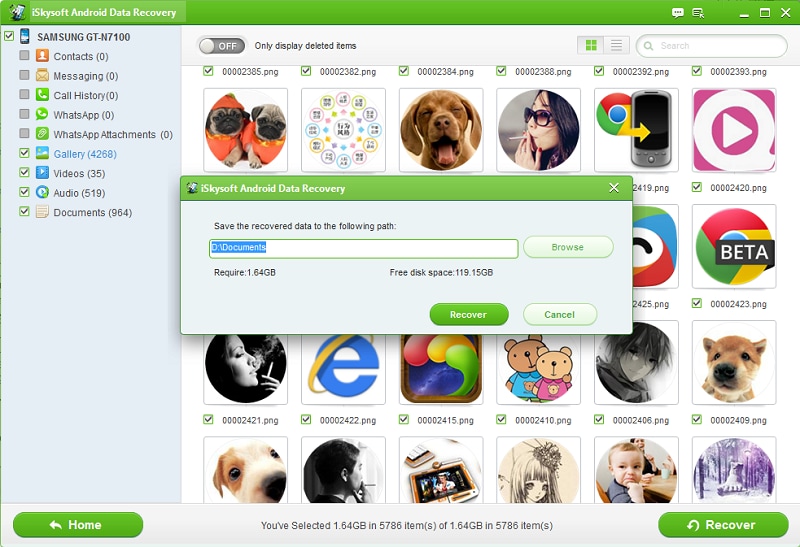 Step 4. Recover Data from Samsung
Once the scanning is done, choose the categories which you wish to recover. On left hand side, you have a navigation bar with the different categories listed. Pick the selected category which you wish to recover and click the "Recover" button.
You will be prompted for a destination on your PC where you can store the messages in HTML format or a text file. Similarly repeat this for any other categories of data you want to recover.
Follow these tips as a preventive measure to avoid data loss:
Always try and maintain a regular backup of your files.
Have a virus protection system installed in your phone to prevent data loss and theft.
Make sure to backup your phone before updating the operating system.