Did you know that when you accidentally delete a file, it is not permanently removed from your system? It's just marked as deleted, displaced and hidden from your operating system. If you can act faster, you can easily recover your deleted files with the help of a reliable data recovery software like SoftPerfect File Recovery or the best alternative to SoftPerfect File Recovery.
Part 1: The Best SoftPerfect File Recovery Alternative Software for Mac and Windows
Whether you have accidentally formatted your digital camera, deleted important files on your PC or your Windows laptop has been attacked with a virus infection that has ruined the whole partition, iSkysoft Data Recovery for Windows (or iSkysoft Data Recovery for Mac) is the best software for recovering all your files with just a few easy clicks. The program scans your devices with an excellent speed and uses its powerful data recovery ability to solve your data loss issues quickly and painlessly.
The program is designed to recover almost all kinds of files from multiple devices. It supports FAT32, FAT16, NTFS and exFAT file systems and you can install it on any computer or laptop running on Windows XP/Vista/7/8/8.1/10. As opposed to SoftPerfect File Recovery, Recoverit (IS) is 100% reliable, restores files completely, allows you to preview images, documents, email files and archive files, and even check the quality of your data (valid or invalid) before recovery.
Key Features of Recoverit (IS):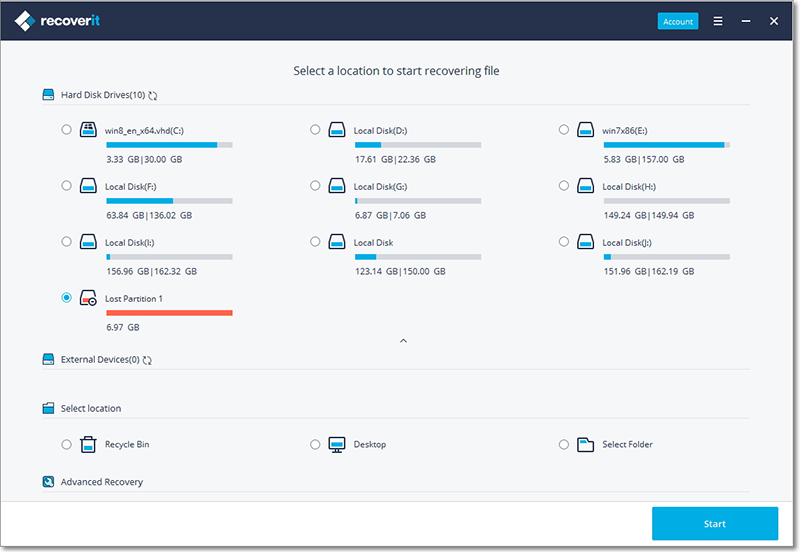 It comes with a user-friendly interface, enabling everyone to use it with ease.
The program scans your devices deeply and completely, increasing the success rate of lost data recovery
Recoverit (IS) performs a safe data restoration process and won't change or remove anything on your devices.
Scanned data are displayed with original file structure and names, and you can search for the lost files with names.
You can "Pause" or "Stop" the data recovery process whenever you want and save the recent scanning result for future use.
Step-by-Step Guide to Recover Lost Files
Step 1

Launch the Program

Get online and download Recoverit (IS) on "ANOTHER" computer. If you would like to recover data from a portable device, you are free to download the application on any PC. Double click or open the downloaded file to install the program on your computer and then launch the software by double-clicking on its icon. You'll see the 4 data recovery modes on the primary interface.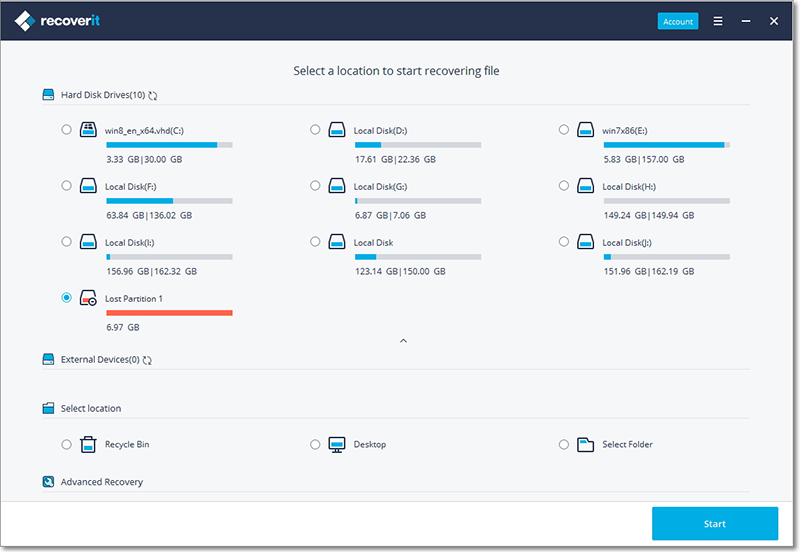 Step 2

Select a Recovery Mode

Turn the program to standard mode and then click on the "Lost File Recovery" tab from the primary interface. A new window that looks exactly like the one in the image below will appear.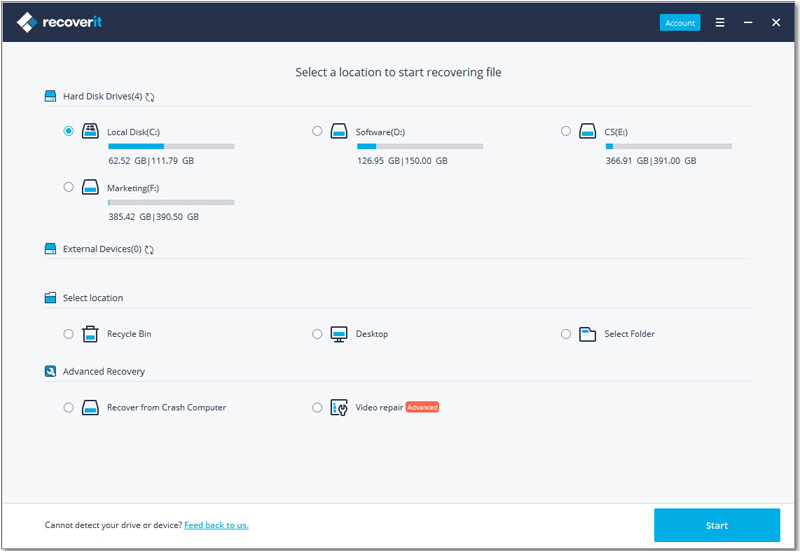 Step 3

Scan Files

Select the drive from which you would like to restore data from and click the "Start" button to start the scanning process. When the scanning process is complete, scan search results are displayed on the interface according to the "File Type" and "Path". You can preview the documents, emails and images before recovery.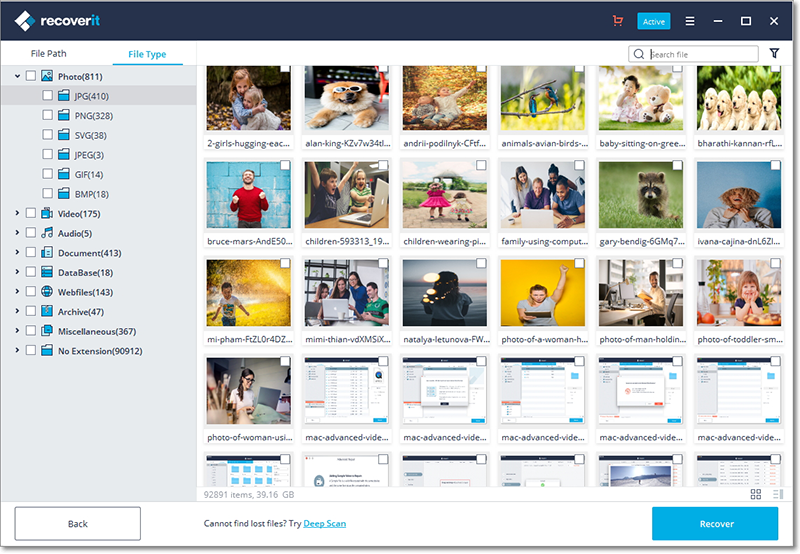 Step 4

Recover Files

To recover your data, mark the files in the scan search list and then click the "Recover" button located on the bottom right corner of the software's interface. Save files to the selected path on your computer and not to the drive where your lost files were saved. An external storage device is highly recommended as the selected destination.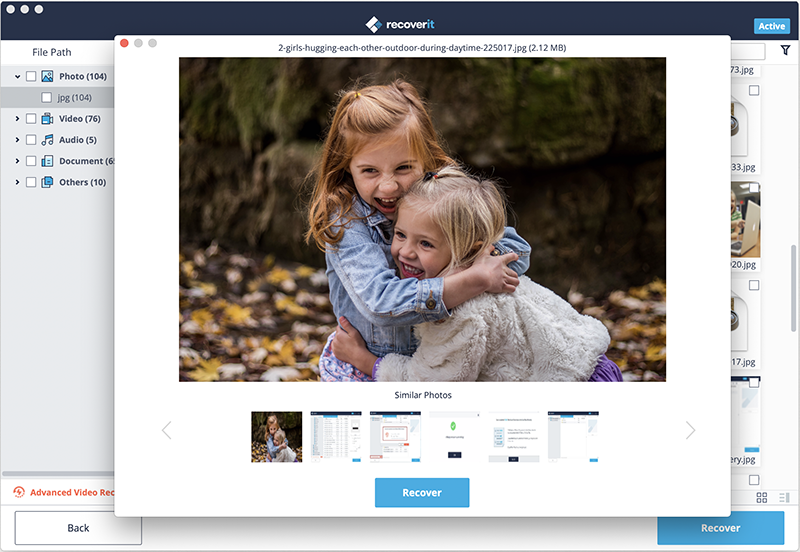 Part 2: What is SoftPerfect File Recovery and How Does SoftPerfect File Recovery Work?
SoftPerfect File Recovery is a portable, lightweight, simple and free data recovery tool that allows you to restore files and rescue data that you might have accidentally deleted from USB flash drives, floppy disks, CF and SD Cards, hard disks and other storage media. The program supports popular file systems including FAT12, FAT16, FAT32, NTFS and NTFS5 with compression and encryption. Data recovery process is not 100% guaranteed, but it can restore a good percentage of your data. The program supports multiple languages such as English, French, Chinese, Spanish, Turkish and more. Scan search results are displayed on the interface, enabling you to select and restore specific files with ease. You can also filter the search results, for example, if you want to restore only photos, you just need to enter ".jpg" in the "What" box. Moreover, users can recover a large sized file of up to 1GB.
Step-by-Step Guide to Recover Lost Files Using SoftPerfect File Recovery
Step 1. Go to its official website, scroll down the web page and download SoftPerfect File Recovery. It supports all Windows operating systems, and no installation is required since it's lightweight and portable. You only need to open the downloaded file and the software will launch automatically.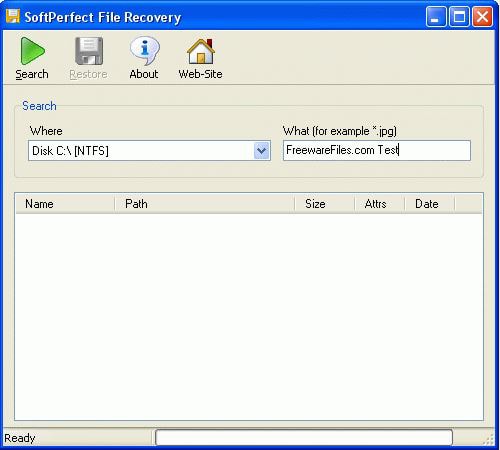 Step 2. Select the Drive to Recover Files. The software recognizes Windows-based drives as well as most storage media. Go to "Where" and choose the drive you would like to recover data from.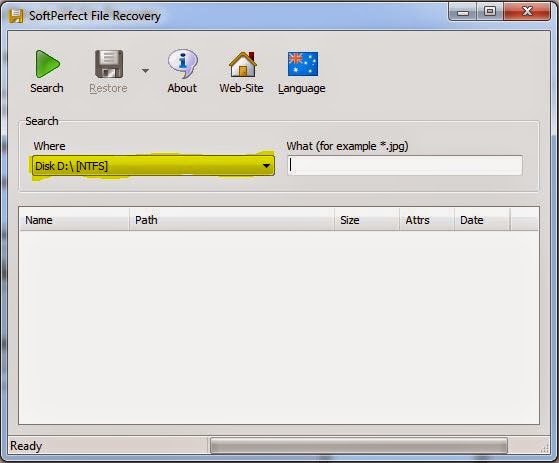 Step 3. Click "Search" located on the top left corner of the software and the scanning process will start. A list of scan search results will be displayed on the software interface once the scanning process is over.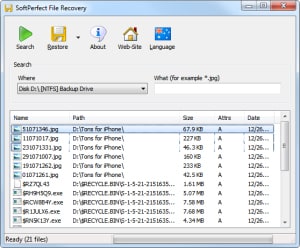 Step 4. You are free to filter the "file type" that you would like to restore. For example, you can filter photos by just typing ".jpg" in the "What" box and then click the "Enter" button.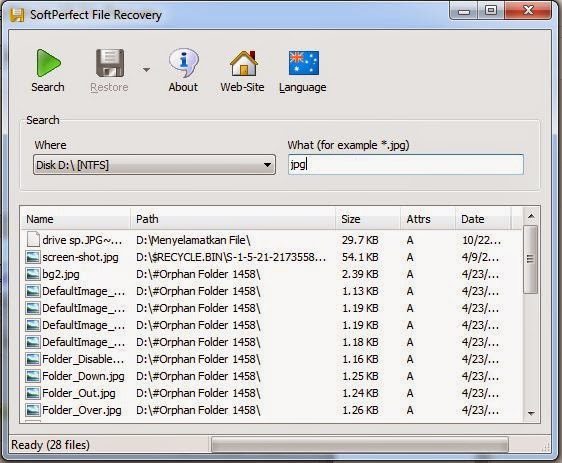 Step 5. Select the particular files that you would like to recover and then click the "Restore" option located on top of the software interface. A pop-up window will appear, and then you can browse the folder to save the recovered files. After selecting the folder, click the "OK" button to recover your data.
Generally, if you are looking for a free and easy to use data recovery tool, SoftPerfect File Recovery can be a good option. However there are multiple shortcomings that prove that it's an old fashioned, low quality program.
The recovery is not 100% effective/reliable and you can't restore large sized files that occupy over 1GB of storage space.
It doesn't support previewing of images, and you will have to restore multiple photos before you can find the ones that you really want to restore.
The program doesn't show the general condition or "health" of the file to be recovered. You may end up restoring invalid files.