There is nothing as frustrating as loosing data, whether on a computer's hard drive or on any other type of storage device. This because, apart from the very high risk of permanently losing important data, most drive types we have in the market are limited in terms of the methods that can be used to complete flash data recovery. The possibilities of recovering lost data in some types of storage devices are lower than in others. For example, spinning hard drives have narrow chances of recovering data if it is lost, yet they are highly predisposed to getting a malfunction than in Flash cards or SSD's. Even so Flash cards too could lose data easily if not handled with care.
Part 1. How to Make Flash Data Recovery
Recovering of lost data in a flash card is possible if done with the right tool. As long as the flash card is not physically damaged then you bet you can recover the data in it with a reliable data recovery tool. iSkysoft Data Recovery for Mac (or iSkysoft Data Recovery for Windows) tool is the best product retrieving lost data in a flash card via your Mac laptop. The app is fast and efficient, it can virtually recover tons of lost data in your flash card within minutes.
Why Choose This Flash Data Recovery Software:
Recovers both raw (hidden files) and lost data in a Flash card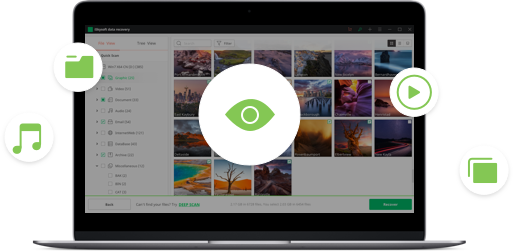 Can recover partitions
Has pause and resume recovery options for external drives
Fast scan and recovery of data
Supports a wide range of data formats
Easy to use and has previews of lost data that has been found
Step-by-Step Guide for Flash Data Recovery
Step 1

Launch Flash Data Recovery Software

Download and install iSkysoft on your Mac and then plug in your Flash card on the Mac. Open the app on your Mac Laptop or PC and select then select the file types that you want to recover. Then click on the "Next" button.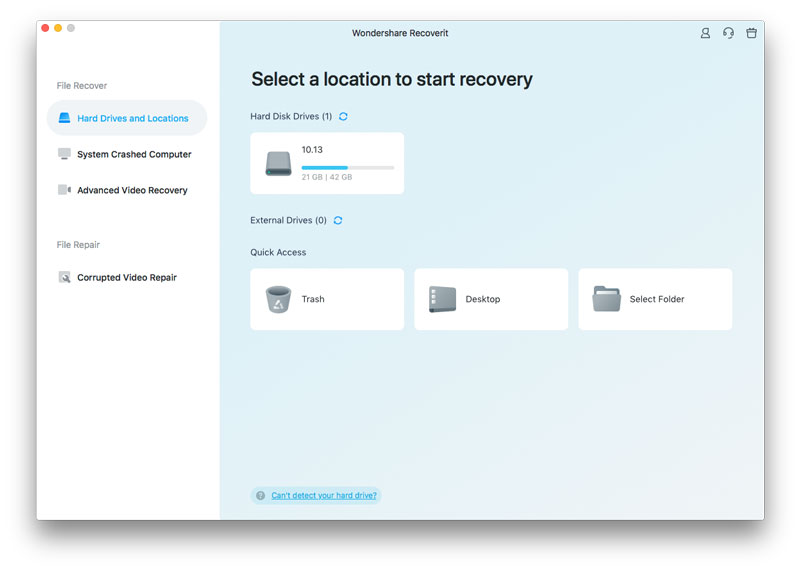 Step 2

Select the Flash Card

Open the drives section and select your Flash card in this section. Once selected, click "Start" to activate scanning of lost data in the flash card. Once scan is done you get a preview of the recovered files in the flash card.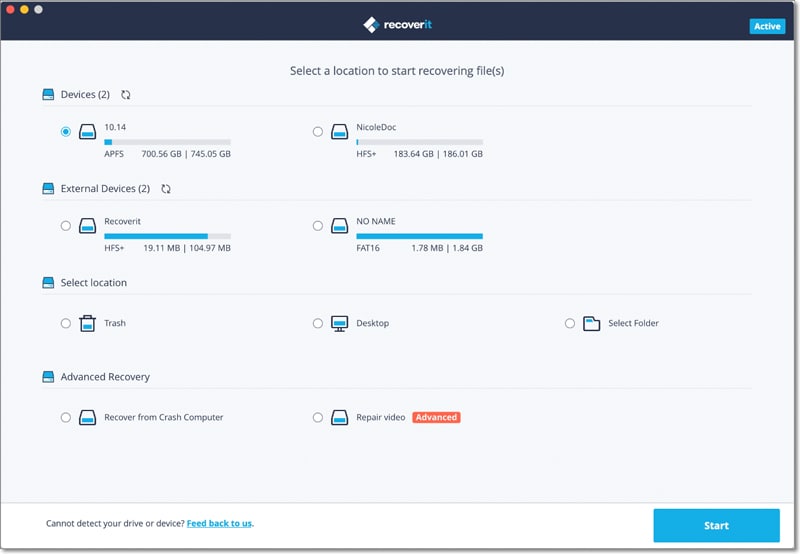 Step 3

Complete Recovery Process

Tick those that you want to recover. Once you are done, click "Recover" to get a prompt that asks you to select the folder where you want the recovered files to be stored. Before recover them to your computer, you have chance to preview them. The "Deep Scan" will makes deeo and completely scan on your drive and thus bring more found files.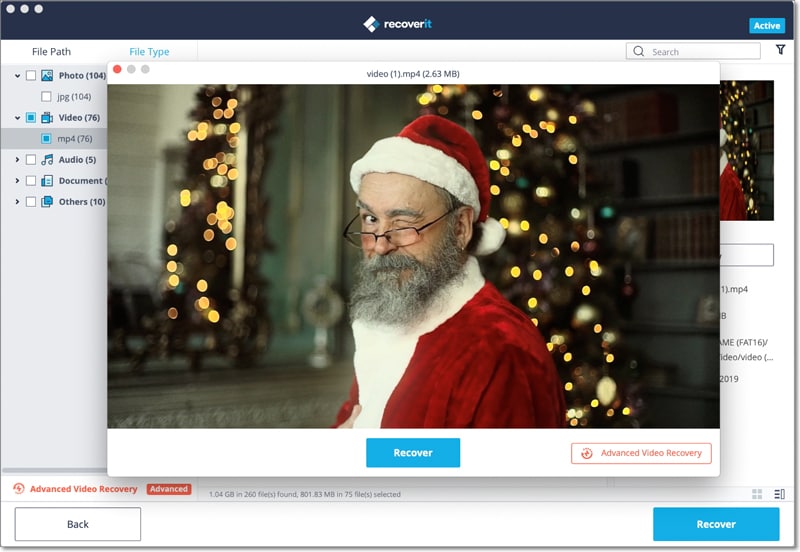 Part 2. What is Flash Card and What are the Causes for Flash Card Data Loss Problem
We use Flash cards almost on a daily basis but most people don't know what really a flash card is or the mechanism behind how it works. Flash cards are miniature devices that store non-volatile data within memory chips. Memory chips can be really small and since the data stored in them is non-volatile, there is no need to include extra mechanism to power them like in hard drives. They are noiseless because there are no moving parts and accessing data on them is pretty fast.
This is because they are mainly made of semiconductors which support data writing in blocks instead of the slower byte by byte mode in hard drives. Flash drives derive their name from the fact that charges can be directed through the memory chips to delete data in flashes hence their name. Due to their petite sizes, they are the most preferred types of storage devices for small electric gadgets like cameras, gaming devices and smartphones.
They are very many factors that may cause data loss in a Flash card. Most of these causes can be directed to poor handling of the Flash card. They include:
1. Old age which reduces the retention ability in a Flash card
Memory chips are more like a rechargeable battery. If your laptop is old enough, you've probably changed its battery a couple of times. Why? Because with time the cells in the battery lose their power retention ability. The same case happens in memory chips, as they grow old, the chips' semiconductors boards wear out too and they can't hold data as efficiently as before. However, this factor takes ages to start affecting the storage capacity of you flash card so this shouldn't worry you. It should be noted that the type of chip will determine how long it will serve you. Triple layered memory chips wear out much faster than the expensive single layered chips.
2. Environmental conditions
The environment your flash card is exposed to can also cause data loss. High temperatures are the most damaging of them all. Flash cards have thin layers of rubber or plastic on them. This layers can easily carbonize if exposed to high temperatures and thus lead to corrosion of the data circuits hence data loss. To prevent this, you should always store your Flash card in room temperature conditions.
3. Incorrect removal of the flash card from a computer
If you are the kind of person who removes your flash card in one swoop without ejecting safely, then you should know that you are risking to lose valuable data as a result of your irresponsible behavior. Although it's unlikely that this practice will damage your flash card's hardware, in the process of doing that you may corrupt the logical file system on your device hence losing data abruptly. In such a case the only way to recover the lost data through a dependable data recovery tool. It is therefore important that you remember to eject your flash card safely from your Mac to prevent this error.
4. Many Read and format cycles
This factor comes with age. As you progress with your flash card, you will probably format it a number of times on your devices. It is also common knowledge that you will be copying, pasting and deleting data from the flash card onto your Mac and vice versa. While doing these things the memory chip's cells wear off and at times you might lose data in the process. However, with a good data recovery tool recovering such lost data is easy and possible.
5. Corrosion of the memory chip's cicuitboard
Although memory chips don't necessarily need electrical charges for them to store data efficiently, every time they are plugged into our devices like PC's and Mac laptops, they interact with electric charges. If exposed to extremely humid conditions, the electric charges could combine with the mist and cause corrosion of the Flash card's circuit board. This eventually leads to data loss since the data pathways are blocked as a result of corrosion.