Data has become an absolute necessity for almost every individual, group and organization. But it happens most of the times when a sudden damage to the system or other unwanted internal corruptions may cause huge data loss. This is when it becomes extremely crucial to recover your lost sensitive data. The most sensitive of all data is required by our governments, courts and armies for judicial purposes. And this forensic data is also liable to get corrupted or deleted most probably by the criminals. But with the help of a picture-perfect forensic data recovery tool, you can easily retrieve all the data without any flaws and alterations.
Part 1. Tips on Forensic Data Recovery Analysis
With the advancement of technology and internet, the crimes related to computer in judicial authentication have also increased. Departments often face this problem when digital evidence collected by electronic forensic get deleted or formatted. But with the development of forensic data recovery software, this problem is also being solved efficiently. So, what exactly is this forensic data recovery?
Forensic data recovery is basically a process where deleted, lost or formatted data is retrieved so that the legal evidences are not lost. As when compared to the common data recovery, forensic data recovery is more complex and difficult to achieve.
All the actions of capturing, recording and meticulously analyzing network events are called network forensics. This term revolves around finding out the source of attacks or other such issues that may cause loss of forensic data.
Part 2. How to Get the Forensic Data Recovery Services
Forensic data recovery is becoming more and more popular these days so as to prevent the loss of such legally sensitive data. But with so many applications claiming themselves to be the best, it has become crucial than ever to choose the best forensic data recovery tool. Here, we have picked iSkysoft Data Recovery for Mac (or iSkysoft Data Recovery for Windows). This tool is unsurpassed in its resourceful user interface and excellent data recovery.
Recoverit (IS) is a great tool which is intently developed to help you deal with almost all kinds of data loss. The tool is powerful enough to perform deep scan of all your drives for finding out every possible file that is lost on your system. From computer formatting to accidental deletion, the software will restore all the necessary files. It is highly efficient for forensic data recovery and make it extremely useful for courts, governments and armies to recover forensic evidences effectively.
Key Features of Recoverit (IS):
It has a simple-to-use and high-grade user interface.
You can also preview your lost data using this tool before retrieving it.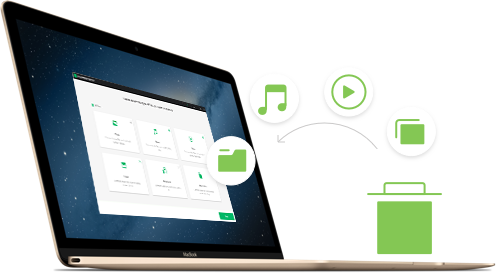 The software can help you recover almost all kinds of data like movies, images, videos, archive files, documents and audios.
It successfully scans your entire system to find all the possible files lost on any drive.
The scanning is a read-only process so the data that is recovered is not at all changed.
Step-by-Step Guide for Forensic Data Recovery
Step 1

Download Forensic Data Recovery Software

Download and install the Recoverit (IS) for Mac on your system. After the program is successfully installed, run it and select one or more file types according to your requirement from the interface that appears on your screen. Then click "Next" button to continue.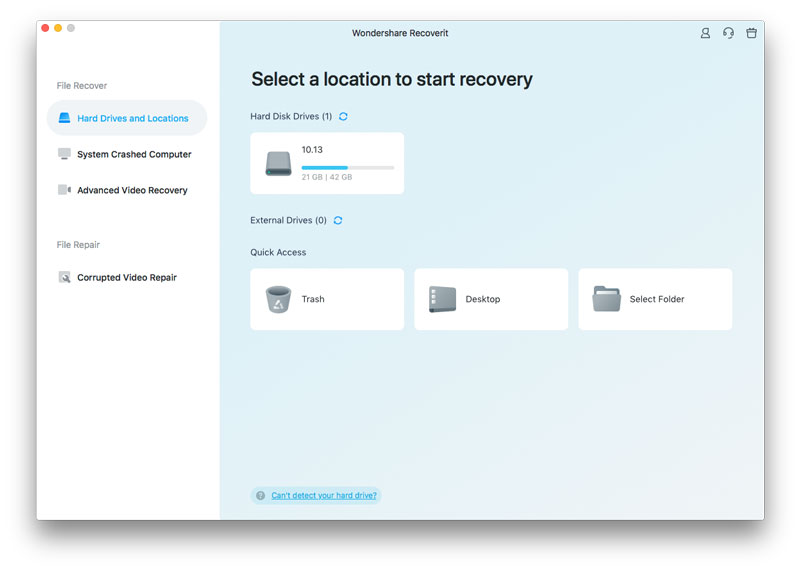 Step 2

Scan the Drive

Now after you have selected your mode, you will see a list of all the drives on your system. If the drive you want to scan is not on the list, click on "Refresh" icon. And when you have selected the drive you want to scan, click on "Start" button. After the default quick scanning process, if you have not found your lost data, you can click "Depp Scan" on the bottom of the window to trigger the deep scan process. Deep Scan usually takes longer time but scans the drive more thoroughly to find out all the possible files that are lost from that drive.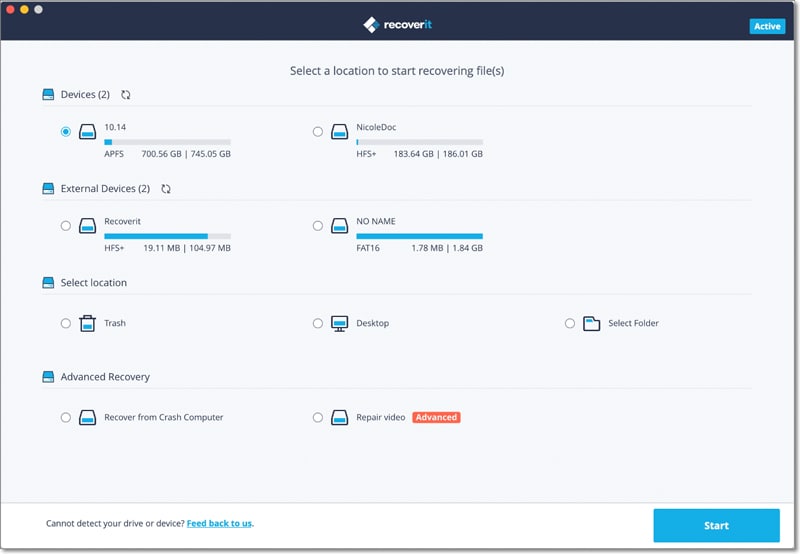 Step 3

Complete Recovery Process

After the successful completion of the scan, all the files that were deleted or formatted on that drive will appear on the screen. You can preview any file that you want to recover and then click on "Recover" button to restore it.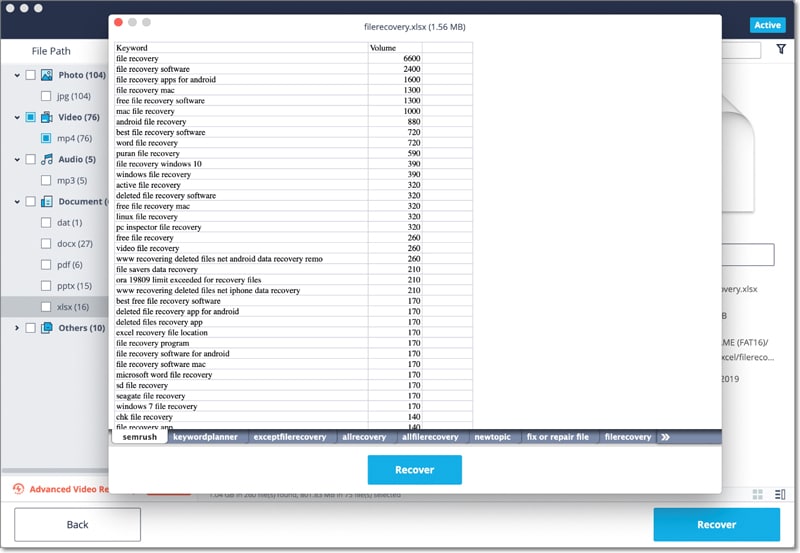 Recoverit (IS) is the most powerful tool that enables you to restore any type of data. It is great for forensic data recovery too.
Part 3. How to Prevent Data Loss
Although it has become quite impossible to save your data from loss in today's world, you can actually take certain protective measures to prevent data loss as much as possible. So, even if you have powerful software for forensic data recovery, it is better you make sure your data is not being lost suddenly. These are some measures which you can take to prevent data loss:
Always be certain of not saving all your files on the same drive where your OS is installed. If any virus attack or other failure causes your OS to crash, it will need a repair and your new data will be saved here. This will overwrite your original data.
It doesn't matter whether you are saving your data on hard drive or removable disks. Ensuring regular backups of your data is extremely important. Thus, back up all your sensitive and important data to another place and update is regularly.
Human error is the most prominent reason for data loss. We have to admit it that most of the times we lose data due to accidental deletion. Therefore, it is recommended that you be extra careful while editing your files and also enable auto save function to avoid unnecessary deletion of your important files.
Forensic data recovery is the best way to ensure the authenticity and integrity of electronic evidences in judicial cases. It plays a major role in strengthening the ideal of perfect legal system. But because this can only be achieved with reliable and effective data recovery software, you can trust Recoverit (IS) for Mac for all your data loss solutions.