The memory cards used by digital cameras is to store pictures it takes. For some reason, the media card can be damaged during power outages or removing the memory card to record or playback. Usually an error message such as "Memory Card Error", "Card Locked", "Error Card" or an error code on the camera screen and valuable pictures on the media card can disappear and be lost. Now, we will talk about media card recovery in this article.
Part 1. Media Card Recovery: How to Recover Lost Data from Media Card
If your media card had been damaged, it is highly recommended to stop other operations on the memory card (for example, you take a new picture or delete images from the memory card). iSkysoft Data Recovery for Mac (or iSkysoft Data Recovery for Windows) is capable of recovering lost photos in most cases.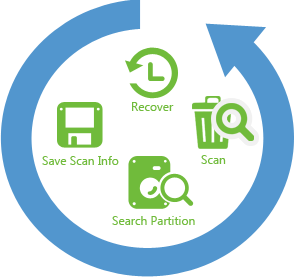 Step-by-Step Guide for Media Card Recovery
Step 1. First, confirm that your card can appear as a letter in "My Computer", which will provide accsee to recover lost photos. Then download and install Recoverit (IS) for Mac on your Mac computer. After you launch it, you will get the main interface as below. From this window, choose the data types to recover and then hit "Next".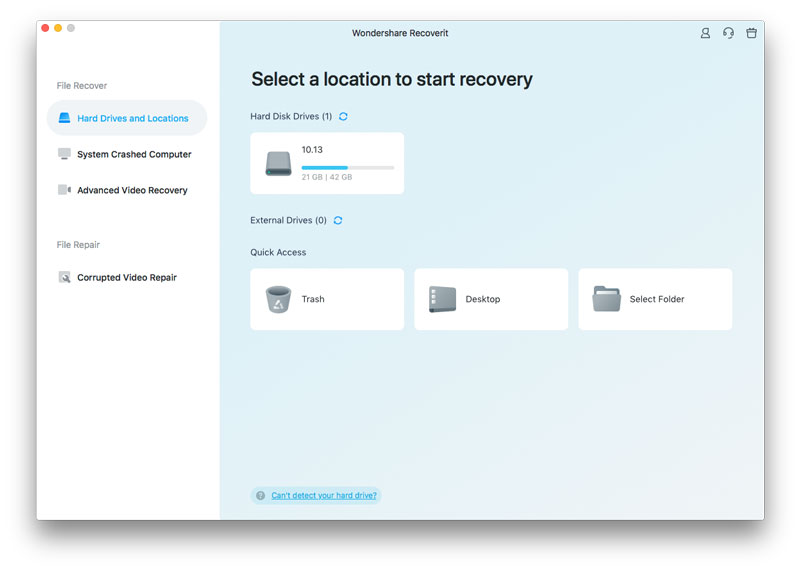 Step 2. Next, try to pick your media card and click "Start" button. Recoverit (IS) for Mac will scan your media card and locate the recoverable images, the procedure is quick and easy, usually it takes less than 5 minutes.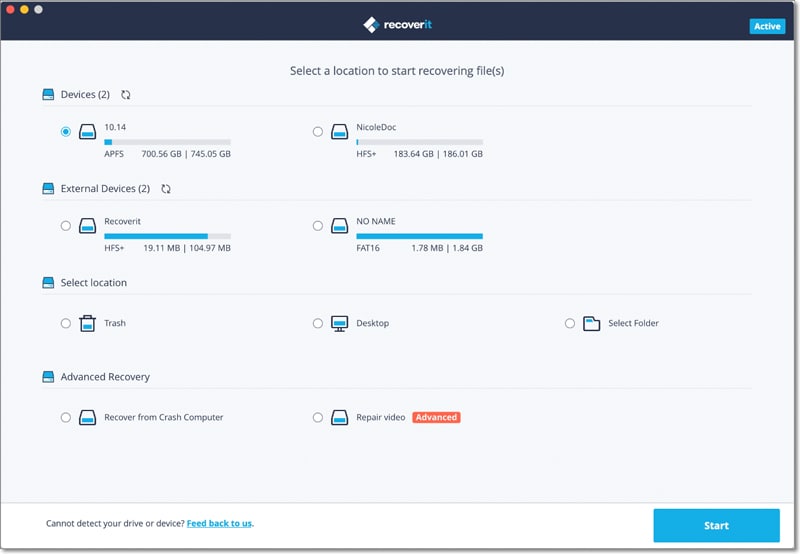 Part 2. 10 Tips on How to Avoid Media Data Loss on Card
Below you will find 10 tips to avoid mistakes, problems, corruption or damage to the media card.
#1 – Format the new media card when you purchase it
When you buy a memory card which is already "Pre-formatted", but it is good to format the card in the camera again, not on the computer when it is inserted into the card reader. This will ensure that your card uses a file system to recognize the camera.
#2 – Always leave litter storage on your media card
Most medern camera tells yuo how many pictures can be taken untill the media card is full. However, this number is only an estimate, so you should leave some additional memory on the card. If the image even when the camera's memory is full, it can damage existing data. To avoid this problem, you should always leave a litter more space on the card.
#3 – Instead of big memory card, use multiple samll cards
Since the high-capacity memory cards are available in the market, you may want to buy a media card that has more storage available. But what if your 128G card fails? Then you lost your important and 1000+ images and other data. Therefore, yuo must use another card that has smaller storage to resuce the risk of corruption and photo loss.
#4 – If you want to delete all photos, format your media card
If you want to delete all the photos on the card, rather than simple eliminating format your card, or you need to transfer photos to a computer before formatting the card. Formatting the card also allows new and repair disk errors that have occurred before.
#5 – You must safely "EJECT" your memory card
Always be "Out" secure media card from your computer, camera, phone or other devices. So next time you when you are done with the transfer of data from the card to computer, you must choose to safely eject the card.
#6 – Switch off your camera before you remove the media card
We recommend that you turn off the camera before removing the card as it will help to prevent any images or data corruption. If they still leave a card while the camera is on, there are chances that your camera is writing or reading a picture.
#7 – Make use of only good quality media card
If you use cheap media card, then there is a good chance that your photo may disappear "mysteriously", and it is suggested that you should use high-quality maps. It is not recommended that you should go for top quality, but not suggested that he should go for the cheapest. I think you can go for SanDisk, Kingston, Lexar and Samsung.
#8 – Don't use the same card on multiple gadgets
If you use the card in a digital camera and take pictures, don't use the same card in the smart phone to take more pictures. This is because different devices used different demands in the file system, so if you mix then you can end up with the problem of corruption of data stored on the card.
#9 – Use only good quality card player
Although the function card reader read-only media card, there is a possibility that the card can easily spoil your appetite. It is therefore important to use only good quality card reader. It is best to use the same card reader manufacture and media card.
#10 – Always keep the card in safe mode
A small amount of dust or water can damage the media card. Dust can avoid read / write card and therefore can not access photos and other data stored on it. Therefore, you need to protect them and keep them in safe place. You can use the case that comes with the card.