The data stored on hard drives is often a lot more valuable than the entire hard drive itself. Same is the case with a PS3 hard drive which has some of our most favorite games stored in it. The PS3 hard drive may be the only place where our vast collection of high-end games lies. What if, one fine morning, one of your favorite games freezes suddenly? The only way to fix the hard drive would be to reformat it. Right? Wrong. You can use specifically developed tools meant for PS3 hard drive recovery and recover your files within minutes. These tools perform important scanning process that searches the entire drive and find out lost, formatted or deleted data from it.
Part 1. How to Complete PS3 Hard Drive Recovery
Specially designed for the users like you in mind, iSkysoft Data Recovery for Mac (or iSkysoft Data Recovery for Windows) is the best software to have in your toolkit for data recovery. It makes recovering data from any hard drive a breeze because of its outstanding inbuilt features. Recoverit (IS) is an amazingly developed data recovery program. This tool offers four excellent recovery modes so that no matter where you have lost your data, you can trust this program for recovering it efficiently
Why Choose This PS3 Hard Drive Recovery Software:
It recovers lost, formatted or deleted data from external and internal hard drives, flash drives, memory cards and smart devices.
The scanning process of the program is super powerful which retrieves almost any file type that is accidentally deleted or lost on your system.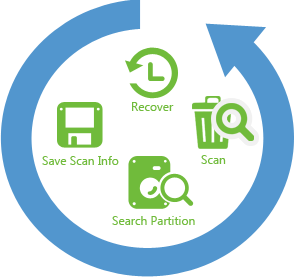 Before you recover data, you can use Preview option offered by the tool to make sure you are retrieving certain files.
You can use either of the tool's normal or deep scan and find out all the lost or deleted files.
Step-by-Step Guide to Recover PS3 Hard Drive Data
Step 1

Download iSkysoft PS3 Hard Drive Recovery Software

Download this tool from its official website and install it on your Mac computer. Once the software is successfully installed, run it and go to its main user interface. Connect your PS3 hard drive to the computer using a micro USB cable. Now choose the file types to be recovered in the following steps. Then click on the "Next" button.

This mode recovers files by file signature. So, when files are recovered, the only drawback will be that their original names and file folders will not be available.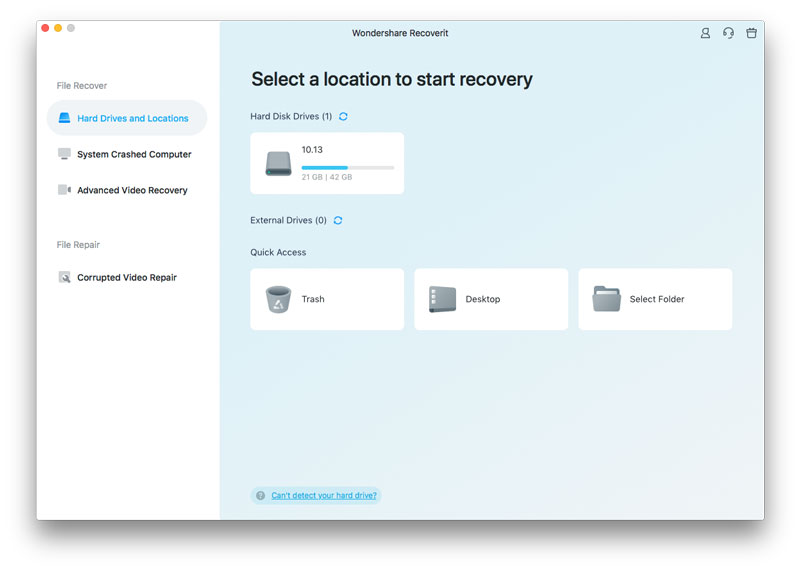 Step 2

Scan PS3 Hard Drive

When you select the mode, the program will show you a list of all the external or internal hard drives available currently. Choose a drive or the entire disk and then initiate scanning by clicking on the "Start" button. If you cannot find your PS3 hard drive in the list, remember to click on the refresh icon.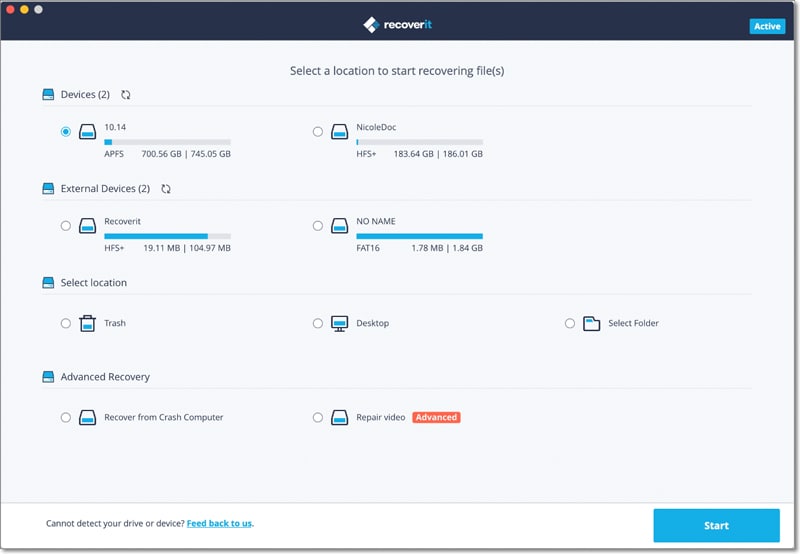 Step 3

Complete PS3 Hard Drive Recovery

As soon as the scanning completes successfully, a list of all the lost, deleted or formatted files from your hard drive will queue up on the program's interface. Tick-mark the files you want to recover and click on the "Recover" button. Save these retrieved files to another drive or external storage media.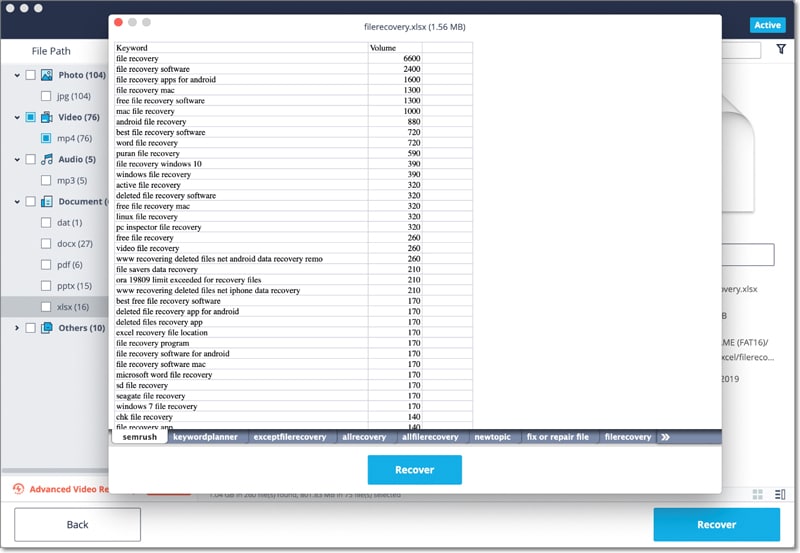 This is a three-step data recovery solution which will competently retrieve your data without any problem. Though "Deep Scan" mode may take longer than the other modes, it effectively retrieves your files so you can enjoy the much-needed peace of mind.
Part 2. More Tips on PS3 Hard Drive Recovery
The PS3 hard drive is like any other hard drive which is made up of sectors. Even if a single sector of this hard drive is damaged, the entire drive will eventually become unreadable. Though your data will still be there on the drive, you won't be able to read it or get access to it. Sometimes when you are lucky, only one of the sectors on your hard drive will get damaged. This means you can still fix your broken or corrupted hard drive.
Turning off the system improperly is one of the most common causes of data loss on your PS3 hard drive. The best thing, in this case, is always to keep your data backed up. When a hard drive freezes on you, you can easily get your data back if you have been religiously backing up your files.
A faulty power supply can also cause the hard drive to break down. Thus, make sure you never run your play station on a faulty power supply else you would end up losing your valuable data.
Improper internet connection often causes excessive lag during online play. If this happens continuously, it can cause a hard drive to freeze either for the time being or permanently. Because PS3 is designed to be operated using broadband networks, dial-up connections can cause these internet troubles resulting in a corrupted hard drive.
When the drive lacks free space or is faulty, loading content on PS3 can cause lagging or freezing. Remove items from the hard drive before loading more content on it otherwise; it will get damaged.
These are some of the most effective ways to prevent data loss. We all know it is not possible to completely avoid the possibility of data loss. But we can at least take preventive measures because it is in our hands to prevent data loss to some extent. If, however, the data is lost, you need a solution to recover it. Recoverit (IS) is one such program that can help you recover lost, deleted or formatted data from a wide range of devices.