Data loss is one of the most widely growing problems of today. Because of numerous known and unknown reasons, we tend to lose our valuable data. Raw Hard drive and Raw Partition are other reasons that can cause your data to lose if they are not handled properly. Therefore, here we have summed up all the information relevant to raw hard drive and partitions, its causes and the best possible raw data recovery program.
Part 1. What are RAW Hard Drive and RAW Partition
RAW Hard Drive: Whenever your operating system becomes inefficient to recognize the file system of your hard drive, its state is termed to be RAW. So, it means all the hard drives that cannot be accessed are raw. The RAW hard drive represents the file system that is somehow corrupted and none of the FAT, NTFS, EXT2 and EXT3 files is being identified. When the file becomes inaccessible, you cannot use it. All during the time the drive is raw, the used and unused space and capacity of the drive will be shown as zero.
RAW Partition: When instead of the whole drive only one of its partitions becomes inaccessible, it is called RAW Partition. This damages only one partition while other partitions are safe and normal. If you now choose to format the drive which will allow you to enter the partition successfully, keep in mind you can lose your valuable data saved in that partition. So, don't risk your important data with formatting.
6 Causes for Hard Drive to Become Raw
Cable issue is one of the most prominent reasons for a hard drive to become raw. When the cable is broken or the external hard drive has bad contact, they will be shown as raw.
When the responding speed is considerably slow, the key of hard drive is likely to have bad sectors. This is another reason for hard drive to become raw.
The structural damage to the file system is other reason for the occurrence of raw.
Once the partition table of the hard drive is damaged, the entire drive will become raw.
The hard drive may become raw while reinstalling or restoring your operating system.
Virus attack can turn your hard drive into raw state.
3 Causes for Partition to Become Raw
When the starting and ending position of the partition table on the hard drive is damaged with a virus attack, the corresponding partition will become raw.
The partition becomes unrecognizable when the system partition is formatted with FAT whereas while replacing the old OS it is changed to NTFS.
When a very high number of hard drives or partitions are used in single computer, it can also raise the issue of raw partition.
Part 2. How to Recover Data from RAW Hard Drive and RAW Partition
If your hard drive or partition has become raw and you need to recover them back, then there is this amazing raw data recovery program to help you. iSkysoft Data Recovery for Mac (or iSkysoft Data Recovery for Windows) is specifically designed with powerful feature of restoring raw hard drives or partitions.
This outstanding data recovery tool is all set to recover your lost hard drives and partitions. It makes it extremely effortless to restore your lost data from any device like memory card, USB flash drive and more. The program also offers a remarkable feature "Preview". Using this option, you can preview all the files before restoring them back to the computer. There is another option to enable Deep Scan which performs a more thorough and in-depth search for the lost files.
Key Features of Recoverit (IS):
The tool works remarkably well for all the devices and their wide range of versions.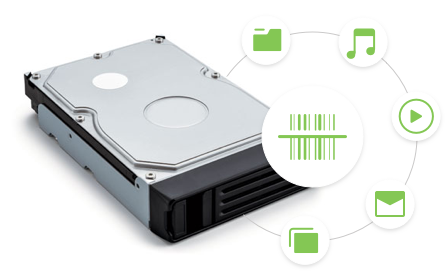 The read-only process of scanning the drives makes sure that data is retrieved without any change.
The program interface of the application is powerful and easy to use.
It can recover any data like images, videos, audios, archive files, documents and more from raw hard drives and partitions.
Step-by-Step Guide for Raw Data Recovery
Step 1

Launch Raw Data Recovery Software

Download and install the Recoverit (IS) for Mac on your system form an authorized site. Run the program by clicking on it when it is successfully downloaded. Now from the program interface that appears on your screen, select the file types and click on "Next" button.

This software can recover more than 200 types of files like JPG, PNG, MOV, M4A, MP3, ZIP, PAGES and more.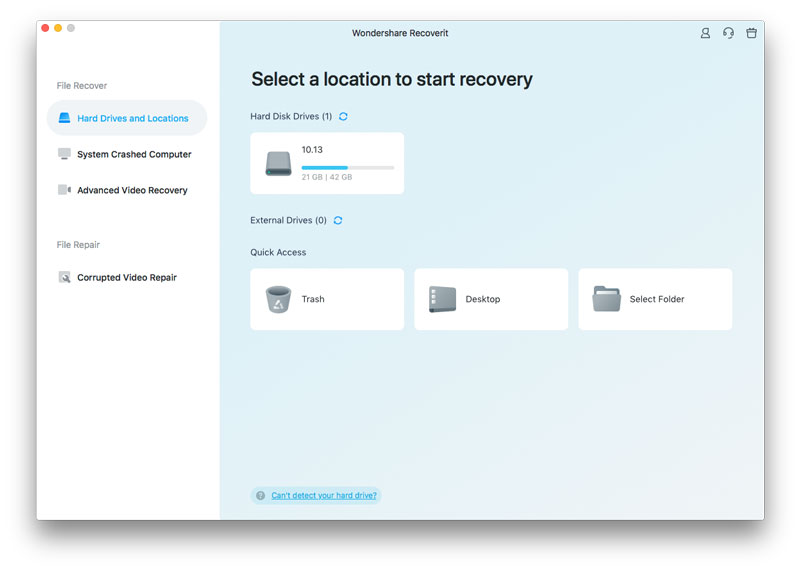 Step 2

Start Drive Scanning

The list of all the drives on your system will come up on your screen. Choose your drive you prefer to scan and click the "Start" button to initialize scanning. Even when you have lost a partition, scan the whole disk.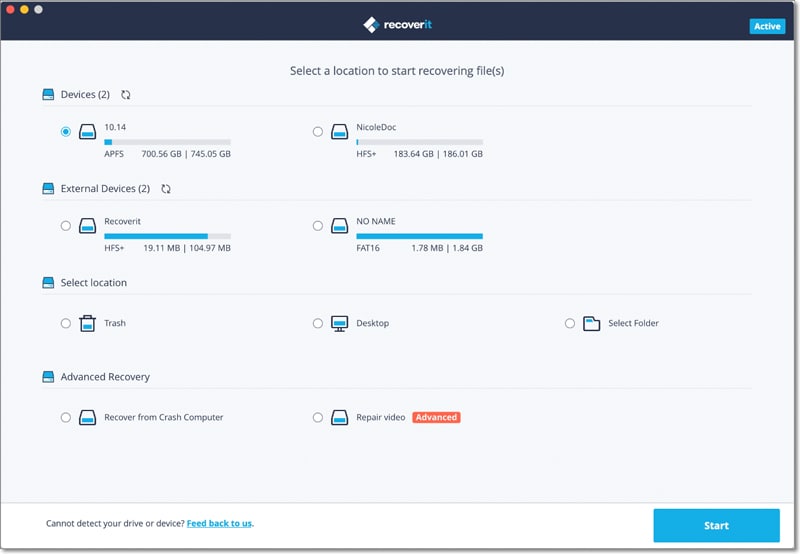 Step 3

Complete Recovery Process

When the scanning is complete, the lost files will appear on your screen in the form of a list. You can select the files that you want to restore and click on "Recover" button.

You can then save the recovered files to another drive like any of the external storage media.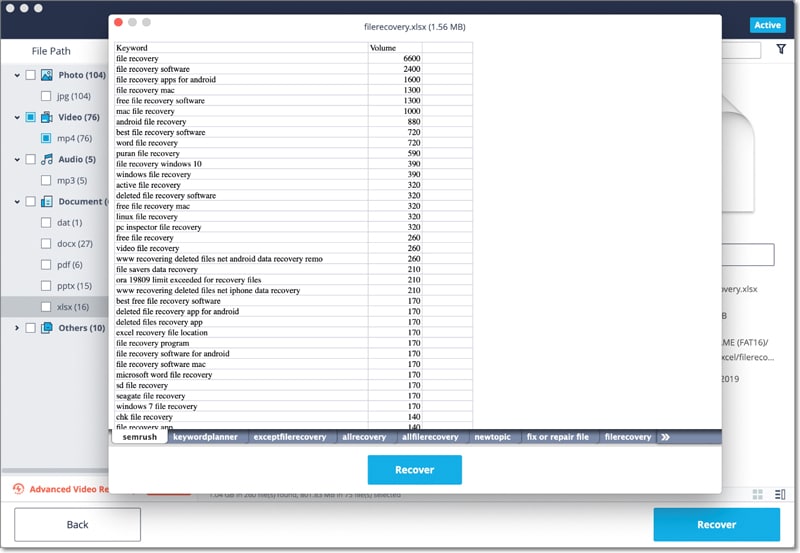 This tool is unsurpassed in raw data recovery because of its amazing and simple features that allow safest and quickest data restoration.