Staples, Inc is a multinational company that's well known for providing a broad assortment of products & supplies, Which also offers tech support services, which include hard drive recovery, premier PC setup, data backup and PC Tune-up. So if you own an internal/external hard drive from Staples and you've just realized that some of your files are missing, lost, corrupted, etc, you can either contact the company or look for other alternatives to Staples hard drive recovery. Note that Staples offers a 100% guarantee no data no charge hard drive recovery, but you'll be serviced in store, and not at home. Moreover, the company's hard drive recovery service costs $259.99.
Part 1. The Best Alternative Way to Staples Hard Drive Recovery
Whether your files were deleted, damaged, formatted, corrupted or lost due to other data loss scenarios, iSkysoft Data Recovery for Mac (or iSkysoft Data Recovery for Windows) makes it easy to rescue your data at the comfort of your home/office. The safe, affordable & DIY software feature industry leading data recovery engine that enables you to retrieve all types of lost data in no time- videos, music, photos, applications, documents, emails, etc. Even if your Mac computer can't boot up, this incredibly powerful software will perform staples hard drive recovery and retrieve your data.
Why Choose This Staples Hard Drive Recovery Alternative Way:
You'll be able to restore up to 50 types of files- M4A, MP3, MOV, JPG, PNG, ZIP and more.
The program recovers lost data in original quality.
It supports data recovery from almost all types of storage device- USB, computers, hard drives, digital cameras, memory cards, players, etc.
You can preview recoverable files when the scanning process is complete.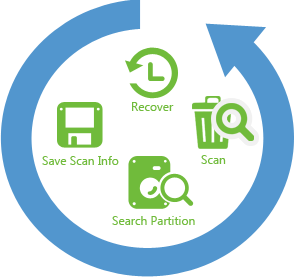 Step-by-Step Guide to Complete Staples Hard Drive Recovery
Step 1

Download Staples Hard Drive Recovery Software

Go to iSkysoft official website and download Recoverit (IS) for Mac. Note that you shouldn't install the application on the original staple hard drive from where your files were lost. This helps prevent permanent loss of data. We recommend that you download the software on another Mac computer, install it to a USB flash drive and then recover your files with the software installed on the USB flash drive. From the main window of the software, please select the file types to be recovered.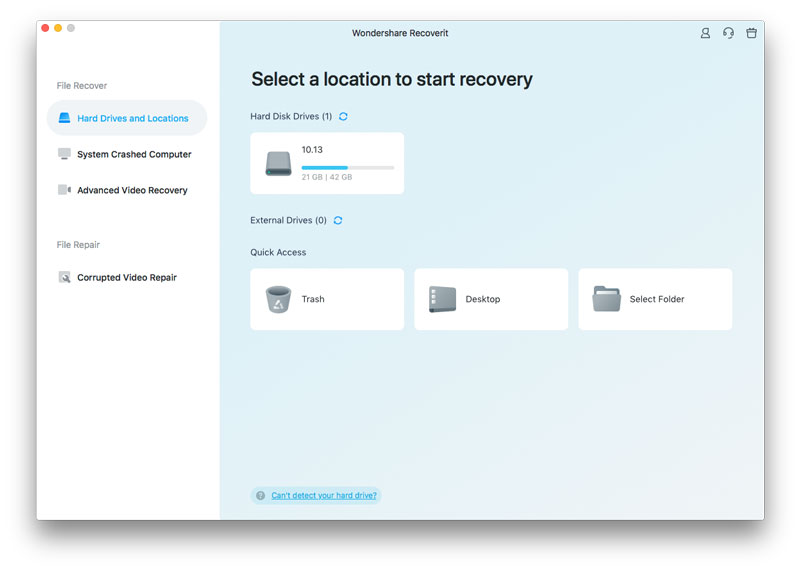 Step 2

Select Your Drive

In the next window, select either a drive or the whole disk, and then click the "Start" button located at the top-left corner of your screen. If you lost or formatted your staples hard drive, select the whole disk. In case your drive or partition isn't listed click the refresh icon, and it will appear after a few seconds.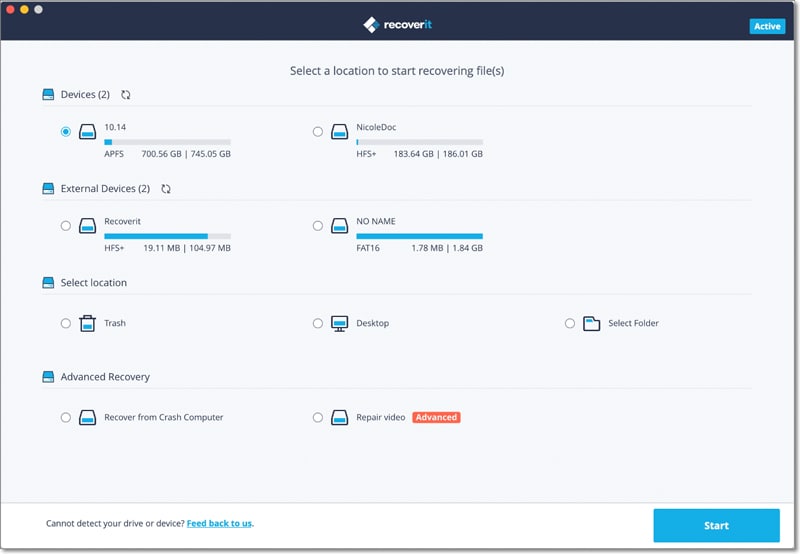 Part 2. How to Choose a Hard Drive from Staples
Whether you want to replace your internal hard drive or you are looking for an external hard drive so as to back up your files to a separate location, you can get it from Staples at the best price. They offer a wide selection of hard drives compatible with desktop computers, laptops computers, surveillance systems, servers and more. You can place your order on the leading brands such as Seagate, Western Digital, IBM, Intel and more, but there are a few factors that you'll have to consider while choosing the best hard drive for your needs.
1. Compatibility
Is the hard drive you are about to buy compatible with the type of your computer? Some internal and external hard drives work with either PC or Mac, but others don't. A few models can operate with PCs and Macs after a proper formatting, but you can skip this task by getting the one that's compatible with your computer.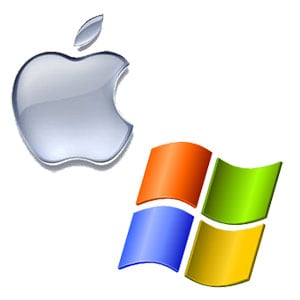 2. Type of Hard Drive Connection to Computer
If you want to back up multiple computers, you can select standard wired or wireless hard drives. Most standard wired drives accommodate 1 to 4 computers simultaneously while wireless models can connect to up to 10 mobile devices or computers simultaneously.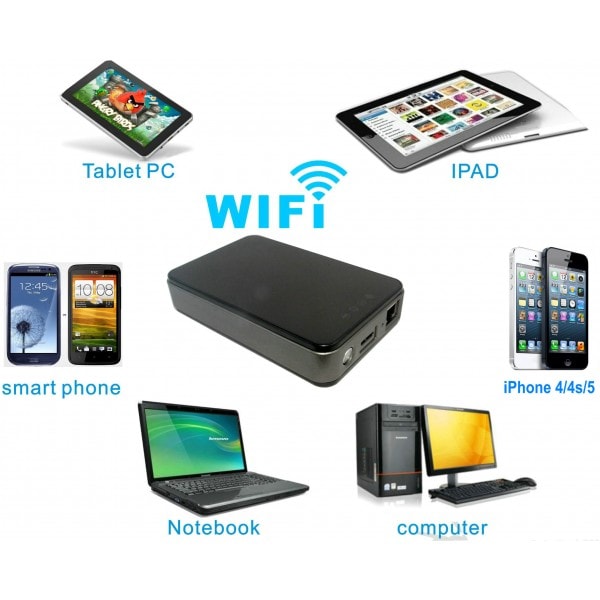 3. Storage Capacity Needed
Hard drives come in different sizes. Internal ones range from 500GB to 10TB while external drives have a capacity of 2GB to 12TB. The smaller ones, (500GB to 1TB) are perfect for those with limited data while the high-capacity drives (2TB to 12TB)are ideal for individuals with demanding storage tasks. Go for a model that can handle your current data storage needs and even allow for an extra room for future use.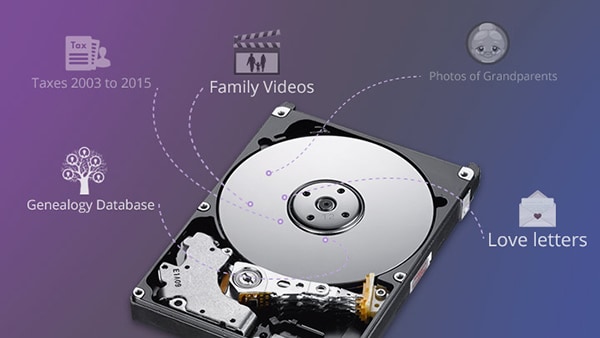 4. Physical Space inside Your Computers Case
If you want to replace an internal hard drive on a laptop or desktop, you have to determine if the new drive will fit your computer's bay. A high percentage of laptops accommodate 2.5-inch hard drives while most desktop and servers cases use 3.5-inch internal hard drives. But just ensure that you are certain of your computer's hard drive size.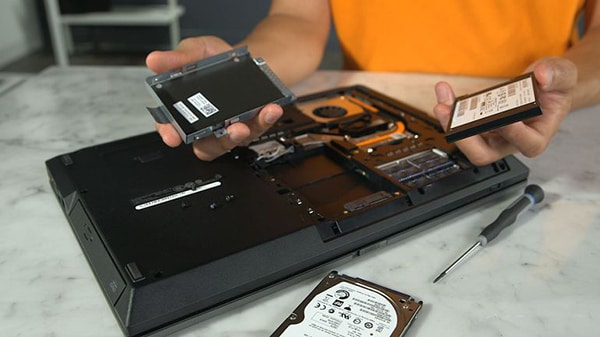 5. RPM Values
Internally, hard drives feature one or more spinning magnetic disks, which store data as well as some moving heads that transfer information to and from these platters. RPM values are measurements of the rotational speed of the spinning disks. Note that the faster the drive spins, the faster the write/ read heads can locate a piece of data. So choose a hard drive with higher RPM values. Most laptop and desktop drives have RPM values of 5,400 to 7200 but the ones for demanding server tasks have higher RPM values of up to 15,000.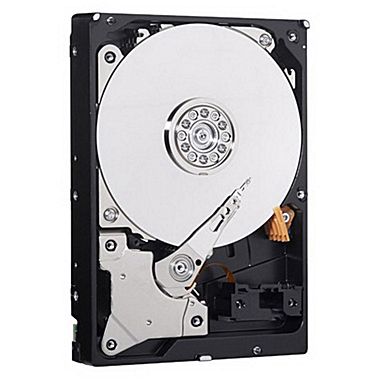 6. Cache and Transfer Speed
If you need to write/ read a large amount of data rapidly, choose a hard drive with fast transfer speeds. The latest hard drives feature integrated controllers with 64 to 128mb data caches that allow for fast access to stored data and fast performance. Most disks also come with industry standard SATA interface that transfer files at rates of up to 6GB per second. Some models have Thunderbolt, SCSI or SAS interfaces that meet specific data transfer needs. For external drives, opt for the ones with USB 3.0 connection, and you'll enjoy fast speeds.