Computers, smartphones, and other digital devices such as MP3 players contain personal and valuable information. We cannot depend on our luck alone to safeguard the information contained on a particular gadget. There is a high probability that a person can lose data due to the corruption of the operating system or due to an attack of a virus. Unfortunately, no utility program is currently available that is capable of preventing intrusion and provide 100% protection. Luckily, you do have programs that excel in audio file recovery. You can now easily get back all the lost songs from any of the devices with the help of audio file recovery tool.
Top 5 Software for Audio File Recovery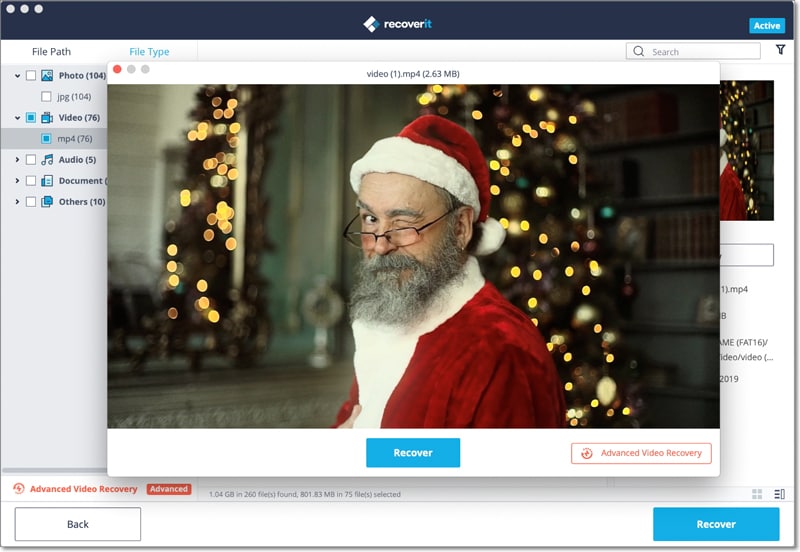 Recoverit for Mac (or Recoverit for Windows) is an all in one solution for file recovery. Apart from mp4 file recovery, the program is also capable of retrieving documents, images, and other file formats. The software package uses innovative recovery modes to recover audio files from any device. Unlike other recovery tools, Recoverit (IS) has additional features that are as follows.
Why Choose This Free Video Recovery Software for Mac:
● Recovers any file from any instrument
● Retrieves the data in original quality in a few simple steps
● Saves scan results for future use
● Offers numerous filters and folder trees to search for files in few seconds
Step-By-Step Guide to Recover Audio File
Step 1. The program is available online and downloadable from the official website. Users can install the program by double clicking the icon from the "Applications" folder in Mac. After installation, launch the program, and from the interface choose the file types that you want to recover in the next process. To recover audio files on your mac, please make sure you have selected "Audio" in this step. Then click on the "Next" button.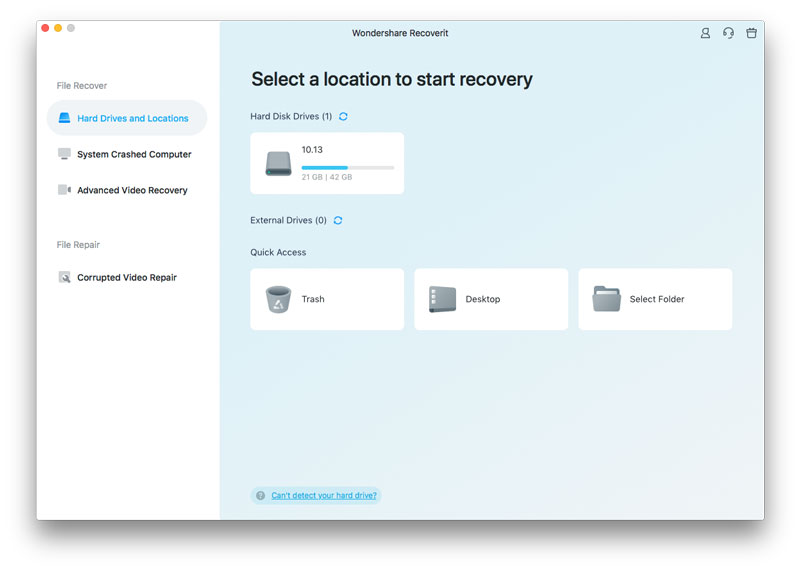 Step 2. Choosing the option will allow the program to display the partitions on the hard disk. Users can then select an appropriate partition from which they wish to retrieve audio files. All they need to do is press the "Scan" icon.
Step 3. Recoverit will display the recoverable audio files from the selected partition. Users also have the opportunity to preview a file in the preview screen of this software package. They can then select the necessary files and click the "Recover" icon located at the top to retrieve the files and save them to a folder on the Mac.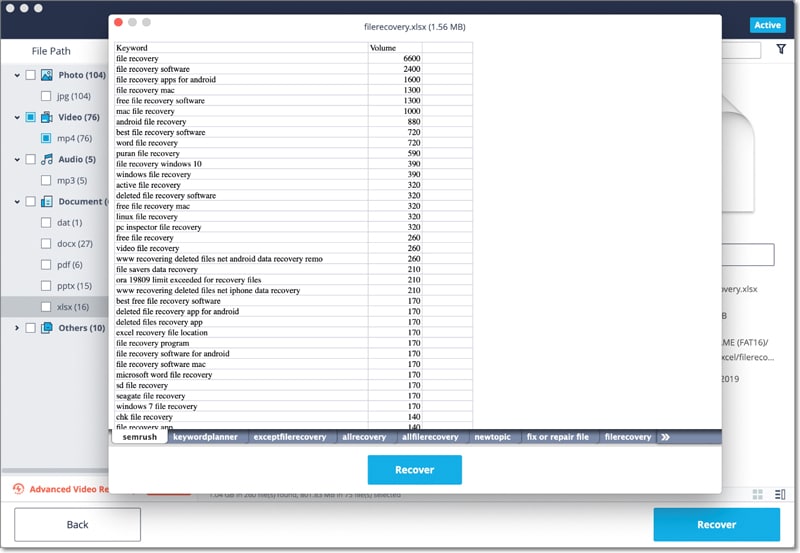 Note: Recoverit audio recovery software also displays the validity attribute of a file as good and bad for recovery. It will be helpful in making a selection of the data.
Optiona: If you want to reach and recover more audio files, you can perform "Deep Scan" mode.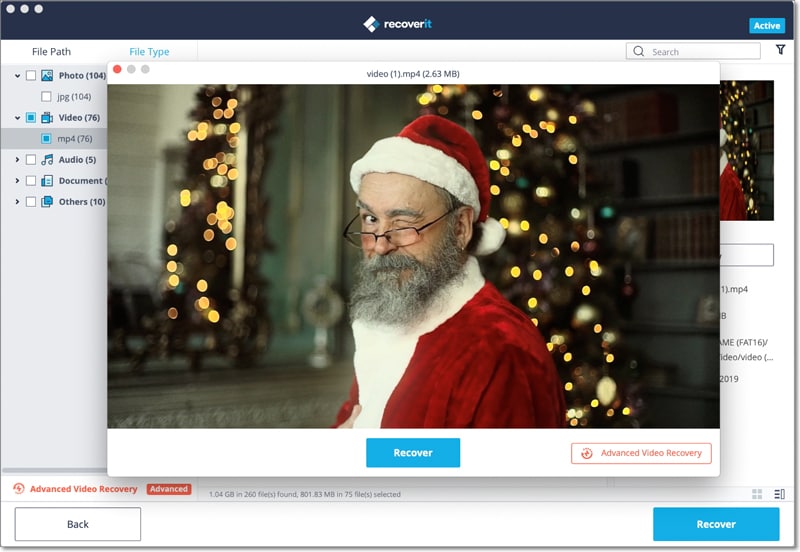 ---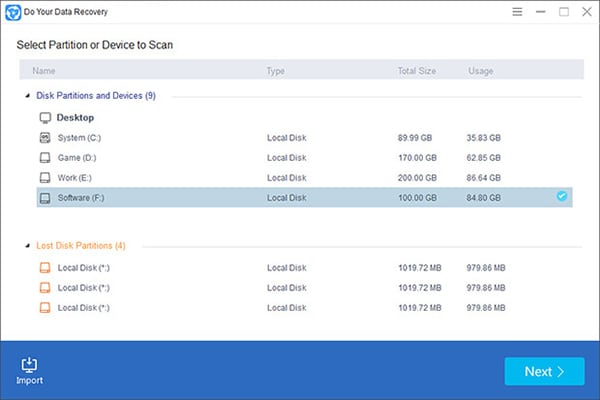 Do Your Data recovery is a professional and powerful recovery tool. It is competent in retrieving data from formatted or inaccessible drives from a computer, laptop, and other storage media. It is also capable of recovering audio files from deleted or lost partitions. The advanced recovery algorithm contained within the program helps in retrieval of data in three simple steps. The recovery tool is also capable of retrieving information from Windows server, large capacity devices, and RAID devices.
Pros:
● Recovers images and audio files with ease
● Allows a user to preview the recoverable data in advance
Cons:
● May fail in recognizing certain file formats
---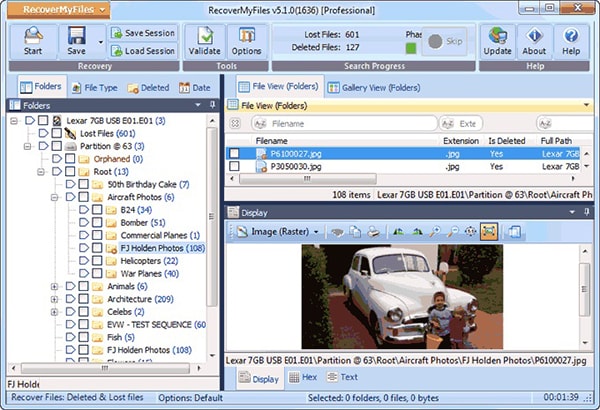 Recover My Files is a data recovery tool that is capable of retrieving lost files from corrupted, unallocated, and formatted drives. It is also capable of retrieving information for the files bypassed by the Windows recycle bin. The inbuilt text and hex features enable a user to see raw data. The software also allows an individual to browse results while the program is in the midst of scanning a partition or an external hard drive. Additionally, numerous tips related to drive recoveries are available at the developer website.
Pros:
● Deep scan technology
● Intuitive user interface
Cons:
● Scanning for an entire disk consumes a lot of time
● Functions improperly on older XP machines
---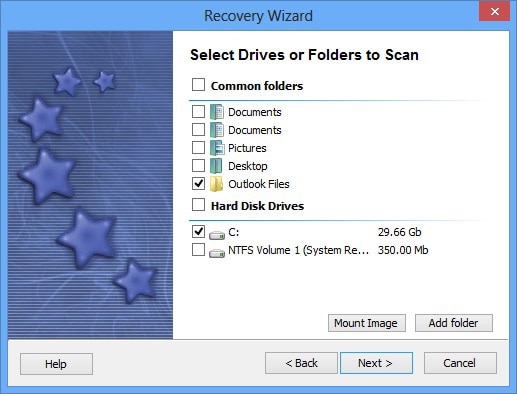 DiskInternals Uneraser is a simple solution for recovering lost or deleted multimedia files such as MP3, AVI, WAV, MOV, WMA, ASF, MPG, and other audio and video file extensions. The software supports internal hard drives, flash drives, USB thumb drives, and external devices. Therefore, there is a possibility for a user to retrieve any audio and video file from any device. An interesting characteristic of the software is the ability to scan for damaged disks and zip files. The program is also proficient in working with encrypted data, making it easy for a user to recover encrypted data lost due to virus attack, corrupted operating system, or malicious behavior by an employee.
Pros:
● Deep scan technology helps in finding all the lost files
● Capability in recovering files from infected, corrupted, and formatted devices
Cons:
● Fails to function on certain appliances
● Poor support team
---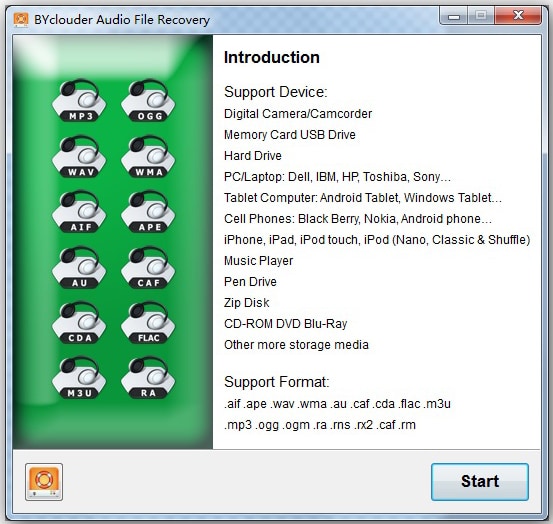 The main functionality of the program is recovering deleted audio files from any storage device. It means that the audiophile recovery is capable of extracting data from a hard disk, external hard disk, a smartphone, CD, DVD, SD card, and MP3 players. It ignores the file system layer, which makes it easy for it to retrieve data even from a formatted or severely damaged device. Supports all the leading file formats such as MP3, WAV, WMA, OGG, Flac, m3u, ra, rx2, and so on. A major advantage of the program is its capability to identify all the latest smartphones, flash drives, MP3 players, and gaming consoles.
Pros:
● Cross-platform audio recovery tool
● Retrieves files even from cd, DVD, Blu-ray, digital cameras, and gaming consoles
Cons:
● It fails to detect the latest smartphones and MP3 players sometimes
● May not function appropriately on certain devices