If your XLS file has gone haywire because of any unknown reason, don't lose hope. There are recovery tricks that will help you recover your lost Excel files without any difficulty. These recovery applications will enable you to salvage your valuable data. MS Excel is undoubtedly one of the most common applications used by millions of people worldwide. These files may get lost or corrupted because of numerous reasons. Here, you will find answers to all your mind-boggling questions: What is XLS file? Why they get corrupted? Which is the best application to do XLS file recovery?
Part 1: The Best Way for XLS File Recovery
Losing any of your XLS file may lead to a valuable data loss. In such situations, it becomes absolutely necessary to ensure XLS file recovery. If you have lost any of your excel file, then it is highly recommended to use iSkysoft Data Recovery for Mac (or iSkysoft Data Recovery for Windows). This data recovery tool is specifically designed to help users with easy and effective file recovery.
It is a safe, quick and the most cost-effective data recovery application. It helps you to recover almost any type of data that is lost on computer's drive, external disk, USB flash drive, SD cards or others. The scanning process of the software is very deep and vigilant and thus it searches the entire system for all the recoverable files. In fact, the software also enables you to preview your file before recovering it which is mostly not offered by other data recovery tools. Thus, you scan, preview and recover your lost data within minutes without much trouble.
Key Features of Recoverit (IS):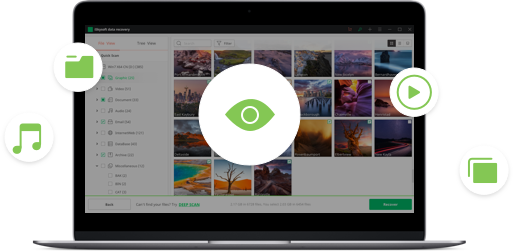 The tool supports almost all the Android, Windows and iOS devices and for all their latest versions.
The program interface of the application is simple and extremely easy to use.
It can recover any file type including music, videos, photos, archive files, documents and more.
The tool performs a read only process for data recovery and thus nothing is changed in your recovered files.
The tool offers the ultimate data recovery solution with its flexible recovery settings.
Step-by-Step Guide to Recover XLS Files
Lost Data Recovery is an efficient mode that enables you to recover any data that is lost because of accidental deletion. It helps you when you have unknowingly pressed "Cmd. + Del", emptied the recycle bin, your files are corrupted and other such reasons.
Step 1. Download and install the program on your computer. It cannot be installed on the original drive from where the data is lost. When the application is downloaded, run it on your computer. From the first window, please choose the file types to recover. Click "Next".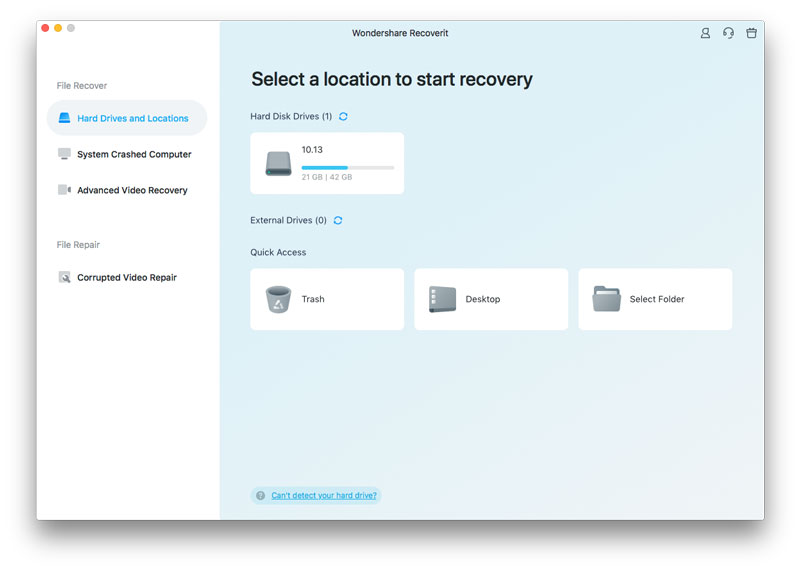 Step 2. A new window with drive options will be displayed in the interface. You can choose any of the drive from where your data is lost. After selecting the drive, click on the "Start" option given on the bottom. If the drive you want does not appear on your screen, try clicking on the refresh icon. And all the drives would be available as an option.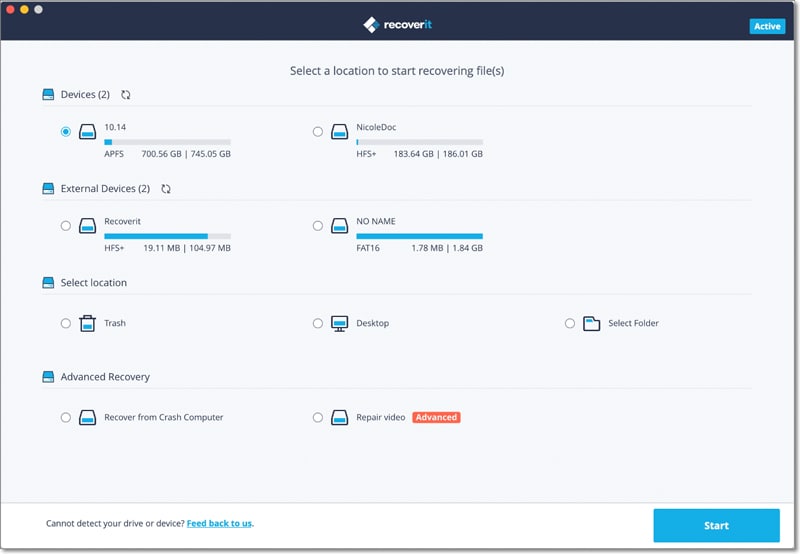 Step 3. When the scanning of the chosen drive is accomplished, a new window will open. It will show all the recoverable files. You can also preview them before recovering. In order to recover your lost files, click the "Recover" button given on the top of your screen. Save these recovered files in some external storage device and not in the same drive again.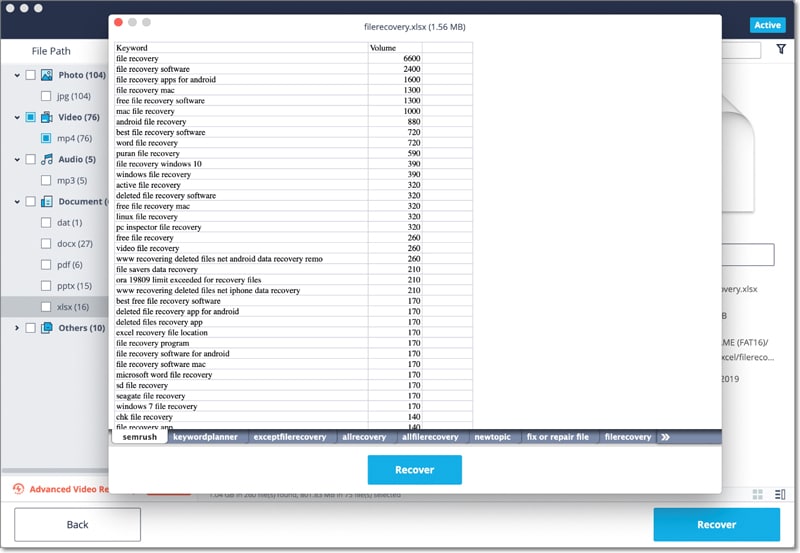 If you still don't see your wanted data, please perform the "Deep Scan" mode, which will search and recover much more data for you, yet takes more time to finish. This is the best and safest alternative software for XLS file recovery. It will bring back all your XLS files without any change and data loss. Now you will not have to re-enter all the data because of lost files. This amazing tool is always there for your rescue.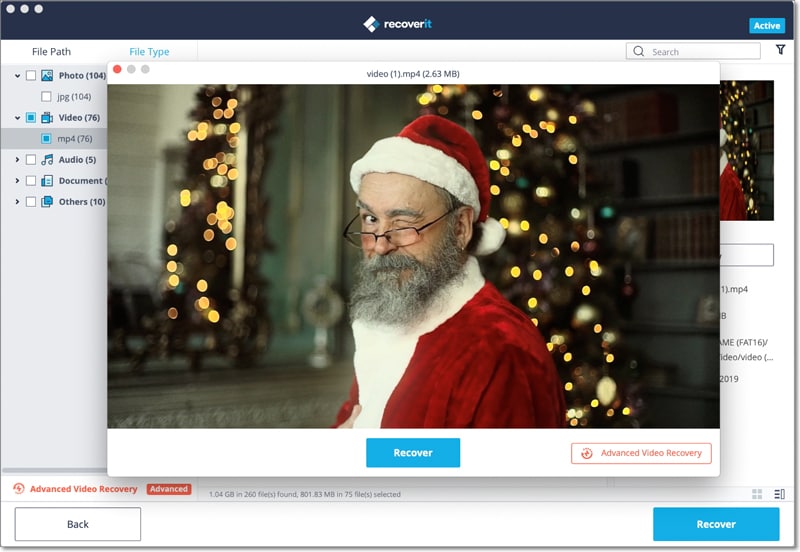 Part 2: What is XLS File and What Will Cause the XLSX File Loss
Basically, XLS stands for Excel Spreadsheet. It is a file extension created by Microsoft for a spreadsheet file format which is used with Microsoft Excel. All the Microsoft Excel documents are stored in a proprietary format by Microsoft Excel files. This format is commonly known as Binary Interchange File Format or BIFF.
This is a very popular application by Microsoft and is used extensively. Entering data in tables, rows and columns and then saving and manipulating that data are some of the common things that are allowed in this software. It is the ultimate solution for anyone who needs to keep the record for every detail. However, there could be some reasons which cause error in XLS files and you may encounter the relevant error messages. The file won't open and is likely to get corrupted.
The main reasons which can cause the corruption of your valuable Excel sheet are:
Improper Shutdown of the System
You must always close all your applications before you shut down the computer. But if sudden power cuts or other reasons lead to abrupt turning off of your system, there are chances that your open XLS files will get corrupted. The sudden shutdown will close the files improperly.
Virus Infection
Virus is a malware that will corrupt or damage your file system entirely. If there is a probability of such viruses in your computer, your excel files are likely to get corrupted.
Bad Sectors on Data Storage Device
All the external storage devices develop bad sectors with time. The excel file has a high chance of getting corrupted if it happens to be stored on these bad sectors
Issues with Excel Software
Improper or unexpected closing of an open excel sheet may cause certain problem with MS Excel application. This is turn causes the XLS file loss.
Large-sized Sheets
MS Excel application is not a database. And therefore, it cannot handle huge amount of information. The XLS files that are large in size have high probability of corruption.