Samsung has become a brand when it comes to their products. The popularity of Samsung Smartphones has increased since they released the Galaxy series. You can rely on their technology to store all the data that you use in your everyday life. That's why they made it their responsibility to embark that trust. The Samsung Backup software is developed to secure those files and to keep your memories safe.
In this article, you'll know about the top 6 backup software that allow the Samsung devices to have a backup of all their messages, photos, videos, messages, contacts, apps, documents, and other files.
#1. dr.fone
dr.fone - Phone Backup (Android) enables you to have a backup of your messages to save the memory of the phone. It is most helpful in case your phone gets lost or broken. You can export messages from all the devices whether it is Android or iOS, to your computer in a quick and easy way. It works both on Windows and Mac.
• Backup and manage contacts and messages with ease.
• Backup and Transfer photos, videos, music and all the multimedia files.
• Supports more than 6000 smartphones and networks, including every Samsung phones.
• All the transferred files are of original sizes and the format of the files can also be converted.
• It helps you transfer music between iPhone and iTunes.
[Guide] Backup Samsung Messages via iSkysoft dr.fone
Step 1. Launch the iSkysoft dr.fone on your PC, and connect your Samsung device to the computer via USB cable. From iSkysoft dr.fone, select the Information icon. The files might take some time in loading. Click on the SMS icon on the left side of the screen, your messages will show up on the screen.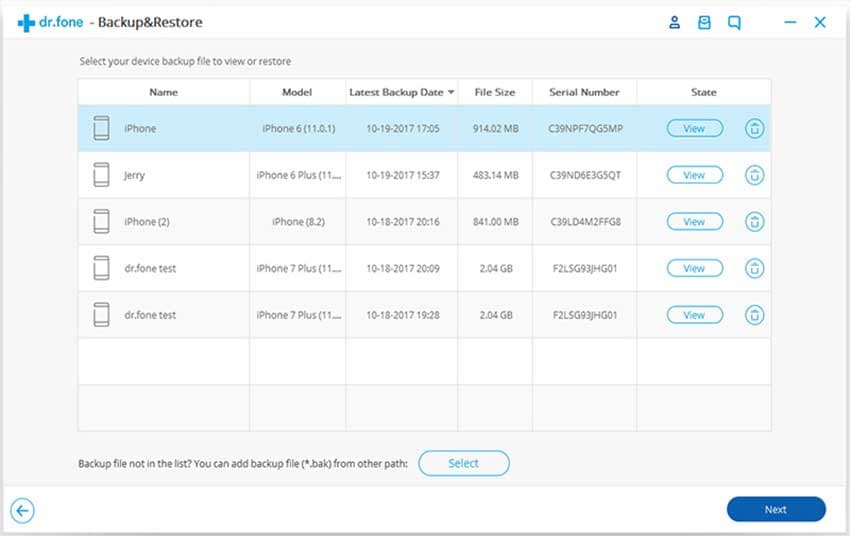 Step 2. Select the messages you want to export from your phone. You can select all at once if you want to transfer all the messages. If not, you can select the messages manually.
Step 3. Click on the Export button on the top or right-click on the messages and choose one of the options between Export to HTML or Export to CSV. Choose the location where you want to store your messages, and click on OK for SMS Export.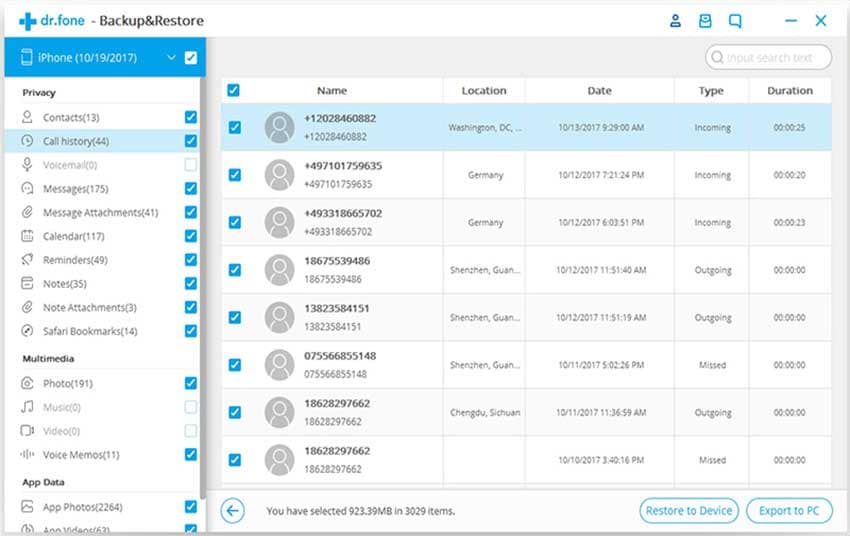 ---
#2. Samsung Kies
Samsung Kies is the tool developed by Samsung to have a backup and restore feature in the Samsung Devices and can also support other Android devices. The word Kies is an acronym for "Key Intuitive Easy System". With the help of this app, you'll have effective Samsung messages backup software in your phone. You can also transfer photos, videos, contacts, music files, podcasts, and many more with this app to another phone or PC and vice versa.
• Media and Data Synchronization: it supports an intuitive interface to transfer music, photos, and videos from a computer to a device. A PIM software is also included with Kies to manage contacts, schedule, and memo data. Non localized data is also supported.
• Data Backup and Restore: it can backup localized data files on mobile phones such as bookmarks, settings, alarms, etc. Only the DRM protected data won't be included because of licensing.
• Multimedia Library and Playlist: with this app, your own playlist can be created based on preferences. It can also import and export the playlist.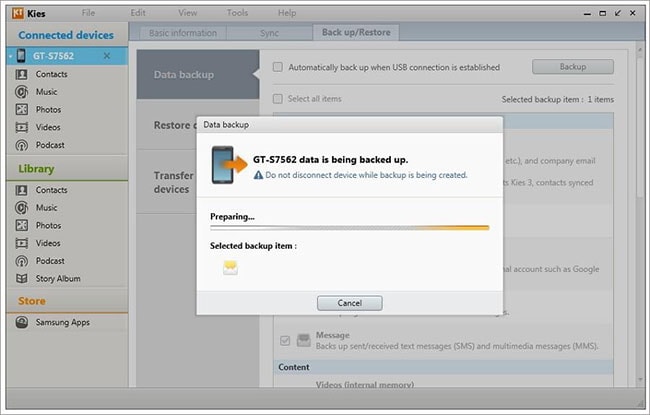 ---
#3. Samsung Auto Backup
Samsung Auto Backup is a specially designed Samsung messages backup software which is bundled with the external drives of Samsung. This app allows a real-time mode and a scheduled mode for backups. For extra protection, every file that is backed up is secured with a SafetyKey i.e. a password protection to limit its access to the owner of the files only. It also has a Backup Utility that can encrypt files for Security. It can effortlessly back up data on Windows Operating System but can only support Samsung external hard drive.
• The file filter defines the types of files in the backup space so that they can be accurately categorized.
• It can store the office files, document files, photo and picture files, video files, music files, and compressed files.
• It also offers to store the backup files with their extension.
• Added security with password protection.
• Scheduled backup that automatically saves the data on an external Samsung Drive.
#4. Back Up Samsung Message to Samsung Account
Samsung account is the Gateway to the world of Samsung. Along with various other features Samsung has provided, there is another service that backs up the SMS data to the Samsung Cloud automatically. It is done by using your Samsung Account. It is similar to the Google Account and is inbuilt in Samsung phones. The Samsung account backs up the messages into the cloud.
• Easy and scheduled backup service.
• Restore of the data files is very simple.
• Syncing of the data with the Samsung Account.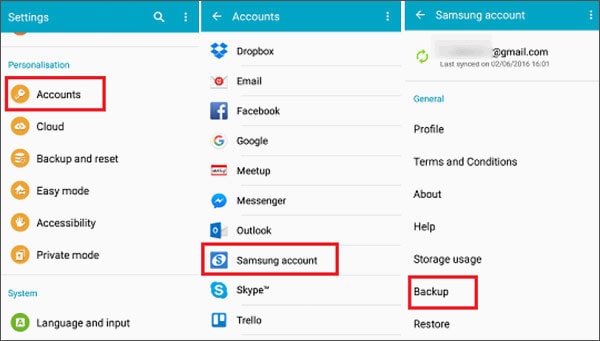 ---
#5. SMS Backup & Restore (App)
The SMS Backup & Restore is an app that can be used as Samsung messages backup software. It can easily restore your smart phone's text messages and logs. Remember this app don't support Advanced messaging. You can store the backup of your data on your phone's internal memory, an external disk, on SD card, on a flash drive, or any other storage space. This app has the simplest interface that allows easy functioning.
• Backup of all the messages, i.e. text, MMS, and call logs in XML format.
• It also offers local drive backup with an automatic upload to Google Drive, Dropbox, or any other backup software.
• It can help to transfer the backup from one phone to another.
• The file format can be converted to other formats.
• The backup can be done anytime.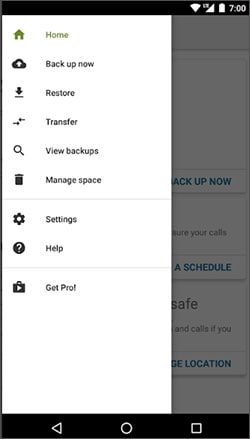 ---
#6. PC Auto Backup:
It is a wireless transfer tech that lets the user transfer data files to the PC. One of the best functions is that it can transfer the data even when the PC is turned off. It can be installed with a simple set up, and then you'll be able to switch on your computer with the help of Wake-on LAN function. After you've completed the backup transfer, the camera will also shut the PC down. It saves up a lot of energy. You can set up a backup at periodic intervals to ensure that the media files are deleted from the main storage after they got backed up by your device.
• It uses a wireless technology for the file transfer.
• It supports various file formats.
• It offers a scheduled task service.