GIF images are a great way of expressing your emotions. The impact they have on a person is different from the effect of a picture or video. They are much smaller in size and grab attention of everyone when uploaded on a social networking site. You may have a collection of pictures but sending them to your friend may not convey your message or emotion properly. For example, if you want to show flipping of pages of a book, images taken at different instances will not show the effect, and a video file format would be mainstream and too large to be uploaded or sent. Hence, many developers introduced apps for iOS as well as Android that allow images and videos to be converted into GIFs. The best of these apps are listed below.
OUR RECOMMENDATION: dr.fone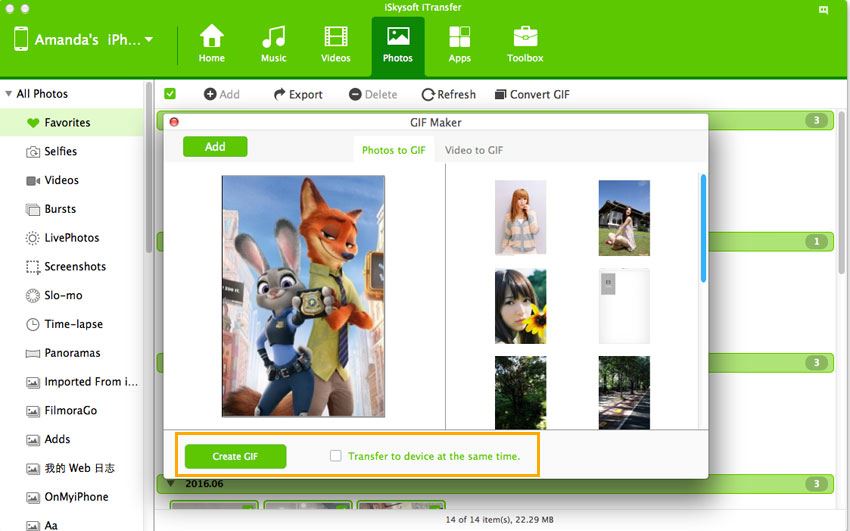 We recommend dr.fone as the app that you should use for making GIF images. It provides the user with a clean interface combined with smooth functionality and powerful features. The key features of dr.fone are:
Export: You can export your GIF images to iTunes, Instagram, Facebook, Twitter, and other social networking sites.
Powerful: The app has an entire variety of powerful features available for making and manipulating GIF images. These include frame size, frame rate, filters, caption adding, time lapse, and resolution.
Brilliant Interface: Nothing gets easier than the dr.fone interface. It is beautiful in appearance yet very easy to use. It is easy to find the options available through this well designed interface.
Multimedia Manager: dr.fone comes with a multimedia manager that makes it easy to manage your photo, video, and audio files.
---
1. GIFBOOM
Gifboom is arguably one of the best GIF generating apps available for iPhone. Gifboom has an entire library of rich features available for the creation and editing of GIF images. The app allows you to import photos that are available on your phone or take pictures using your front or back camera. It has a variety of filters available that can be used to enhance the appearance of your GIF image. Apart from this, the app also has several other features such as frame rate adjustment, and social media connectivity.
Pros:
• Supports a range of different formats for photos and videos.
• You can add your own voice through the use of a recording feature that is available within the app.
• You can also import music from iTunes.
• Includes social media features such as liking, commenting, and 'rebooming'.
Cons:
• Lacks some basic features such as 'copy to clipboard'.
• Adding text to the GIF images can be a little buggy.
• Can be slow especially with certain image formats.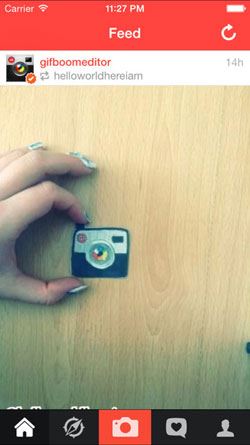 ---
Another popular app for creating animated GIF images. The app allows the user to make different types of GIF images (that include reverse GIF, cinema graphs, and time lapse). It also supports social media connective i.e. you can share your animated images easily on several social media sites such as Facebook, Twitter, and Instagram. Other key features include filters, self-timer, frame duplication, and frame rate adjustment.
Pros:
• Simple and easy to use interface.
• Enables the creation and import of several different formats of images, videos, GIFs, and audio.
• Powerful features available for adjusting GIF images.
Cons:
• Output quality is not as high as it should be. HD pictures become pixelated.
• Not as stable as some other apps (it crashes a lot particularly when handling higher quality images).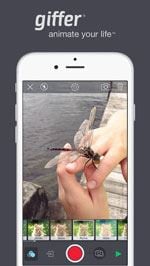 ---
Gifture is an app that has an interface similar to that of Instagram. The navigation bar and filter options all look the same as that on Instagram. The interface for Gifture therefore is simple and clean. There are a variety of customization options available that primarily include filters, playback rate, cropping, adding text and audio to the images, and social media connectivity.
• Simple, clean, and easy are the terms that perfectly describe the Gifture interface.
• Powerful features available that are easy to find and use.
• Freeware.
Cons:
• Lack of support for different image and video formats.
• Crashes while handling large images.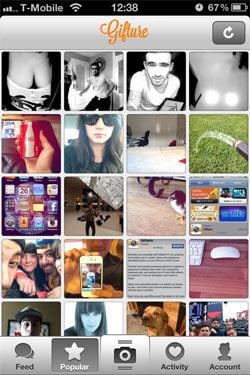 ---
5Second is another amazing app that allows you to sync a number of GIF images in to one image frame. Using this app, you can customize the speed of GIF, recollect the frames and add text as well. You can save the GIF image into individual GIF frames too. Some unique features of this app include cloud support, rotate and flip features and advanced sharing options.
• Option for editing existing GIFs.
• Allows sharing links to GIFs on social networking sites and SMS or MMS (pre iOS 7)
• Great variety of editing features
Cons:
• Hangs while importing GIFs to Instagram
• The interface is not easy to use. It is difficult to locate the features required.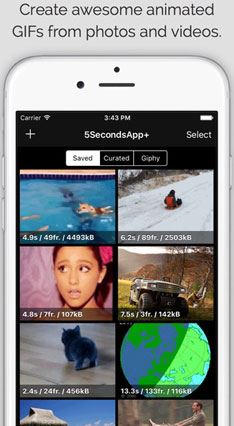 ---
This app is different from the rest as it produces a wonderful combination of a photo and video. Even though it is not exactly a GIF, it gives the same effect. You can transform small sections of your photo into animations, for example turning over the pages of a book or waving hand. In the Cinemagram, only the part of the picture you choose will move and the rest of the picture will remain still.
• Good options for adding effects
• User-friendly
Cons:
• Requires a large amount of storage to save output photos
• The app itself is large in size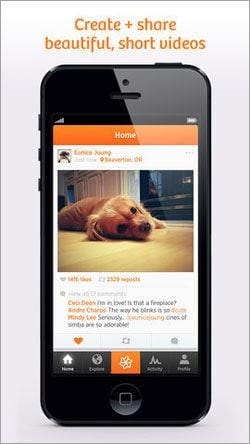 ---
Loopcam is another very useful app for iPhones that helps users make GIFs very easily and quickly. It contains many options that you can use to make many parts of your photo to move. You can view all GIFs in a grid form and share them on social networking sites very easily through this app.
• Easy and fun
• No need to collate pictures, just take them from your iPhone camera and transform them right away.
Cons:
• Does not have a very good design compared to others
• Problems in loading the library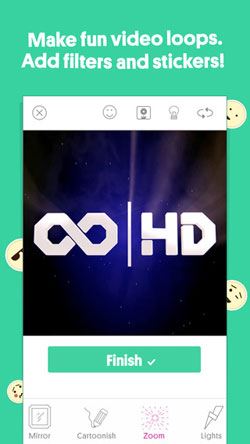 ---
MyFaceWhen is liked by many users because it enables them to record videos using the in-app camera. It also allows you to upload existing videos that can be transformed into high resolution GIFs. Using this app, you can attach the GIFs to text messages as well.
• Attractive design and interface
• High quality output
Cons:
• Attaching problems with iOS 6
• Retains storage of GIF for some time after it has been deleted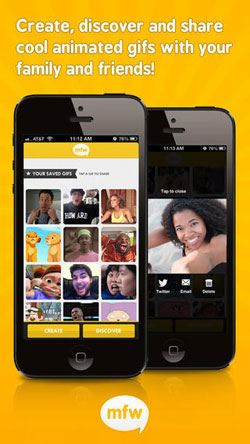 ---
8. GIF CAMERA
This app is very simple to use and creates GIFs that you'd love. All you have to do it to tap the screen of your iPhone and capture frames one by one in sequence. The app will make a GIF from these pictures. In order to preview the GIF, you have to press the play button. The app lets you adjust the speed of the GIF and save it in your phone memory.
• Simple to use
Cons:
• Too many ads
• Existing videos cannot be uploaded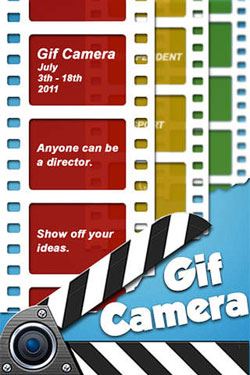 ---
Vines are a better, more enhanced version of GIF images. Vines are commonly considered to be a video by many but this is untrue. It is a short, animated sequence of images. Vines are only a total of six seconds in length. They play continuously on loop, and they also contain sound unlike most GIF images. Vine is an app that allows you to create, edit, and watch Vines (enhanced GIF images). The key features include video/audio recording, continuous looping, social media connectivity (including embed to Twitter option), and playback speed.
• The app is easy to use and easy to navigate through.
• Videos can be integrated into Twitter.
• Supports the new concept of enhanced GIF images (Vines).
Cons:
• Tends to crash frequently while recording videos.
• Limited music availability (you cannot import music files).
Lacks a self timer feature in the video recording option.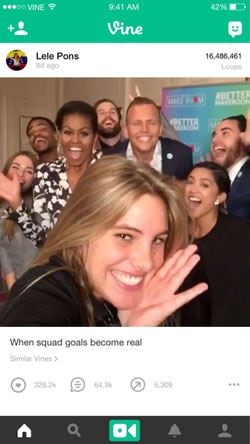 ---
As the name implies, GIFHY CAM. lets you create GIFs from your iPhone and then upload them online or share with your friends. This app features almost 40 animated overlays and filters that you can add to your GIF. It requires you to either select a burst of 5 photos or a short video from your camera to be made into GIF.
• Very fast
• Simple and easy
• No frills
Cons:
• Does not contain an internal library
• No option to edit the video that is to be converted into GIF