Transferring music from an iPhone to a computer is a feature supported by Apple in its main music application – iTunes. While most new iPhone users claim iTunes to be very convenient application for handling a number of various iPhone-related tasks, this doesn't seem to be the case when it comes to transferring music from one's phone to his or her computer. What those iPhone users fail to realize is that iTunes' music transfer capabilities may be limited to some extent.
Fortunately, there are a number of third-party apps that iPhone owners like you must consider when it comes to transferring your iPhone's music files to your computer. With these software, you'll find yourself enjoying the level of control over the songs you'd like to have exported from your phone.
How to Transfer Music from iPhone to Computer without iTunes
If you're definitely sure and confident enough to try out a third-party tool to help you transfer music from your iPhone to your computer, specifically your Mac, the first thing you'll have to consider is which tool will you be using to do the job. A lot of these types of software are available online. What's even better is that once you've downloaded them, you can get started right away without the hassles of trying to figure out how to use each feature in the tool. One of the tools most highly-recommended by iPhone users is iSkysoft's dr.fone.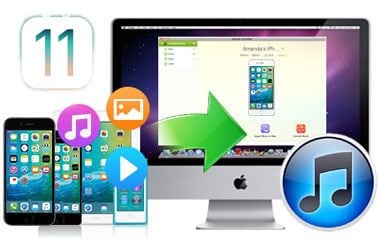 Transfer music from iPhone to computer without iTunes in 1 click
One-click transfer your songs, videos, photo albums and more between iPhone, Mac and iTunes.
Copy music from iPhone, iPod, iPad to Mac or iTunes.
Export videos from iPhone, iPad, iPod to iTunes/Mac.
Transfer all photos from photo album to Mac or iTunes.
Copy playlists with rating and play counts to iTunes.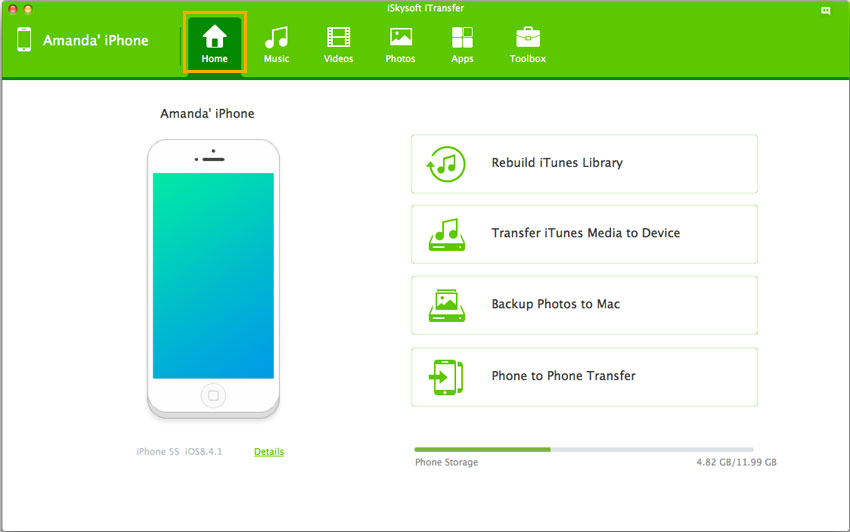 Step 1. Run the program and connect your iPhone to the computer
Use your iPhone's USB cable to connect it to your Mac and open dr.fone. Once it's open and your phone is detected, your iPhone's information will be displayed along with the menu on the top of the main window, and you'll see the program's window as follows.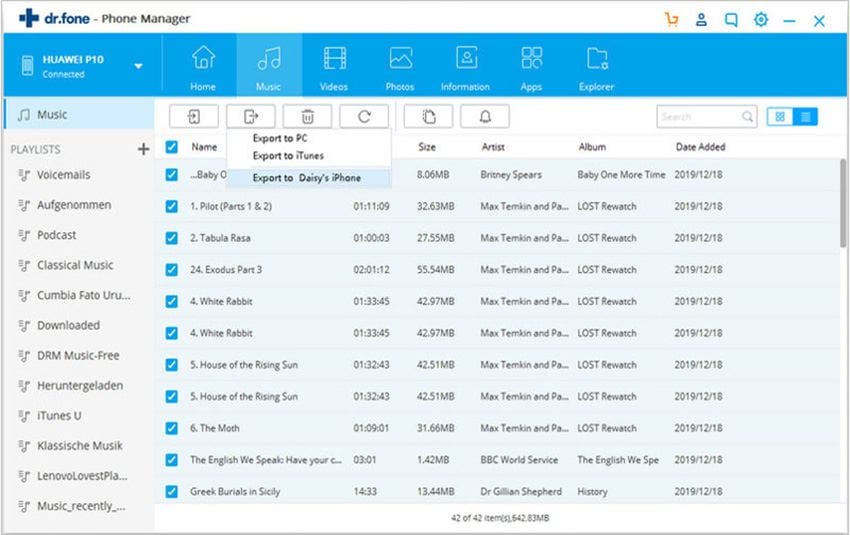 Step 2. Begin transferring music from iPhone to Mac
On the top of the main window, hit the Music tab, and all the songs on your iPhone will then be displayed in a list. Select the songs you want to transfer by ticking the check boxes just beside their respective titles. Should you want to select them all, hit the checkbox beside the "Name" column label. Once you've made a selection, finish off the job by hitting the "Export" >> "Export to Mac" button on the upper portion of the main window. And just as easy as that, you get to transfer not only purchased music, but all the songs you want to transfer from your iPhone to your computer.
Reasons for Not Use iTunes to Transfer Music from iPhone to Mac
Now that you know how you can use a third-party application to export your music files from your phone, you might need some justification as to why using iTunes for this task seems quite impractical. Here are the reasons that you may be looking for:
#1. Authorization requirement
You'll need to authorize your computer first before doing anything with iTunes. You'll need to log-in using your Apple ID and password. It'll be quite a hassle if you've forgotten your log-in credentials.
#2. The need to be updated
You'll need to make sure that you're using the latest version of iTunes to take advantage of the changes Apple has made to improve the software. You may be out of luck if you have a slow and unreliable Internet connection.
#3. Purchases only
iTunes can only transfer music purchased from the iTunes store. That means you cannot transfer music other than those you've bought via iTunes. You'll have to manually transfer them or use a third-party tool to do just the trick. So if you're still going to need a third-party tool even when using iTunes, why bother using the latter to transfer purchased music when you can transfer all your music with just a single third-party tool?
#4. Hardware failures
Hardware failures are known issues with processes done using iTunes. These may be primarily caused by faulty iPhone USB cables and not iTunes' fault but it's still a bothering concern for iPhone users.
#5. Where your music files are stored
iTunes doesn't tell you exactly where your music files are stored and it somehow feels like they don't want you to change the location where you want to have your transferred songs stored.