Apple has introduced the Live Photos in iPhone 6S which is not less than a magic in Harry Potter movies. Yes, recording of a short video while taking a photo on your new iPhone 6S. The duration of the video is also very small, only 3 seconds video will be recorded on iPhone 6S. The best part is that the video is hidden under live photo and you can only reveal it using the 3D touch technology on your iPhone 6S. Simply open a photo in the photos app and using the hard press of 3D touch and you will see the video. Normally, the photos taken on the iPhone are stored in the JPEG format, but in case of Live Photos, you will have a JPEG file and a .mov file to watch the small video that you have. Sharing a Live Photo is only convenient if the other person also has an iPhone 6S or 6S Plus. While taking a live photo, keep in mind that live photo will also record a sound with that video. Some people aren't comfortable with this feature and they just want a small video without any sound. Well, you can easily convert these Live Photos to GIF images.
Part 1. How to Convert iPhone Live Photos to GIF Images
Most of the software which will let you convert the Live Photos into GIF images will require much information and you will have to follow the complex process. First of all, you will have to transfer the .mov file from your iPhone to your Mac and then you will have to use an alternate service to convert that .mov video file into GIF image. The best part about dr.fone is that it will not help you export the live photos from your iPhone to your computer but you can also convert them into GIF images with just a click of the button. Moreover, if you have more than one photo on your iPhone, dr.fone will automatically put them under different albums. So, all the Live Photos will be placed under one album. That's not it! If you use iCloud on your iPhone, you can still transfer photos from your computer to your iPhone without using iTunes or any third party software.
dr.fone – best software to convert Live Photos into GIF images:
dr.fone is a cross platform all-in-one media managing application for your iPhone which will let you manage everything from photos, songs to videos. You can easily transfer songs between iPhone and your computer without any problems. It also goes pretty well with the photos, you can make new albums, delete and export all photos from your iPhone to your computer in a perfect sequence. With the constant updates, developers are making it compatible with the latest iOS devices. It works well with all iOS devices such as iPhone, iPod Touch and iPad. Last but not the least, it also has one click song transfer option from one iPhone to another iPhone without any problem. Currently, converting the live photos to GIF images is only available for the Mac version, but perfect version is coming will be rolling out soon for the windows.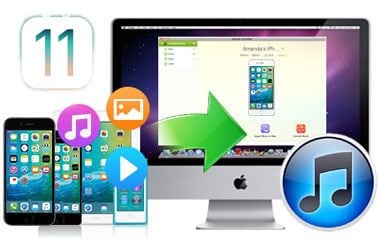 ---
Step-by-step guide for how to save iPhone live photos to gif with dr.fone for Mac
Step 1: Download the latest version of dr.fone for Mac and open it. Connect your iPhone with the PC and run the software. Click "Toolbox" and then click "GIF Maker".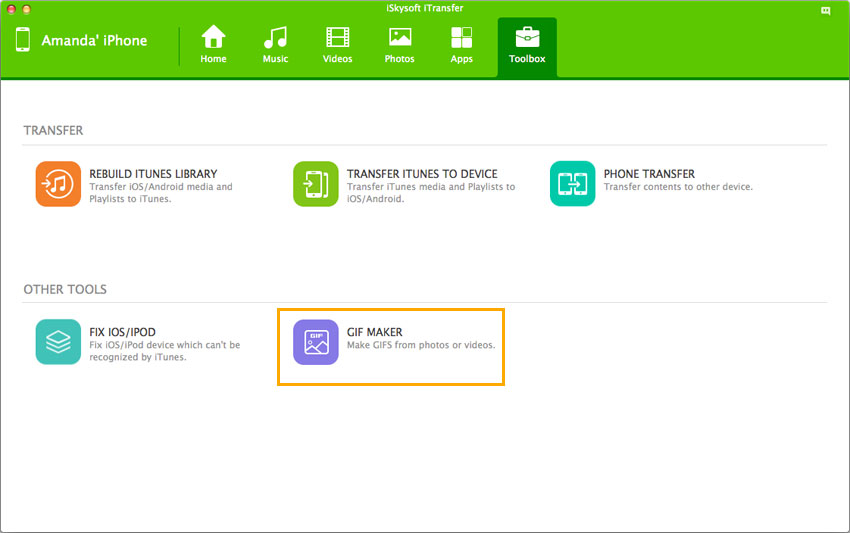 Step 2: *Convert Photos to GIF: Click the "Add" button to browse photos on your Mac. Press the Command button and click photos to select them (at least 2 photos) from your Mac. Click "Convert GIF". If you want to keep the GIF images to your device as well, you can check the option "transfer to device at the same time".
*Convert Videos to GIF: Click "Add" button to import a video from your Mac. Next, set up the start time and duration for the video, and click "Convert GIF" to save it as a GIF image. If you want to save a copy to your device, you should tick the option "transfer to device at the same time". Please note that you should connect your device to your Mac first.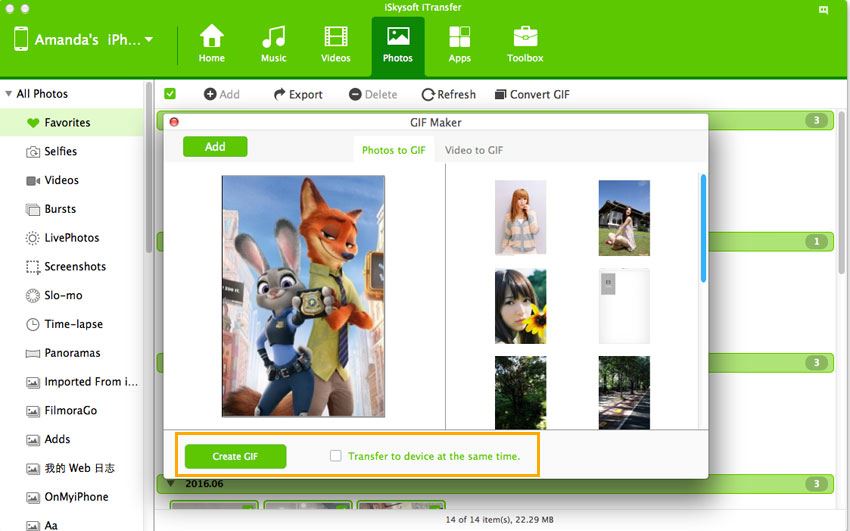 ---
Part 2. What Will Happen When iPhone Live Photos Exported to Computer
Although Apple has released this new feature on iPhone 6S but it is still far away from being perfect on Mac OS X. You can watch the Live Photos on your iPhone but as soon as you export them on your computer, everything is ruined. Yes, the photos will be exported in the form of normal JPEG files and there is no option to watch them either as GIF image or .mov files on the older Mac OS X. So, you will have to update your Mac to OS X El Capitan to watch these videos as in .mov files. The easiest way to getting best out of the Live Photos is to convert them in GIF file or export them as .mov files, so, you can forward the images or the videos to different friends using Facebook, Twitter or any other social networking website. There are only few software available on the internet which will let you convert the Live Photos in to GIF images and worst thing about most of the software is that either they are very expensive or the user – interface of the system is so complex that not everyone can understand it. However, there is one great software which will let you convert the Live Photos into GIF images with one single click, dr.fone.