GIF images make use of lossless compression to enable simple animation in small file size. We know that an animated image is worth so much more than a thousand words. These images are fun and interesting to watch. GIF images are widely used on the internet because of their small size and portability. We know now what exact a GIF image is, we can discuss more about how to create GIF images. If you're looking for the right tool to convert your videos to GIF images then you're in the perfect place! We've compiled a list of the most reliable and efficient GIF converters available in the market:
dr.fone is a powerful media management tool that is quite popular with Mac and iPhone users. The application provides users with a beautiful interface that is very easy to use and navigate through. dr.fone is an amazing multi-platform application that allows users to convert videos, photos, and iPhone live photos to GIF easily and quickly. The application supports a wide range of video and photo formats. The best part about this application is that you can convert Live Photos of iPhone 6S to the GIF images with just one click. It also features several customization options that may be used to edit the generated GIF according to the user's requirements. The conversion process is simple and easy, all it takes is a few clicks and you're done!
#1. dr.fone - Best Video to GIF Converter for Windows 10 in 2016
Attractive interface that is easy to use and browse.
Very quick and reliable.
Multi-platform application that is available on iOS, Mac OS, and Windows.
Supports a large range of video and photo formats.
Customizable options allow user to edit GIF in any way they like.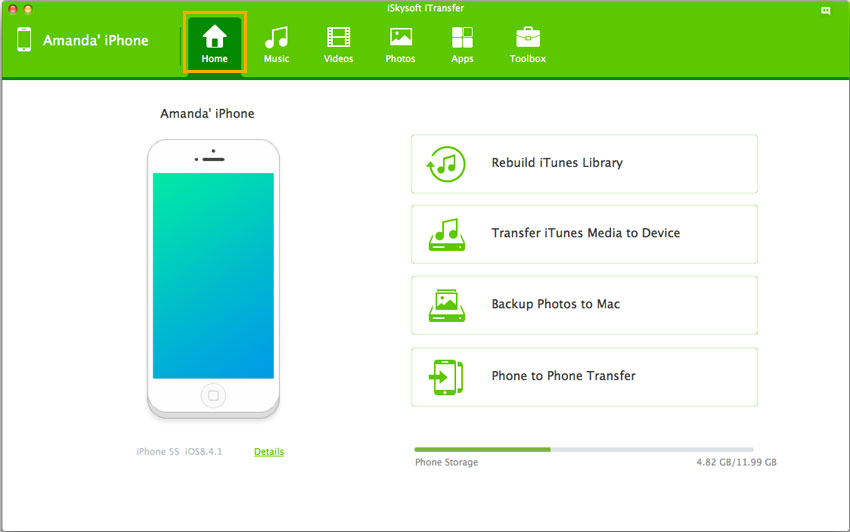 Steps to recover data from internal storage via Toolbox for Android
Step 1: First you will need to download and install dr.fone on your Windows 10 computer. Open it. Find the "Toolbox" from the top menus. Then click the "GIF Maker".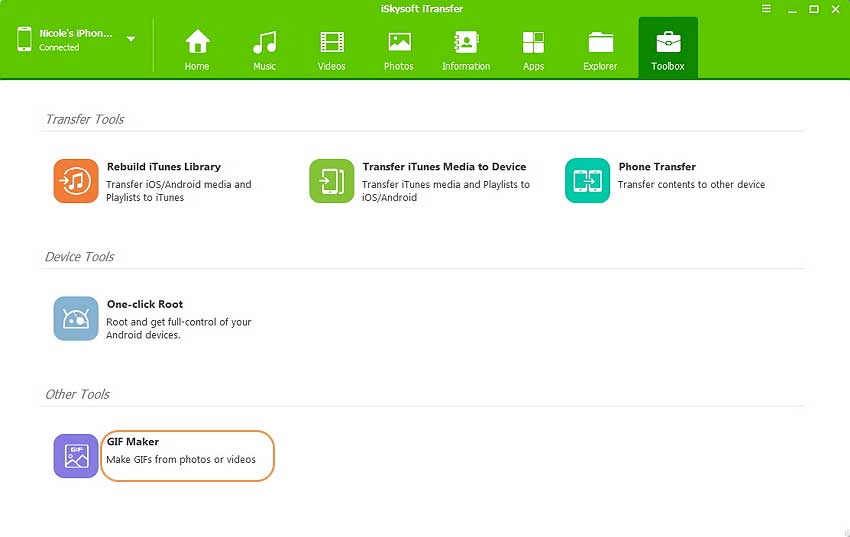 Step 2: To convert video to GIF, you need to choose the "Video to GIF" tab in the pop-up window. Click the "Add" button to browse the videos on your computer that you hope to convert to GIF. Open it.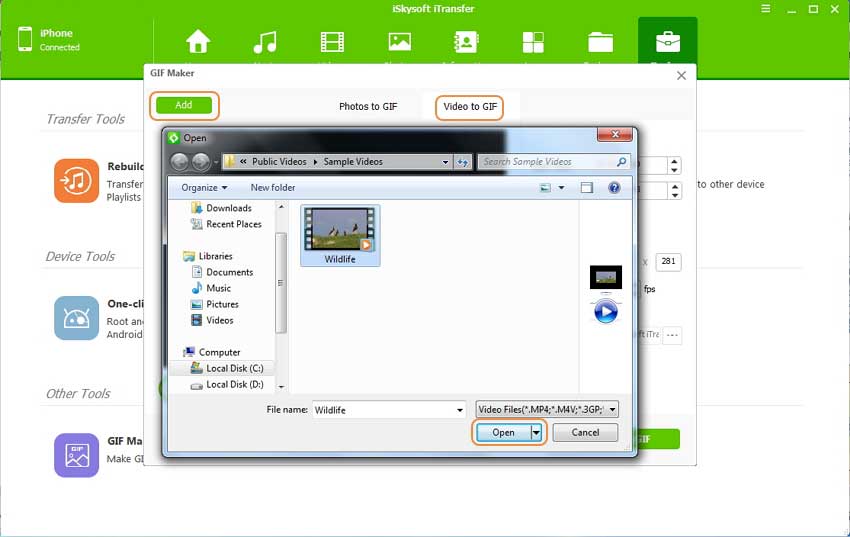 Step 3: The finial step is to set the parameters if needed. Then click on the "Create GIF" button to create your GIF out of videos. Done!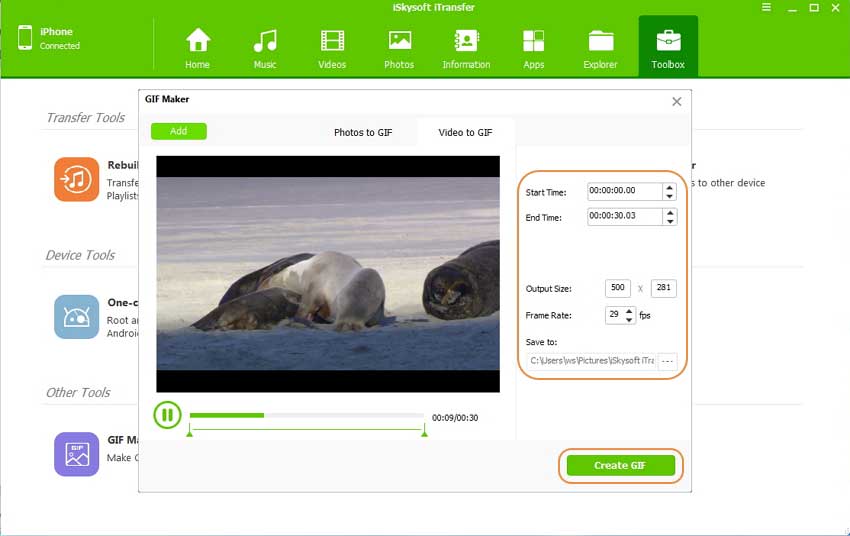 ---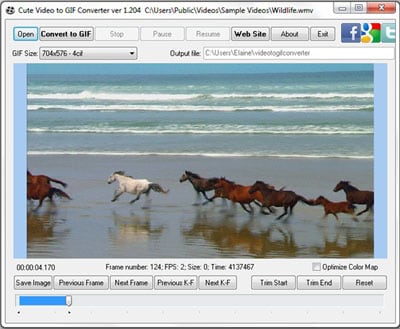 This is a simple and powerful application for converting Videos to GIF images. The app enables easy conversion and easy sharing for GIFs. The program comes with a plain interface but despite this, it supports a variety of editing options that allow you to customize your GIF image in every way you want. The key features of Cute Video to GIF Converter include:
•Comes with social media integration so that you can share your GIF directly to popular social media sites.
•Supports MP4, MOV, AVI, FLV, and several other video formats.
•The input videos can be trimmed according to the user's requirement.
•GIF customization options include frame rate settings, frame resolution, and filters.
Pro:
•Easy to use and navigate through.
•Supports an entire collection of video formats as input.
•Allows you to select a portion of the video that you wish to convert.
•Customizable speed and resolution of the output GIF.
•The process of conversion can be stopped at any time.
Cons:
•Poor interface.
•Does not playback your converted GIFs – it's a bit of a guessing game as to what the output exactly will be.
•It does not enable batch conversion of videos.
---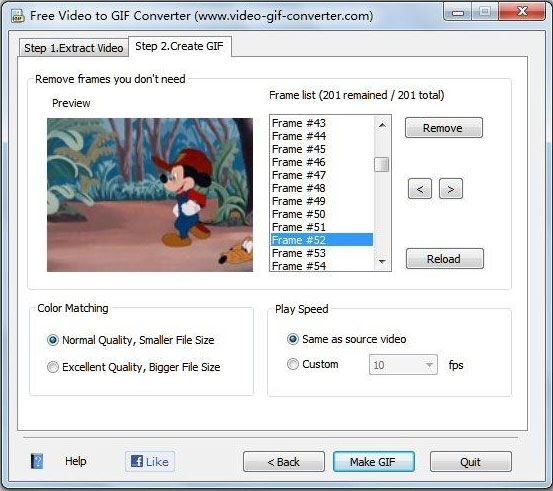 A simple and quick Video to GIF converter. The converter supports a variety of video formats that include MKV, MP4, MOV, WMV, AVI, FLV, and MOB. The application supports a wide range of editing functions that include resolution, animation speed, and size of the output GIF among others. The application allows the user to trim input videos as well. The output GIF is high in quality.
Pro:
•Freeware.
•Allows the user to remove unwanted frame from the GIF.
•The output GIF has small file size with good quality.
•Efficient and reliable.
•The interface is clean and easy to use.
Cons:
•Can be a little slow with large video file conversions.
•Lacks some necessary editing features such as text addition and filters.
---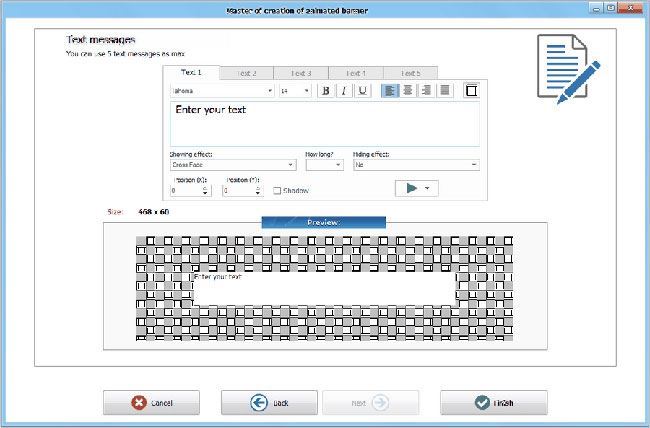 This is a very powerful software that is used for creating animated GIFs and editing them. It allows you to make animated pictures and banners in just a few minutes. This animated GIF editor contains special features that allow users to add awesome effects to images. It supports almost all types of GIF animations and allows high compression too. A powerful graphic editor is included in SoftDigi Easy GIF which allows users to work with vector objects. This makes image editing more flexible and convenient.
Pro:
•High quality output.
•Easy to use.
•Many editing options.
•Allows optimization of images so they load faster and take lesser space.
•Fast.
•Supports many formats like JPG, BMP, PCX, GIF, PNG and PSD
Cons:
•A lot of options may confuse a new user.
•Interface could be better.
---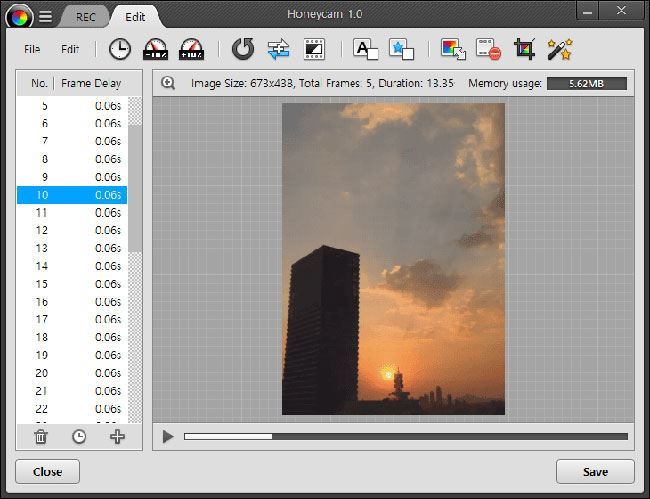 Honeycam is another easy software that helps you create amazing GIFs. Some people particularly prefer this software because it comes with an option to edit existing GIFs that you might have created using some other software. You can capture your computer screen, media players or YouTube videos and save them as animated WebP, WebM and GIF image files. The images you create can directly be uploaded to social networking sites or free image sharing services such as Twitter, Facebook, Messengers etc.
Pro:
•Easy to use.
•Allows sharing on the web.
•Allows to capture computer screen unlike many software.
Cons:
•Slow.
•The output quality is not as good.