We all have some personal photos which can be photos of a very special occasion or credit card statements, personal letter or any specific photo that we never want anyone to see but we can't delete them due to certain restrictions. That's where photo lock comes in, before you continue, normally, you can't lock any photo on your iPhone, however, you can use the Guided access method to restrict your iPhone to a specific application or can download a third party application from App Store to lock photos on your iPhone. Guided Access method is actually an accessibility tool residing in settings of your iPhone which will simply halt your iPhone to a certain application. After enabling it, users will not able to quit that Application, Thus it is kind of a way to lock photos or any other application on iPhone.
Part 1. How to Use Guided Access Control to Take Control of the Access to Photos App
Guided Access is a hidden feature which works pretty much easily on iPhone, here's how you can activate it.
1. From your iPhone, tap on Settings and then "General" > tap on "Accessibility"
2. Scroll down and Tap on "Guided Access" to activate it.
3. From the main screen, on the "Guided Access" and you will different options. You can also set a passcode for Guide Access, this password will be different from lock screen password. So, whenever someone will try to exit the "Guided Access" mode, it will ask for the password. Click on "Password Settings" and "Set Guided Access Password"
4. To Enable "Guided Access" from any screen, enable the "Accessibility Shortcut". So, whenever, you will triple press the home button, it will open the "Guided Access" main page to start the "Guided Access".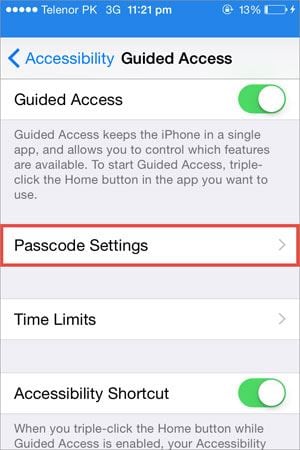 Moreover, you can also set the Time limits for a Guided Access session, from the settings of Guided Access, you can only set the sound and Toggle the "Sound" button, however, Timer will be set from the Guide Access main screen.
After setting the Guided Access, close the setting and open the app on which you want to enable the Guided Access. Triple click the Home Button to open the "Guided Access" screen.
You can either tap on "Start" to start the Guided Access session, or Tap on "Options" in bottom left corner. Moreover, you can also select the specific are of the screen which you don't the other person to access. From the Options menu, you can enable/disable the home button, volume buttons, motion sensor, keyboard, touch and you can also set the Timer to enable the time limit. Once, the time limit is reached, iPhone will automatically close the "Guided Access" session.
---
Part 2. Top 5 Apps to Password Protect Photos on iPhone
There are many other applications to lock personal photos on iPhone. Here's the list of top five applications for iPhone to lock photos.
*Dropbox: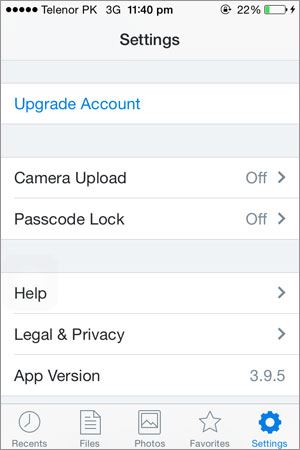 Dropbox is basically a cloud service which let you keep your data safe on the cloud, but it can also be used to lock personal photos or any kind of files on your iPhone. Simply upload the file from dropbox and set the lock for the dropbox. But after uploading the photos, don't forget to delete the original photos from the photos app. whenever, someone will try to open the dropbox, it will ask the password. So, in this way you can lock the Photos in dropbox on iPhone.
To enable the passcode, go to settings on dropbox and Tap on Passcode Lock. Now, Tap on Turn Passcode On and enter the Passcode twice.
Rating: 8/10
Price: Free
---
*Private Photo: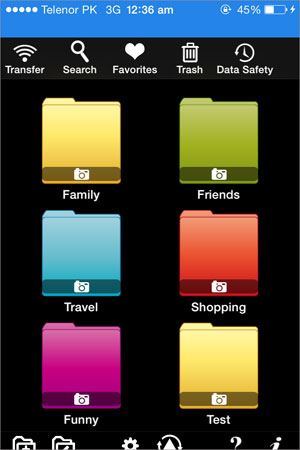 This application has a simple user interface with different folders already present on the main screen. You can't only transfer the photos from Photo Library, but it will also let you transfer photos from the iTunes Library or via Wi-Fi Transfer. Moreover, you can also skip the iTunes Backup by enabling it from the settings of this app. Another amazing feature is the password of this application. It will let you create a very strong password from the settings option. In case of forgotten password, you can set two questions and their answers from the application. The most amazing thing about this app is that it is absolutely free of cost.
Rating: 8/10
Price: Free
---
* HD Photo Lock: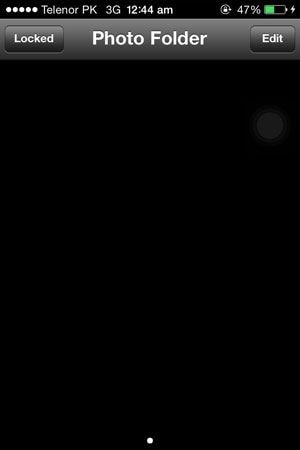 HD photo lock is one of very few photo locking apps which has the high resolution, in other words, it has an appealing interface. There aren't many options available in the application, simple a locked and unlocked option. However, you can also add folders to this application and then transfer photos from Photo library on your iPhone. The simplistic user interface makes it usable for every person.
Rating: 7/10
Price: Free
---
*Secret Folder & Photo Video Vault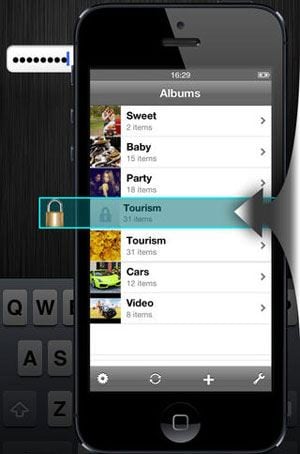 Unlike many other photo privacy applications, it will show the icon of "Folder" and written under it. So, no one can easily judge what is behind this application. In other words, it is most advanced photo locking app because you can also play a slide show for photos and there are also different mode of transitions in the application. You can also use the USB import option to import photos from iTunes or Wi-Fi Sync to wirelessly transfer photos from PC to iPhone.
Rating: 9/10
Price: Free or $2.99 only
---
* Photo Tank: Private Picture Album Manager & Organizer for Image Privacy with Secret Password Lock Protected Safe Vault: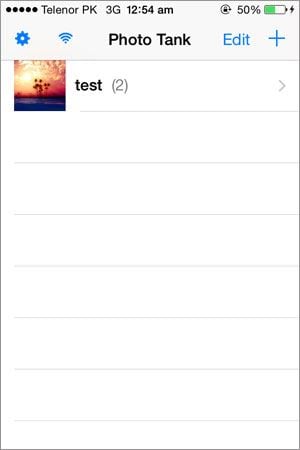 Photo Tank is also another option to lock the personal photos on iPhone. This app comes in a free version and a paid version while the free version also offers the In-App Purchases. Locking photos on this application is pretty much simple just like many photo locking apps and it also gives you Wi-Fi Transfer facility which will help you transfer photos wirelessly from Mac or Windows PC.
Rating: 9/10
Price: Free or $2.99 only