The popularity of iPhones and other gadgets from Apple is hidden to none. They work extremely well and are used by millions of people all across the globe. But Apple doesn't seem satisfied with its current success and is more aggressively attracting Android users to switch over. To win over these devoted Android users, Apple is making it easier to transfer bulk of data from Android to iOS devices. "Move to iOS" app is one such attempt. This application is designed to ease the process of transferring unlimited data from Android devices to iOS devices. The application has some remarkable features to offer a hassle-free migration. According to Apple, it can securely transfer contacts, photos, videos, message history, calendars, wallpaper, mail accounts and DRM-free songs and books. The app also promises to rebuild your library as well. It also suggests you to download all the free apps like Facebook and Twitter from the App Store. But the paid apps are added to iTunes Wish List. It efficiently works for iOS 11 and former. Now let's begin to look at the best alternative to "Move to iOS" for iOS 10.
Troubleshooting on Using "Move to iOS" App
With the launch of Move to iOS app, Apple wanted to drive maximum users away from Google services. But the process of the application is not yet clear that how exactly it works. Even though it is reportedly easy-to-use, several tech-enthusiasts have come across various troubles using this app. They have faced loss of data and other such issues with data transfer with this app.
Loss of Data
Even when there is an option to transfer all your photos from your Android device to iOS device, some photos might get lost. This is one of the most common problems that users faced. The reason behind this is the lack of space in your iOS device. So, before you transfer data, make certain there is enough space in your new device. You must always perform a quick check after the data transfer to make sure all your files are safely transferred into your new device.
Overwritten Data
Move to iOS app is also designed for transferring videos, bookmarks, calendars and message history. But the data or some other settings may get overwritten while performing this data transfer. Therefore, it is recommended that you move such data into an iOS device that is not yet customized. It will ensure no overwritten setting or data.
In short, you have to setup your iPhone or iPad to whichever you are transferring data as a new device. The first step here would be to select language and mobile network. When this step is completed, an option 'Move from Android' will be displayed on your screen. It will ask for your permission whether you want to transfer all the contents to your new Apple device or not.
Put the Code Right
When you have selected all the data and other apps which you want to transfer, you will be given a code from Apple. This code enables your Android device to initiate transferring data. This code must be entered on your Android device the same on which you have installed the Move to iOS app. Later on, you can track the data transferred for ensuring no data loss.
When you have accurately achieved data transfer, Apple will display a message that will give you an opportunity to recycle your Android phones for free. This attempt is made in an effort to not let Android users go back to Google's mobile platform. They can only do this now by buying a new Android phone. These are some of the common problems that lead the data transfer into one or another issue.
The Best Alternative Solution to "Move to iOS" for iOS 10
The instructions to use this Move to iOS app are not very clear and several users are finding the ordeal cumbersome. So, if you are looking forward to a quick and safe data transfer from your Android device to your latest iOS device like iPhone7, MobileTrans for Mac (or MobileTrans for Windows) is what you need. It has helped thousands of mobile-users to easily upgrade from their previous smartphones to some other latest devices.
Key Features of MobileTrans:
MobileTrans for Mac works for all the latest versions of Android and iOS.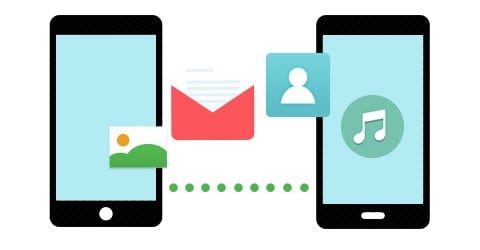 It is a phone to phone transfer tool first so it can be used to safely and effectively transfer all types of data including music, contacts, videos, call logs, messages and many more from one device to another.
It helps in lossless data backup and restoration.
It can transfer any kind of data like from contacts to banking information safely from one device to another.
The tool also allows you to compress and then transfer photos.
This app is a one-click solution for all kinds of phone to phone data transfer.
Step-by-Step Guide to How to Use MobileTrans
Step 1

Download and Install the App

First of all, you need to download this really helpful phone data transfer tool from its official website or some other authentic platform. When the application is downloaded, launch the program onto your Mac. It will take few minutes before the program interface will appear on your screen. Now from the options that appear on your screen, choose "Phone to Phone transfer". This will easily transfer any amount of data from your one device to another.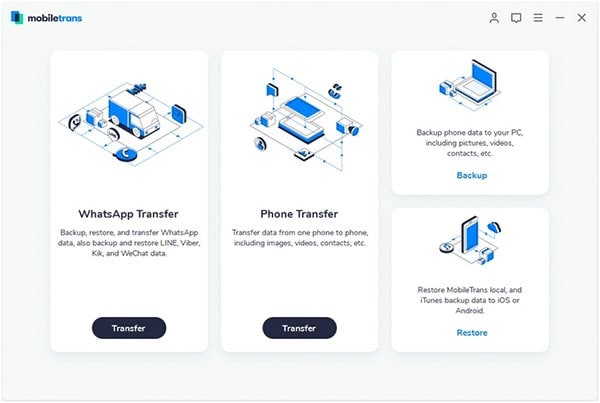 Step 2

Connect Both the Devices to Mac

Use your micro USB cables and connect both the sending and receiving devices to your Mac. The tool will easily detect both the devices for connecting them to initiate data transfer. A new screen will appear on your Mac showing both your devices and a list of contents that you can transfer.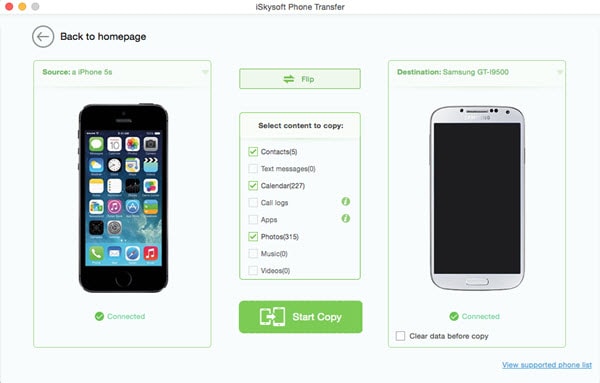 Step 3

Select Your Data

There will be a list of contents showing various data that you can send from one source device to destination device without any trouble. You can tick one or all of them as per your requirements. Although the app is incredibly fast, the amount of data selected may influence the overall speed. When you have selected data, click on "Start Copy". This will quickly begin the process and will be completed in no time.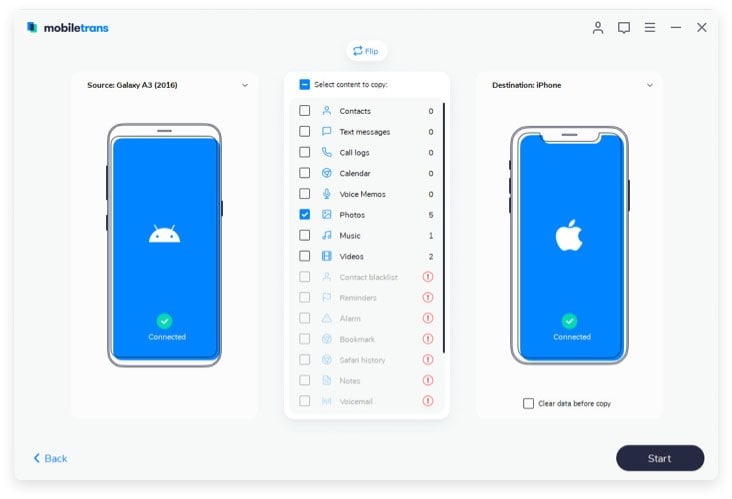 Moreover, this app works for all the latest versions of various devices. It is also compatible for iOS 10 and iOS 11 and would easily ensure safe data transfer all the private and sensitive data.