Backing up the system apps and settings on your Android device is very important but it is not always that easy. In fact, there are only a few ways you can backup system apps on Android and backup settings on your Android device and most of them require that you use a third party app. It is however very important to at the very least look into using one of these third party apps such as MyBackup Pro, Titanium Backup and SMS Backup. They may come in handy when you need to restore the backup after a major data loss mishap. In this article we are going to be looking at how you can use one of these third party apps to create a backup of your Android device.
How to Backup System Apps and Settings on Android
Like we mentioned before, to do this you will have to use a third-party application. The following is a step by step guide you can follow regardless of the application you decide to use.
Step-by-Step Guide to Backup System Apps and Settings on Android
Step 1. Begin by downloading the application you want to use. The easiest way to do this would be to go to the Google Play Store and then enter "Backup Android" in the search bar. This should bring up a number of apps including Titanium Backup and My Backup Pro.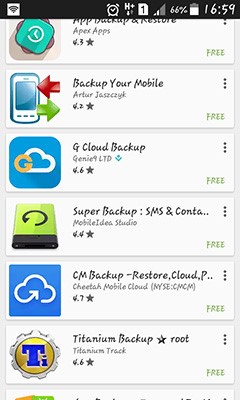 Select the one you would like to use and then tap "Install" to install the app on your device.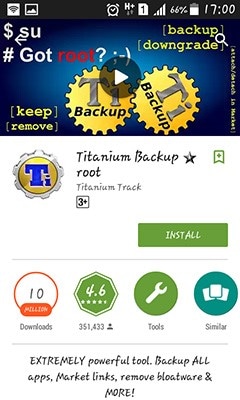 Step 2. Once the application you have chosen has been installed on your device launch it and then use it Backup and Restore feature to back up your device. Most of these apps will allow you to select the apps you would like to backup. A visible icon is used to represent a backed up app and a crossed out one means the app has not been backed up.
Step 3. Once you are done backing app the data you want to back up on your device, you can send the data to your PC via email or Bluetooth. To do this you just need to locate the backup file on your phone's storage or SD card and then click on the share/menu button. Select "Send Data Device" and then click on "More" to select a list of options. Select the "Send Data" option and then follow the instructions on how you can send the data to your PC.
---
Recommendation: The Easiest Way to Backup Your Android Data
The above method is a great solution but it is also very complicated and not all apps will work the same way and worse still an app may not be able to back up all the data on your device. If you are looking for a way to completely backup app the data on your device that is fast, efficient and reliable you should try MobileTrans for Mac (or MobileTrans for Windows).
This program is designed to help you easily backup and restore all data on your device in a quick and efficient manner. It is very easy to use and a complete solution that will back up all data including apps and their data, music, videos, contacts, messages, call logs and many others.
Key Features of iSkysoft Phone Transfer:
It can be used to backup data on Android devices to PC. This makes it easy to access the backup whenever you need to restore the backup.
You can use the software to restore the backup on your PC or restore data from an iCloud File or an iTunes backup file to your Android device.
You can use it to selectively backup data on your device. This means you can choose to back up a section of your music library as opposed to the entire collection. This is a great feature because it means you can create segmented backups that will be easier to restore and easier to save to PC.
It is compatible with all Android devices and as we shall see shortly, it is very easy to use.
This program is also a highly efficient data transfer tool that can be used to transfer all kinds of data between devices.