As the most widely used mobile operating system in the world, Android can get old fast. Although it has a beautiful interface, people always want to try something new. Those who are strapped for cash cannot easily purchase devices that run iOS (iOS 10), as they are mostly high end and unaffordable.
Fortunately, Android devices are flexible enough to allow users to experience iOS interfaces by installing iPhone launcher for Android. A launcher app replicates the iOS interface on an Android device. However, the changes brought about by an iPhone (iPhone 7) launcher are purely superficial.
Here are the top 12 iPhone launchers for your Android device: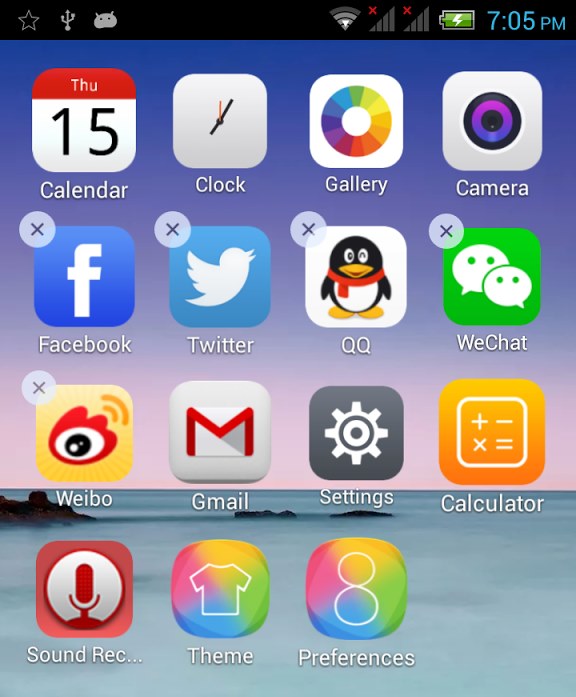 1. One Launcher
This is the best iPhone launcher android app for those who want an iOS interface that is packed with cool customization features. Aside from giving your device an iPhone-look, it is also feature rich. Once you install and open the application, a welcome screen with an 'Experience' button appears. When you hit this button, you will be taken straight to the 'iOS' homescreen. This new interface succeeds in looking almost like the iOS 9 one. Although a bit different, the icons manage to transform your phone into an iPhone lookalike. The launcher also adds apps like memory cleaner and OneSearch to your phone. Moreover, it has an All Apps icon that displays an alphabetical list of all your applications. Finally yet importantly, One Launcher is light on your CPU resources, making for a lag-free experience.
---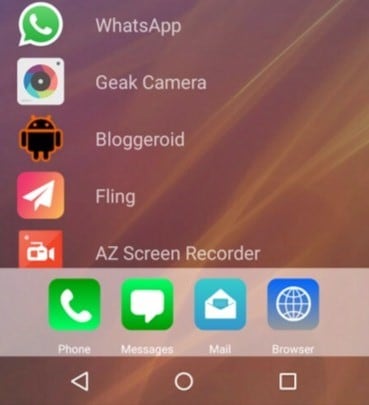 2. 6+ Launcher
This is another free iPhone launcher for Android that gets its name from the iPhone 6+. With an overall rating of about 3.8 stars on the Google Play Store, the 6+ Launcher performs as advertised. It does a great job of giving users the ideal iOS experience. It is one of the newer launchers in the market, which is still in the beta stage. This launcher does not replicate the iOS interface exactly, but it comes close. Additionally, it has some wonderful wallpapers. The 6+ Launcher has a My Apps screen, which allows you to pin applications to your homescreen by long pressing them. Unfortunately, this app comes with a lot of annoying ads that cannot be disabled. If you are not too keen on ads, you should consider a different iPhone launcher android app.
---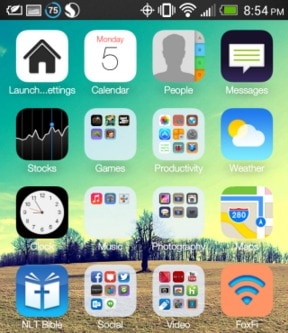 3. iLauncher
Despite the similar names, this is a very different app from the one mentioned earlier. A developer known as Suckgamoni is the creator of this iLauncher. It is a paid app that goes for $2.56 – a somewhat steep price. Its main selling point is that it has endless customization options. Additionally, it has a dedicated editing menu, icon pack support, and a wide range of wallpapers and themes to select. When you short touch an icon in editing mode, a customization menu opens up; allowing you to alter the look and feel of each icon further.
---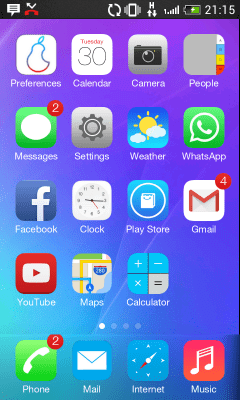 4. iPear HD iOS Launcher
This launcher is not free; you can buy it from Google play store for $1.15. Both the icons and interface are close to the original iOS feel. Therefore, you can easily mistake Google play store's icon for app store at first glance. The iPear HD Launcher is ad-free, making it easy to use. At a mere 1.2 MB, this app is light and fast as it does not take up many CPU resources. Overall, the iPear is a simple iPhone launcher that does not do anything special. However, you should get it if you want an authentic looking iOS-like interface that confuses your friends and family.
---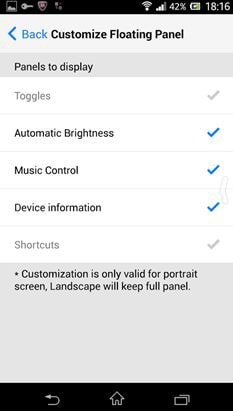 5. Control Panel – Smart Toggle
Control Panel – Smart Toggle is a Swiss Army knife tool for Android. The control panel allows you to switch between Android interface and iOS interface with ease. It replicates the iOS appearance on any Android device accurately. Additionally, it supports toggle for the following features:
Airplane mode
WiFi
Silent mode
Data connection
Screen timeout
Vibration
Bluetooth
GPS
Lock screen display
With the guidance of the control panel, you can easily customize the background, its transparency, and arrange the toggles according to the need. You can easily play music with intuitive music controller. You can press the arrow indicator in the status bar to hide it from the display.
Pros:
Intuitive user interface
Replicates iOS to near construction
Lag-free operation
Cons:
A few shortcuts do not work properly
Users have to start the app every time they power on their device
Collapses when the device is running in extreme conditions
---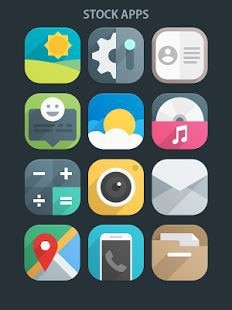 6. Flui Icon Pack
If you are tired of viewing the regular icons on your Android phone, then Flui Icon Pack comes to your rescue. With the support of this app, you can quickly switch the appearances of the icons of all the apps on your Android with ease. The fantastic thing about the icon pack is its close resemblance to iOS.
Pros:
Attractive interface design
HD (144x144) icons
Compatible with different applications
High resolution icons
Creative wallpapers
Cons:
Force stops when using with Nova Launcher
Slow icon updates
Little expensive
---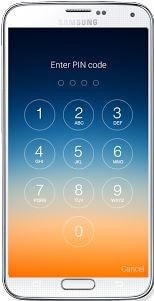 7. OS8 Lock Screen
OS8 Lock Screen provides the chance for Android users to bring lock screen of iPhone 6 to their devices. With the help of the application, you simulate lock screen of iPhone 6. Additionally, the lock screen is similar to that of the iOS and displays missed calls and messages right on the screen. Along with the appearance, the app also includes wallpapers, which you can use as your background for the lock screen. You can further customize it by applying your own picture from the gallery. Like that of the iOS, you can set PIN and block the Home, Menu, and Back symbols on the screen to enhance the security.
Pros:
Replicates iOS lock screen to perfection
Consumes less memory
Simulates iOS password keyboard
Cons:
Does not work appropriately on a few devices
Too many ads
Hangs at times during operation
---
8. Classic Keyboard
If you have ever wished for a different theme-oriented keyboard than the stock keyboard on Android, then Classic Keyboard solves your agony. Installation of the application allows you to use the layout offered by the keyboard. You can even change the font size of the keys, which allows you to arrange the keyboard according to your requirement.
Pros:
Intuitive interface
Larger buttons
Smooth operation
Different layout for number input
Cons:
---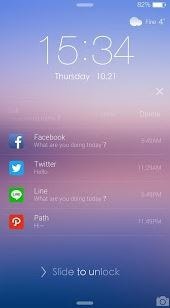 9. iDO Lock Screen for OS8
With the increasing demand for bringing iOS appearance onto an Android device, developers are constantly creating applications that replicate the layout of iOS 8 for an Android device. The best feature about the lock screen for OS8 is its ability to reproduce the lock screen of iPhone 6 running on OS 8 on an Android device. The lock screen resembles that of the iOS 8, where you will have to enter PIN and pattern together for enhanced security. Additionally, there will be the absence of the Home and Back button appearing on the lock screen. You can also customize the lock screen depending on your requirements. The presence of the toolbar ensures that you can gain access to the important apps within a few seconds. The application further shows notifications right on the screen, without you requiring opening the phone every time you receive a message or mail. An attractive element is the presence of the themes, which will enhance the outlook of the lock screen. You can even add wallpaper to the screen with over 1 million HD wallpapers available at your disposal.
Pros:
Smooth transition
Replicates OS 8 to perfection
Cons:
It finds trouble in downloading for a few devices
Does not have music controller
---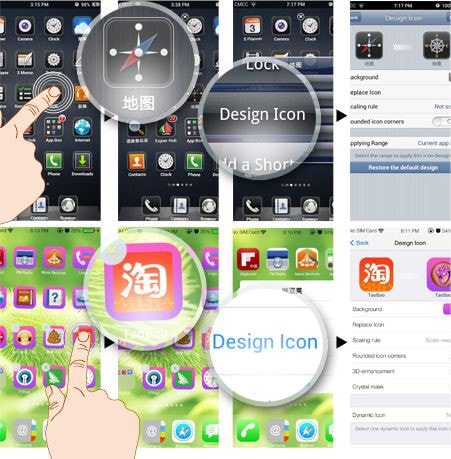 10. Espier Launcher
If you are looking for a perfect launcher for your Android that brings you the classical layout of iOS, then look no further. Espier Launcher is capable of doing what it states. The important part of the launcher is its ability to support everything, unlike other launchers that miss a two or three features. The launcher provides complete support to widgets, shortcut management, and the comprehensive widget page. The launcher provides the user with powerful customization tool, where an individual can arrange the size of the icon layout, including column and row placement, the size of the icon, the size of the title, and color of the title. The customization further extends to the way you want an icon to appear. You can apply a particular design to an icon symbol individually rather than implementing it for an entire set. Therefore, users have the opportunity to design icons individually and make the appearance of the menu drawer in an attractive outlook. You will also have the possibility to lock the icons apart from hiding them when unnecessary. One can even browse the online library provided by the developer to download a plethora of HD wallpapers, which you can apply for your device's background.
Pros:
High customization
Smooth transition
Variety of options to design the layout
Replicated iOS to near perfection
Cons:
Malfunctions on a few devices
Lags at times
Users require validating the app
---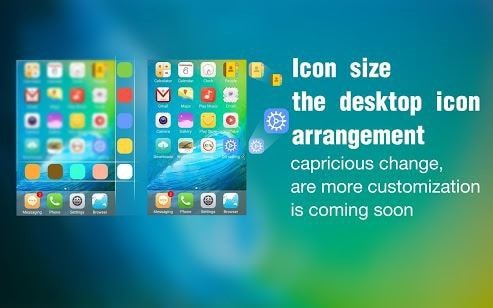 11. OS9 Launcher HD-Smart, Simple
OS 9 Launcher is a stylish and smart launcher for Android. The launcher helps convert the appearance of the stock Android icons into iOS-styled icons, which transforms the device into an iOS device. Another essential element of the launcher is its ability to arrange the apps smartly into different categories such as Games, Social Media, Shopping, Travel, etc. It features quick touch, protection of personal information, app sorting, folder manager, icon notification, one-key boost, and setting of HD wallpaper.
Pros:
Smooth operation
Great customization
Replicates iOS to perfection
Crisp and clean
Cons:
Crashes on a few devices
Plenty of ads
App sort may not function appropriately
---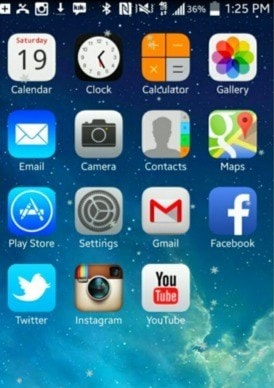 12. Launcher style iOS 8
This launcher app changes your Android interface to the famous iOS 8's interface. The beautiful launcher gives your phone the iPhone feel while adding style. You can change your phone's screen style, layout, and icons to resemble those of iOS 8. Therefore, if you want something new on your phone, Launcher style iOS 8 is your best bet. Have you ever wanted to have iOS 8 themes and wallpapers on your Android device? This app makes it possible, as it has an array of beautiful themes and HD wallpapers waiting for you to choose them. Moreover, it is absolutely free with no ads.