Android and iOS on the leading operating systems that contribute an equal share in the smartphone OS arena. Google's Android is an open source platform allowing developers to develop innovative applications and utilize the hardware of a device to the maximum potential. On the other hand, apples iOS functions only on the devices specially meant for IOS such as iPhone, iPad, and iPod touch. Both the operating systems have their advantages and disadvantages. However, bringing an iOS onto an Android device and vice versa will create wonders providing a plethora of options for developers. Is it possible to control Android from iOS? If that is what you are expecting, then you are at the right place. Continue to read forward as we present you the insight into the process.
Part 1: Can You Control Android from iOS?
Professionally, installing Android on an iOS device and vice versa is not possible. It is because both the operating systems function with the specific hardware found in different devices. For instance, the iOS functions only on iPhone, iPad, and iPod devices, as the OS recognizes only the hardware components installed in these systems.
Technologically, you do have the option to install third-party software that allows you to "manage" devices irrespective of the operating system. For instance, you can use TeamViewer application on both Android and iOS devices to control either of the platforms. The process is a simple technique. After installation of the application, you receive a unique ID for that particular appliance. You can then enter the same ID on an iOS device to establish a connection. You can then begin exploring each other's screen and even control the operation. However, the action is typically the use of the software that is connecting the devices but not transferring the entire iOS onto another device. Furthermore, both the devices have to stay connected to the Internet.
---
Part 2: The Reason Why You Can not Control Android from iOS
The primary element is the iOS security feature where the applications cannot modify code or data and do not have root access or sensitive device resources. On the other hand, Android applications share access to storage such as external memory card and observe codes.
The configuration of the iOS is different from that of the Android platform. The functionality and operation of iOS remain the same regardless of the device. However, in Android, it changes from one device to another because of its open source platform. Due to this, it can be difficult for the device to function appropriately and recognize the hardware components.
Both the operating system platforms have different power management algorithm. Due to this, controlling and Android from iOS will be difficult, as the device will fail to recognize a particular power management that will allow the battery to function intelligently. Due to its abnormal function, the device will lose most of the battery in a short time.
The performance is entirely different and feels lacking. Android has the capability to utilize the potential of hardware components to the maximum. On the other hand, iOS has limitations in accessing the potential of hardware components. Due to this, it would be impossible to perform strenuous actions that require the good potential of the CPU and RAM.
---
Part 3: Root Cause Analysis for Android Remote iOS
The Linux-based operating system, Android, is partly open source making it customizable from top to bottom. Apple iOS has a uniform design, which is surely pleasing a part of the technology-driven generation. As both operating systems have their pros and cons, understanding them will be helpful for any individual to your switch over to either Android or iOS or look for applications that provide the opportunity to control Android from iOS remotely and vice versa. The following is a comparison chart that will describe in detail about the differences between Android and iOS:
| | Android | iOS |
| --- | --- | --- |
| Developer | Google | Apple Inc. |
| First released | September 23, 2008 | July 29, 2007 |
| Source | Open source | Closed |
| Customization | Flexible | Flexible only if jailbroken |
| Media transfer | Varies according model | requires desktop application |
| Available on | Many phones and tablets, including Kindle Fire(modified android), LG, HTC, Samsung, Sony, Motorola, Nexus, and others. Also, Google Glasses | iPod Touch, iPhone, iPad, Apple TV (2nd and 3rd generation) |
| Messaging | Google Hangouts | iMessage |
| App store | Over 1,000,000+ apps with others like Amazon and Getjar distributing Android apps | Over 1,000,000+ apps |
| Video chat | Google Hangouts | Facetime |
| OS family | Linux | OS X, UNIX |
| Program language | C, C++, Java | C, C++, Objective-C, Swift |
| Open source | Kernel, UI, and other standard apps | The kernal is not open source but has his roots from the Darwin OS that is open source. |
| Widgets | Yes | Only in notification center |
| Internet browsing | Google Chrome and others | Mobile Safari and others |
| Voice commands | Google Now (on newer versions) | Siri |
| Maps | Google Maps | Apple Maps |
| Market share | 81.5% of smartphones globally by the end of 2014 | 14.8% of smartphones globally by the end of 2014 |
| Available language(s) | 32 Languages | 34 Languages |
| Latest stable release | Android 6.0.1 (Marshmallow), (October 2015) | 9.3 (March 21, 2016) |
| Device manufacturer | Google, LG, Samsung, HTC, Sony, ASUS, Motorola, and many more | Apple Inc |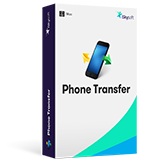 MobileTrans - Cross Platform Transfer, Risk-free and without Losing Quality
You can transfer phone data such as contacts, messages, call logs, videos, apps, music and any other data between Android, iPhone.
You can even transfer data from iTunes backup, iCloud backup, Symbian backup, and BlackBerry backup to Android and iPhone devices.
You receive support for over 3500 phones and various networks.
Helps you in fixing the data recovery mode to optimize the performance of the device.