Accessing you music library on iTunes using an Android device can sometimes feel like the most impossible feat to achieve right? In fact, even backing up your files or data on a Mac computer can provide a challenge. Fortunately, there is a plethora of software programs available designed to enable you to access and manipulate data on your Mac desktop. It is now very possible to back up your contacts, pictures, messages, videos and other forms of data without having to fret about looking for an iOS compatible design. Let's delve on some of the easiest ways to connect your Android to Mac.
How to Connect Android to Mac – Top 3 Software
1. Connecting Android to Mac Using Phone Transfer Software
True, there are a plethora of tools out there that can help you transfer files from your android device to Mac computer. However, most of them are either tedious or messy and actually, only few are effective. MobileTrans for Mac (for Windows users, there is MobileTrans for Windows version) is one of the fastest data import and export tools available meaning it is the safest bet for those upgrading to other smartphone brands; but still want to retain their data. Let's delve on some of the program's key features.
Key Features of the Phone Transfer:
Backs up your files and restores all data from your iTunes or iCloud backup platforms.
Allows you to back up all data from your android device to Mac desktop.
Permanently deletes all data on android device for optimal protection.
Allows you to transfer files and data from android to iOS, Symbian, Windows or Blackberry.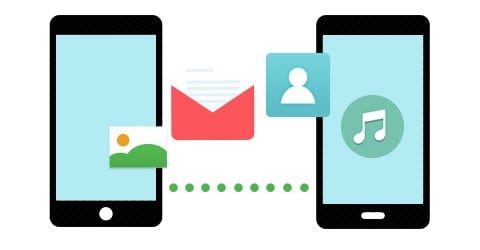 Step-by-step Guide on How to Transfer Files from Android to Mac Using Phone Transfer: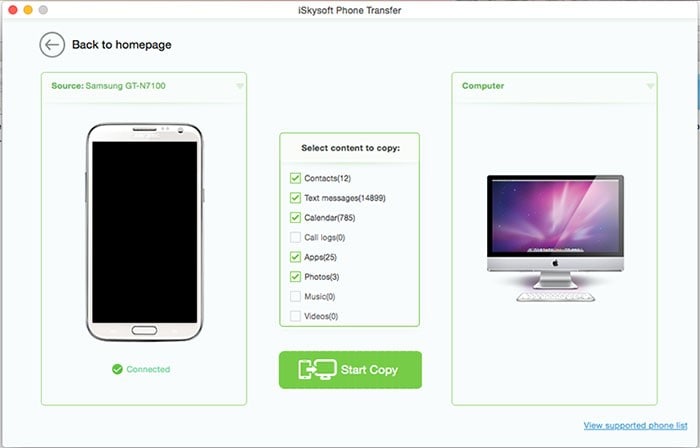 Step 3. The software will start scanning your device and once done, you will see all available files on your device. Once you have selected the content you wish to transfer, click "Start Copy" to transfer to Mac.
Step-by-step Guide of How to Transfer Files Using Airdroid: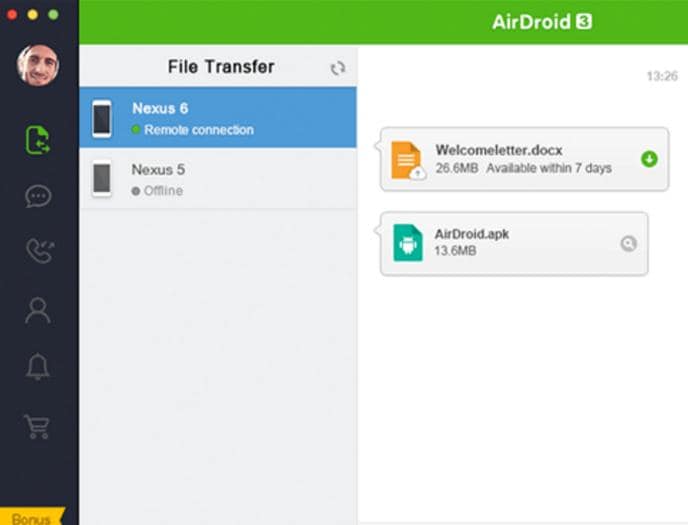 Step 1. Download and install the software on the android device and its companion version on your Mac PC.
Step 2. Once installed, launch the app on your android device and then scheme through the intro screen until you reach the Connection Tab on your Airdroid app. A pop up window will appear showing the IP address and URL bar.
Step 3. Enter the provided URL on your Mac's browser and once the IP address is entered, click on the "Accept" option that pops up next. Now click on the "Files" tab on the interface on your Mac to open the file browser.
Step 4. Now select the files you wish to transfer and then click on "Upload".
3. Connecting Android to Mac Using Android File Transfer
Android File Transfer is an application that makes it possible to transfer files between an android device and a Mac. It easily does this over a USB connection and in the process giving the user the ability to copy and delete files on the android device. It even gives them the ability to create new files on the android device using your Mac. Below is a step by step guide to transferring files from an android device to a Mac using Android File Transfer.
Here are the steps: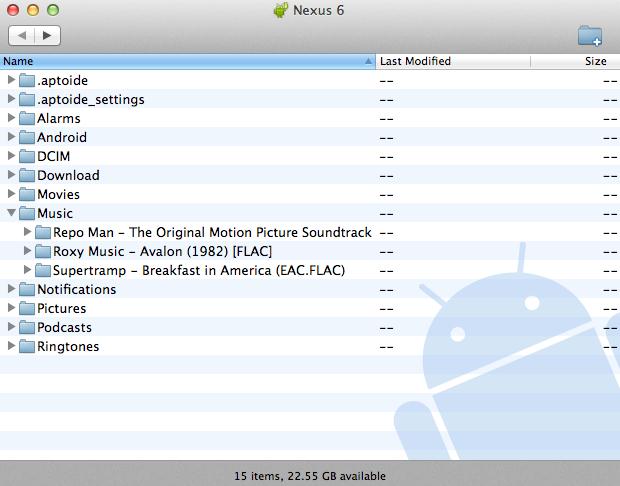 Step 1. Download Android File Transfer from its website. Launch the installer and drag the app's icon to the "Applications" folder. Launch the software.
Step 2. Plug your android device onto your Mac using a USB cable and Android File transfer will automatically open. Make sure that you phone's screen has been unlocked when you are connecting the phone to your Mac.
Step 3. Transfer files as you normally would by copying and pasting them onto a directory of your choice. You may even create new files on the android device from this application.