Today, Android has the biggest market against that of the Apple. The App Store of Google has more applications when compared to Apple's App Store. It further has a number of content present in the music, books, TV, and movies applications. The ease of operation and the flexibility offered by Android makes it convenient for the user. Apple is trying out different ways to capture the ailing market share. If you are planning to switch from iPhone to an Android device or vice versa, the most tedious process that you will be encountering is a data transfer. Setting up a new device right from the scratch is a troublesome activity. If you could just transfer content from your iPhone to Android device, then you can easily continue from where you left behind. Of course, it will be a difficult task to carry out professionally, but the advancement in the technology has made it possible for you to use third party applications that move data from one gadget to another regardless of the operating system with ease. In this guide, we will show you the top 10 free iOS 10 transfer to transfer contents between iPhone and Android.
Top 10 Free iOS 10 Transfer to Transfer Contents Between iPhone and Android
MobileTrans for Mac (or MobileTrans for Windows) is an interesting application for both Mac and Windows PC. With the help of the software, you can easily transfer content between Android, iOS, Blackberry, and Symbian phones. The software package for the Mac version allows you to transfer contacts, call log, apps, apps and data, calendar, text messages, videos, images, and music files between iPhone, Android, and other branded phones or tablets. It is a fully functional, cross-platform transferring application through which you can move content from one gadget to another without losing quality.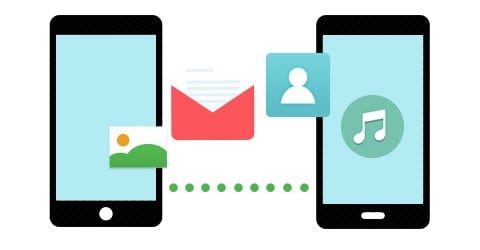 Key Features of MobileTrans:
Phone Backup - helps in creating a backup of your device to the Mac.
Phone Restore - helps in restoring a device from a backup set up by any other software.
1-Click Transfer - move all the content with a single click to and from Windows phone.
Support - it recognizes over 3,500 networks and devices for seamless connectivity.
---
Step-by-Step Guide to Transfer Content between iPhone and Android
Step 1. Install the trial version of the application from the official website. You can do this by dragging the installation file to the "Applications" folder.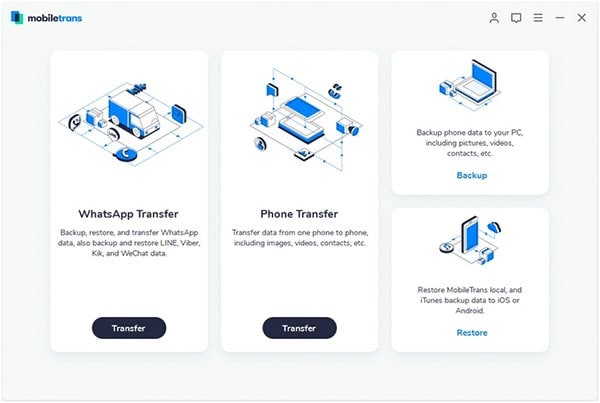 Step 2. Establish the connection of iOS and Android devices to the Mac using the manufacturer provided USB cables. It is important that you provide authorization to the Android device to allow interaction with the Mac. You can do this by enabling USB debugging mode from the settings.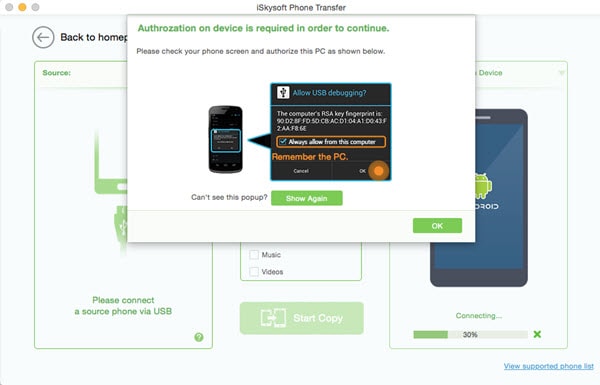 Step 3. Click "Phone to Phone Transfer" from the main interface of the application. The software will automatically identify the presence of the devices and displays the same in the interface as shown in the picture below. Use the flip button provided in the interface to switch the devices between source and destination categories. iSkysoft Phone Transfer does not know which device is source and destination.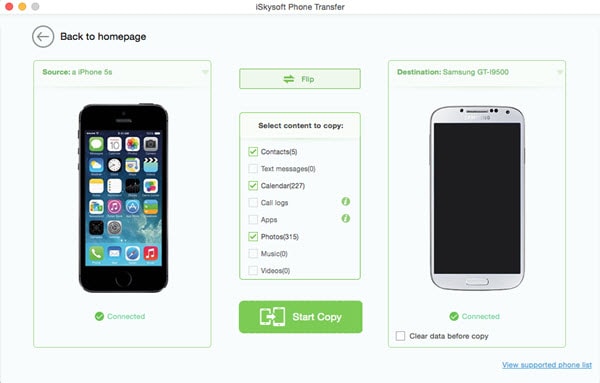 Step 4. Once done, you can now select the content that you wish to copy from iPhone to Android. Select the categories from the window provided in the interface. You can choose contacts, text messages, images, apps, photos, videos, music, call logs, and calendar. Once done, click the "Start Copy" button to allow the application to begin the transferring process.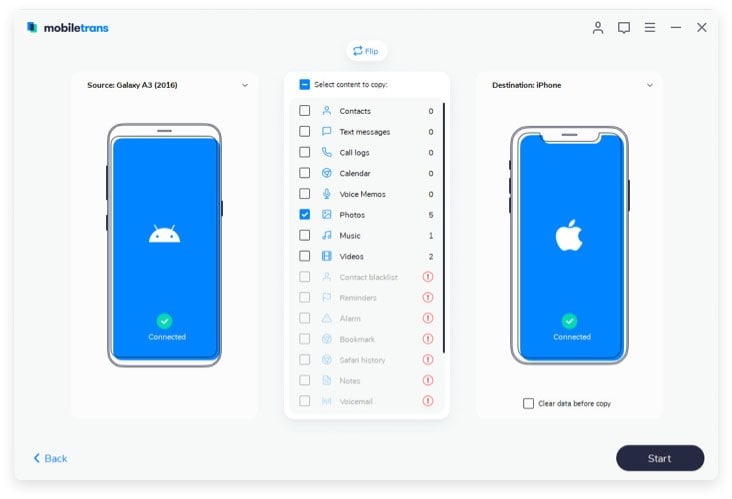 You will see the progress window that will show you the progress of the transfer. Wait until the program completes the process and ensures that you do not disconnect either phone. After completion, unplug the devices from the USB cable and computer. You can check your Android phone to see the transferred content from iOS device.
---
2. Syncios iOS & Android Manager Free
Developed by AnvSoft, Syncios is a free ideas and Android manager that is capable of managing device contents through a PC. Being a mobile manager, Syncios supports iPhone, iPad, iPod touch, or Android platform devices to export and import photos, music, contacts, ringtone, apps, text messages, and e-books between two devices and between a device and a computer. Apart from the regular transferring feature, the application also has and the inbuilt tools such as free video downloader, free audio converter, free video converter, free iTunes backup management, free ringtone maker, and much more. It comes as a complete package giving greater flexibility and control to users. With the help of the software, it is also possible to install and uninstall applications on a computer.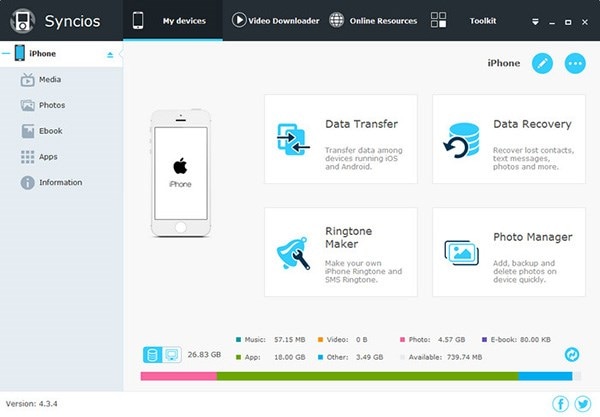 Pros:
A convenient and easy to use application which even a beginner can handle it easily.
User-friendly interface that has everything that a user wishes for.
Incredible transferring speeds that send and receive data at a faster rate.
Not but the least it is a free to use application.
Cons:
There is still area left for improvement in the functions that enhances user experience for the Android platform.
---
3. Move to iOS
Move to iOS is an application developed by Apple in an attempt to attract Android users who are or could be possible Apple users. With the help of the app, Android users can easy move content from their existing Android device to the new iOS device. With a few manageable steps, you can perform the migration that includes contacts, mail accounts, message history, calendars, camera photos, videos, apps, bookmarks, and music. The application is capable of recognition all the documents, which is a boon for those who would like to copy their sensitive and confidential content from Android to iPhone. The transferring speeds are good and the time needed to complete a task depends on the content selected and the size. It requires both the devices to be present on the same Wi-Fi network.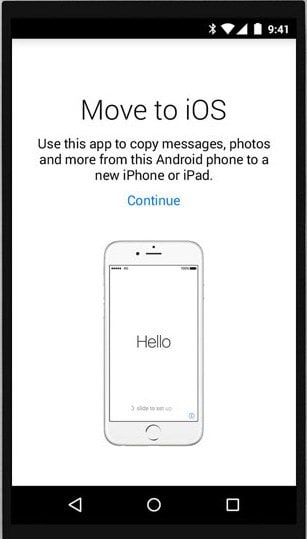 Pros:
An enticing user interfaces with simple-to-use icons.
Recognizes all the major file formats making it easy for a user to choose any file from their device and move the same to iOS gadget.
Blazing fast transferring speed ensures that the migration does not consume excessive time.
Cons:
The application fails to recognize many Android devices.
It fails to send all the selected data with ease, and users have to check for the content moved individually.
Although it uses wireless connectivity, it fails to send data over 3G.
---
4. Copy My Data
Copy My Data is a useful application for the iPhone and Android users. With the help of the application, one can quickly move their content between the two devices in a few simple steps and securely. The best element of the application is its ability to send and receive content over a Wi-Fi network. One can forget about using the USB cables and a computer to transfer content from iPhone to Android or vice versa. They can simply install the application on both the devices and begin transferring the data with ease. All they require to do is put both the devices on the same Wi-Fi network.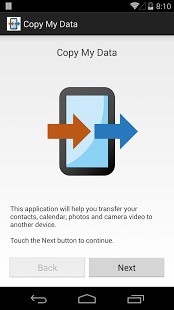 Pros:
Excellent interface with features that everyone would like to see in a transferring app.
Simple-to-use activity helps a user to move content in a few steps.
Individual file selection helps in moving only those important files that are in need of the hour.
Less chance of data loss.
Cons:
It fails to send data on a few devices.
No resume functionality, which makes it a difficult task because users have to begin the transferring process right from the begin if there is an issue.
It fails to organize data, creating a problem for all those who have multiple folders created with a number of records.
---
5. Phone Copier
If you have a new phone and like to transmit messages and contacts from your old phone, then Phone Copier is the application for you. It works flawlessly on any device and helps a user transfer the data from Android to any phone and from any phone to Android. The application is capable of moving content from iPhone to Android, and from Android to iPhone, Motorola, HTC, BlackBerry, Samsung, LG, and many more smartphones. In order to move contents between iPhone and Android, it is necessary to install the application on both the devices. Users can then establish a connection using Bluetooth or by creating an Internet storage account. Once done, they can start transferring content between the devices with ease.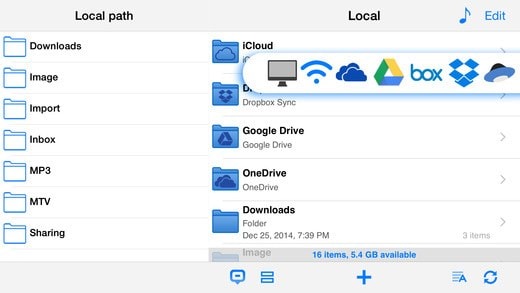 Pros:
It allows users to manage information on the device through a computer.
Users can establish connection using Bluetooth, infrared or by connecting the devices to your computer through USB cable.
Users can also upload content to the Internet storage option from which they can download onto the new mobile phone.
It also allows you to copy data from Gmail account.
Cons:
Sometimes it fails to move the contacts from one device to another.
It fails to move text messages from iPhone to Android and vice versa.
---
6. Samsung Switch
Samsung Switch is an application from Samsung that is capable of moving data from one mobile device to another. The app is available in 2 versions - one for the desktop and one for the smart device. Users can download the application on both the devices and begin transmitting the required data from one phone to another. It is capable of moving contacts, schedules, text messages, memos, multimedia data, and other data such as alarms, Wi-Fi settings, recent history, bookmarks, etc. The desktop version also provides a simple backup and restoration feature making it easy for the user to safeguard the information present on a device. It also helps in synchronizing contacts and schedules between devices using Windows Outlook or Mac address book.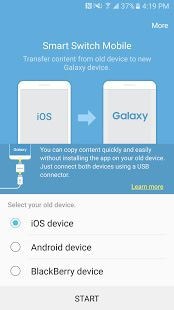 Pros:
Helps in moving content from one device to another at a faster speed.
Intuitive user interface that makes it easy for a beginner to carry out the operation with ease.
Recognizes all the data formats making it easy to transfer content without the need of any other application.
Cons:
On certain devices, it fails to transfer content other than contacts.
In a few devices, the app crashes instantaneously after booting.
---
7. PhoneCopy
PhoneCopy is a free application that allows people to easily backup, synchronize, and share contacts between mobile devices, and between mobile devices and computer. It is an ultimate application to backup and sync contacts from one device to another. Users can access the backup of the contacts using any web browser. All the required is a profile through which they will gain access to the content backed up from a device. The application also allows an automatic synchronization based on GPS location. However, the background running of the GPS location will decrease the life of the battery. The application will also show the users about the real-time changes made to a particular contact along with the synchronization time.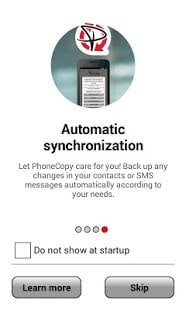 Pros:
Free Application that allows users to sync and backup contacts from any mobile device.
Real-Time Synchronization is a boon for professionals who would not like to run around changing things in an address book on different devices.
Backup feature helps a user to gain access to the contacts backup created from a device from any web browser.
Cons:
Free Access to the usage of the application is up to 500 contacts only.
Fails to load on a few devices and crashes.
---
8. Wireless Transfer App
Wireless transfer app is a simple to use photo and video transfer application. With the help of it, users can quickly copy both videos and photos over a Wi-Fi network from iPhone to iPhone, iPhone to iPad and vice versa, iPhone/iPad to computer and vice versa, iPhone/iPad to Android and vice versa, Android to computer and vice versa. The performance of the application is flawless and transfers the content over a local Wi-Fi network at the fastest rate. The application is capable of carrying out a batch transfer, making it quicker transaction of the content. In addition, the best segment of the transaction is the ability to preserve the photo metadata. It even allows multiple photo transfer from Android to iPhone, iPad, iPod touch, and vice versa.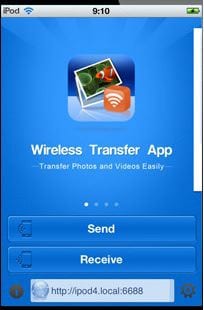 Pros:
The simple user interface has everything that a user wishes for.
Batch transfer of photos is an added feature.
The transfer rate is fast and completes a transaction within a few minutes.
Cons:
Fails to load on certain devices.
Totally fails to transfer between Samsung and other devices.
---
9. SHAREit: File Transfer,Sharing
SHAREit is a cross-platform application that allows data transfer between multiple devices. An advantage of using the application is its ability to share different files anywhere and at any time. The fast transfer speed makes it convenient for users to send large files within a few seconds. The most interesting aspect of using this application is that it does not require a USB, or an Internet connection to transmit the data. It also allows you to transfer files between phone and PC.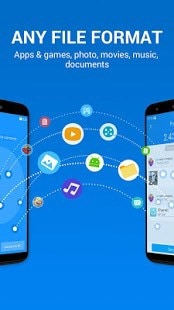 Pros:
Faster transfer speeds of up to 20M/s.
The application detects devices within range and allows transfer at a faster speed.
Cons:
It fails to connect to certain devices.
It crashes instantaneously on a few devices upon loading.
---
10. Send Anywhere
Send Anywhere uses the P2P technology to transfer content between devices. Additionally, it uses a secure medium to transfer the data, which ensures that users do not have any data loss. As the application does not use a web server to send data to any other device, users have a high probability of sharing sensitive information with ease. Additionally, it does not require any signup or login credentials. An additional benefit of using the application is its ability to venture into cloud services such as Google Drive or Dropbox. An uploaded file send to the application stays on the server temporarily and is set to expire within 24 hours. It ensures that users have complete privacy and protection of the data they send to any device.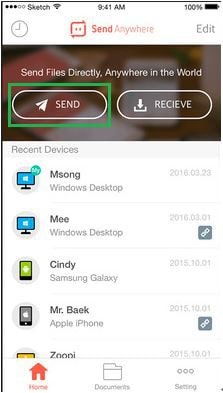 Pros:
It allows unlimited data transfer at a faster rate.
Six digit code displayed by the application has a one-time acceptance which enhances the security through which it sends data.
It lets users send data using a Web and server, where the uploaded files remain on the server for a time span of 24 hours.
Cons:
Developer issued bugs fixes, which does not provide a clear picture of its performance on all the devices.