Have you lost your smartphone? Sometimes, it is possible to reach for your phone in your pocket of handbag only to find it is not there. In such a situation, most people tend to panic as they attempt to recall the last time they used their phone, and where they could have lost it. However, the smart ones will have equipped their phones with one of the several tracking tools and apps that allow them to easily track and find their phones. This article will teach you how to get an equivalent of find my iPhone for Android.
How to Get an Equivalent of Find My iPhone for Android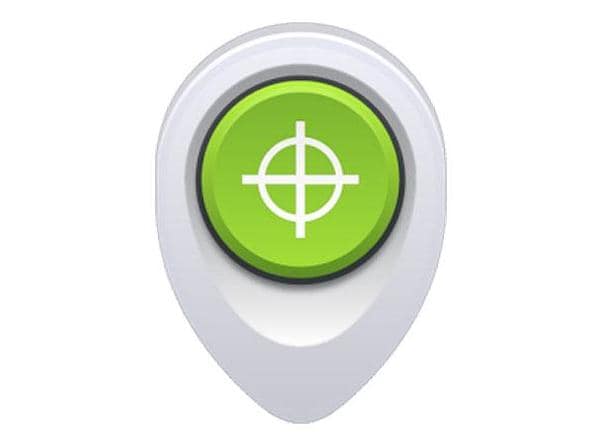 How to Track a Lost Android Phone
For several years, most people preferred iPhone (iPhone 7) over Android phones due to the ease of tracking them using the Find My iPhone application. Smartphone users who owned Android phones had to contend with less effective tracking tools and applications, which usually meant never finding their phones once they got lost. Fortunately, android app developers have been working on an effective phone tracking app and they finally released an equivalent app to Find My iPhone for Android. This application is none other than Google's Android Device Manager
About Android Device Manager
Android Device manager is an Android phone tracking application developed and released by Google. It was developed to replace the primitive and unreliable locator apps for Android devices. It is designed to enable Android Phone users to locate their devices, and ensure that the personal information inside their phone is kept safe and secure in case it is lost.
Features of the Android Device Manager
1. Real time tracking
Android Device manager allows for real time tracking of your phone using your device's GPS. The current location of the phone is displayed on the app's website dashboard. In case the phone is not online, the last location when the phone was online is displayed.
2. Phone ring function
The application also comes with a ring function, which forces your device to ring at maximum volume when activated, even if it is in silent or vibrate mode. This feature comes in handy when you are near the phone's location, but you are not sure of the exact location.
3. Phone lock function
The application allows you to change your device's lock password, and then immediately locks the phone to ensure that it is not accessed. This helps to ensure that your personal information is not accessed by anyone during the period it is lost.
4. Secure erasing function
The "Erase" function is a self-destruct feature, which prompts your phone to securely erase all the data and reset to the factory mode. The data erased includes music, photos, videos, apps, and phone settings.
---
Steps for How to Use the Android Device Manager
Android device manager is available by default on all the new Android devices. However, you can also download it from the Google Play store. Once you have downloaded and installed the app, here is a look at how you can use it:
Step 1: Settings and check the box
First, navigate to "Settings" on your device and select "Security". Then go down to "Device Administrators" and check the box "Android Device Manager".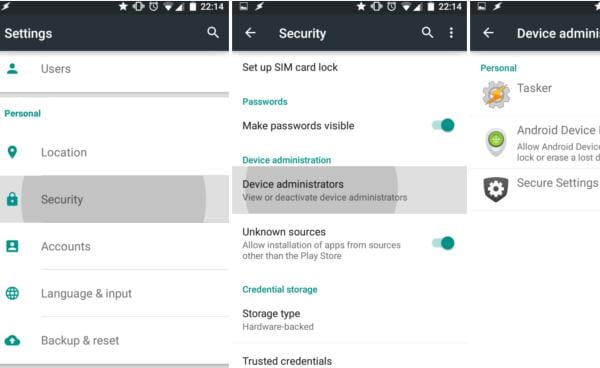 Step 2: Sign in using the Google account
Click "Activate" on the popup screen to provide permission to the app, and go to https://www.google.com/android/devicemanager and sign in using the Google account you use with your Android Device.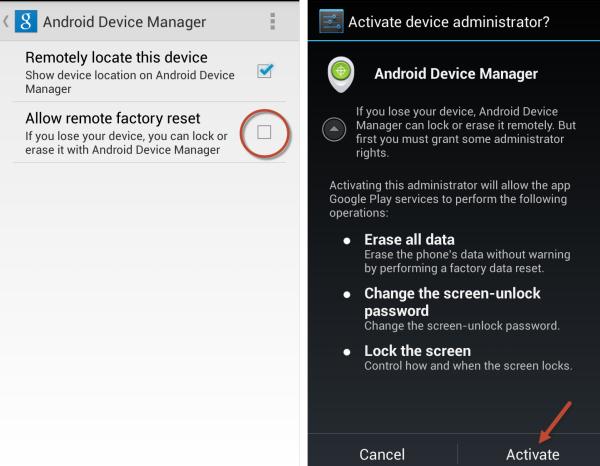 Step 3: Click the icon to find the current location of your device
On the website, there will be a dashboard on the top left side with your device name and the current or last known location. Below the location information, you will also find "Ring" "Lock" and "Erase" tabs. On the top right corner of the dashboard, you will find a GPS icon (a little dot inside a circle). Click on the icon to find the current location of your device, which will be shown on the map in the background.