Saying that you should regularly back up your Android device is the understatement of the century. It is so easy to lose data on these devices that it is vital we all learn how to create full backups of the data on them lest we lose all of the contacts, photos, music, messages, videos and more. While the importance of backing up your device is not lost to most people, many still find it very hard to do this and when something happens to their device, they often end up losing all the data on their device. To avoid being in this unfortunate situation, we have put together a complete guide to help you easily backup Android to Dropbox. It is easy to do and very reliable. Plus, you can easily restore the data to your device should you need to.
Part 1: How to Backup Android to Dropbox
Dropbox is a cool option because not only do you get up to 2GB of storage for free but the service allows various apps to access the service. This makes it very easy for you to back-up the contents of your Android device without having to connect the device to your computer. Before we begin, you need to have a Dropbox account. If you don't already have one, you can sign up for one at Dropbox's home page. The sign up process is easy and you should have an account in just a few minutes.
Next we need an app that will access your Dropbox account and allow you to easily backup data. The best app for this is DropSpace and you can install it on to your device for free from the Google Play Store.
Step-by-Step Guide to Backup Android to Dropbox
Step 1. Launch DropSpace on your Android device and then log in to your account. Select the folder in Dropbox you want to back up your Android to. You can even set the app to back up your device automatically by checking the "Run as Service" box and select the time interval you want between backups.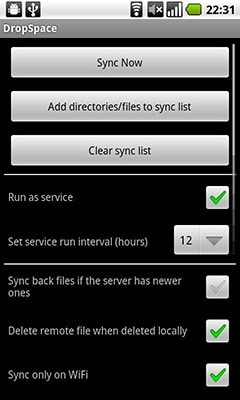 Step 2. You can also choose a number of other options. You can choose to "Sync Wi-Fi only" so that your phone will only sync when it is connected to Wi-Fi. You can sync anytime you want manually by tapping "Sync Now".
All the data you select will then be saved in your Dropbox account. You can access it anytime you want either on your computer or any other device.
---
Part 2: Tips on How to Backup Android to Dropbox Automatically
While there is no clear way you can back up your Android device Dropbox automatically, the beauty of having an Android device is that you can use an app to do this. DropSpace highlighted above is just one of them. To automatically create a backup for your device, use the following cool applications that can connect with your Dropbox account.
The coolest thing about this app is that its interface looks like the Dropbox client. But the best part in terms of functionality is that it quietly syncs data on your device in the background, something the Dropbox app doesn't do. All of the files can be uploaded to your Dropbox account as you use your device.
This is a great app because apart from syncing files with your Dropbox account, you can use it to sync files on Google Drive, Amazon Cloud Drive and many other options. It allows you to automatically sync files to all these storage options. It allows you to pick how you want to save the files and even comes with its own built in file manager.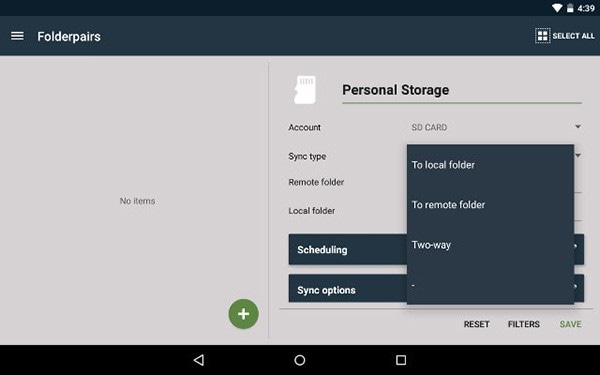 These apps will help you automatically backup and sync data across all your devices and all your storage options. They are the best bet when you want to automatically sync files to Dropbox.