SMS is a great way to communicate. They provide you with a simple way to share short messages that can be saved on your device. The ease of writing and sending this short messages have made them a very popular medium of communication and like every other type of data on our device we don't want to lose SMS messages. It is therefore vital to learn how to backup SMS on Android so that we can have a record just in case something goes wrong and we lose all of them. In this article, we are going to learn several effective ways to backup text messages on your Android device. Let's begin with the easiest and most effective way to do it.
Part 1: How to Backup SMS on Android
It is very likely that you have a lot of SMS messages on your Android device. This is to be expected of anyone who is in constant communication with friends, family or even business associates. It would therefore not be ideal to try and copy each one of your SMS messages and try to save them on a separate device, like your Mac or computer. What you need is a program that will take all of the messages on your phone and easily back them up on your Mac or computer. This program is MobileTrans for Mac (or MobileTrans for Windows). No matter how numerous your messages, this program prides itself in being able to back up all the data in a single click and in no time at all.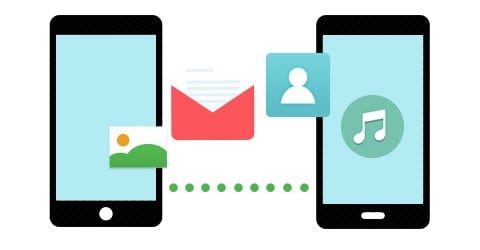 Key Features of MobileTrans:
It is also an excellent phone to phone transfer tool, allowing users to transfer all types of data including messages, contacts, music, photos, videos, apps and even call logs among others.
It is also very useful in creating backups of all the data on your device in a single click.
You can use this same program to restore data from iCloud Backup files or iCloud backup file.
It is very easy to use as we shall see in the next section and you can select the files you want to include in your backup or the specific files you want to restore.
It can also be used to erase the device completely.
Step-by-Step Guide to Backup SMS on Android
Step 1. Begin by installing MobileTrans for Mac and then launch the program. Select "Backup Your Phone" to open the backup window.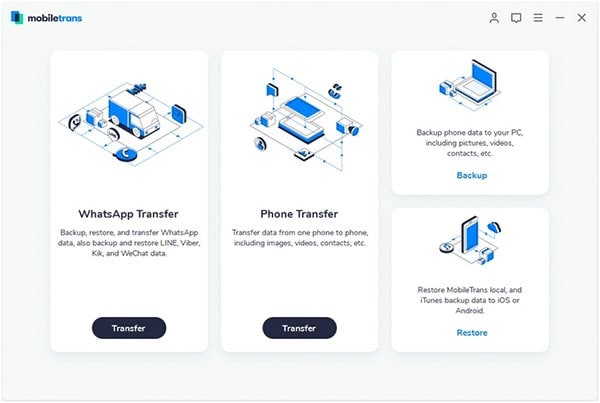 Step 2. Connect the Android device to your Mac using USB cables and you should see all the data on your device listed in the middle panel.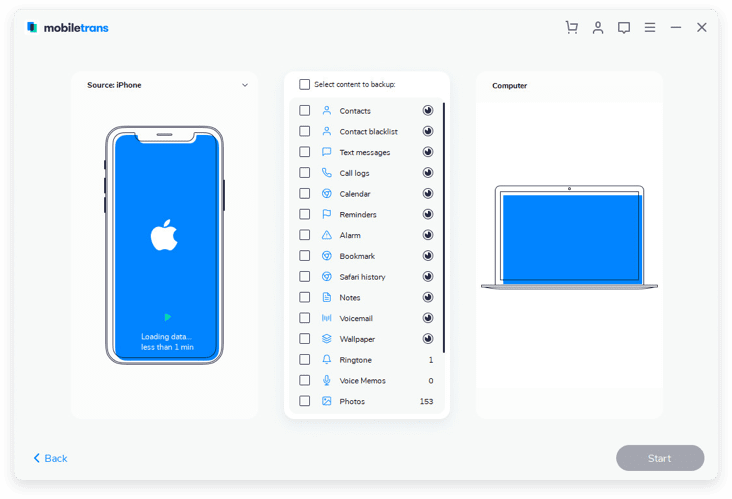 Step 3. You can now just simply select the data you want to back up (in this case SMS) and then click "Start Copy". The program will begin backing up all the selected SMS to your Mac.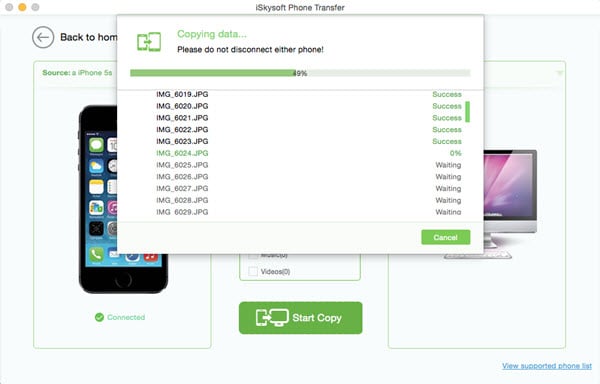 Tips: How to Restore SMS on Android
If you ever want to restore SMS to your Android device, you can do in one click using MobileTrans for Mac. Again the program makes this process very easy and you can even restore data from Mac or iCloud and iTunes backup file. Let's take a look at how to restore data from both of these options.
Launch MobileTrans for Mac on your Mac and then click "Restore form backup". In the options provided select "from Phone Transfer backup file". In the next window, check the files you want to restore then click on "Start Copy" to restore them to Android.
Part 2: How to Backup SMS from Android to iPhone
Another way to keep your SMS safe is to transfer them to another device. Learning how to transfer data from one device to another is also a vital skill that can come in handy when you want to switch devices.
There is actually no easy way to transfer SMSs from your Android to your iPhone directly, unless you use MobileTrans "Phone to Phone transfer" mode. You can however use a free app such as Super Backup: SMS & Contacts to create an XML file of all the contacts on your Android device. You can then copy this file from your Android device using USB cables and then copy the same file to your iPhone. Some apps will even allow you to send the XML backup file of your SMS to your email. This makes it even easier to transfer the files to your iPhone. You can just open the attachment and save it to your iPhone.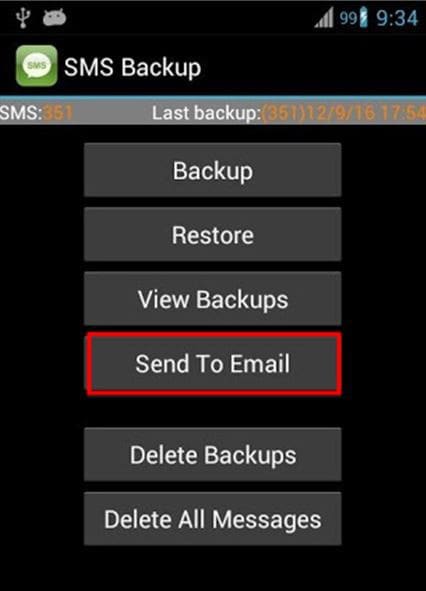 Part 3: Top 5 SMS Backup Apps for Android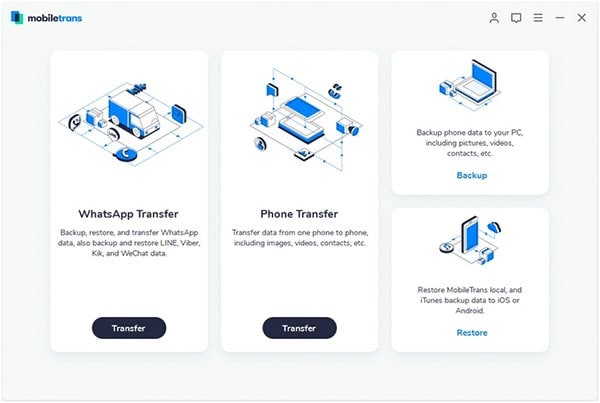 We've already said all that can be said about using iSkysoft Phone Transfer to Back up your SMS messages. We will however reiterate that the program is easy to use and very effective in not only backing up your SMSs but also at restoring them and even transferring them from one device to another.
Pros:
It is 100% effective in backing up SMS
The backups are safe. None of your data will be altered in any way
It can also be used to restore backups and transfer files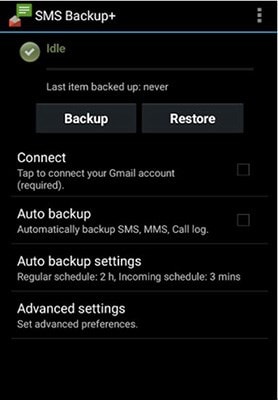 This app is effective in backing up SMS, MMS and even call logs. It can even be used to restore the backed up SMSs and call logs back to the device. But in order to get it to work, it is important that you enable IMAP in Gmail. Also be warned that the app may not work correctly if you install it on your SD card.
Pros:
It can be used to backup SMSs as well as call logs and MMS
It can be used to restore these backups
Cons:
Requires enabling IMAP in Gmail which may not be easy to do
Will only work correctly when installed on the device's memory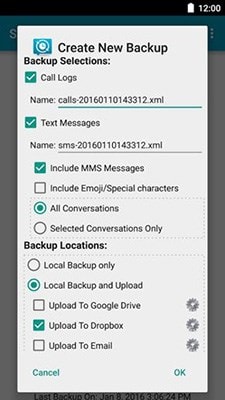 This is a very popular app that you can use to back up your Android device's SMS and call logs. Al backups are in XML format which makes it easier for them to be exported to another device. You can also choose to set up an automatic recurring backup schedule.
Pros:
It can be used to backup SMS, MMS and Call logs
You can set up scheduled, automatic backups
Cons:
There is no option to restore the backed up data to the device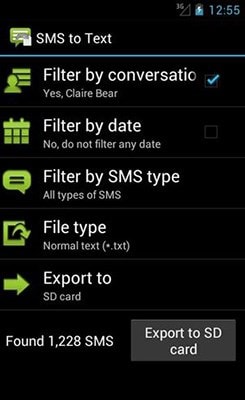 4. SMS to Text
This is an app that allows you to not only backup your SMS messages but also restore them and export the SMSs as Plain text or CSV files. These files are readable on your computer which means you can use this app to transfer messages to your compute for safe keeping. The app also allows users to save these files on your SD card to be restored to your device later.
Pros:
It comes with additional features that allow users to export messages as CSV or plain text files
It can be used to backup and restore SMS
Cons:
It can only backup and restore SMS messages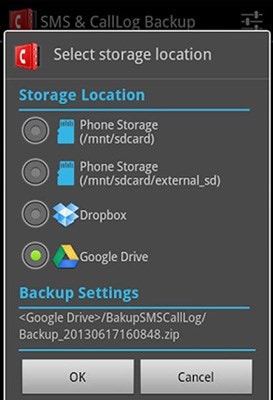 5. SMS & Call Log Backup
The main selling point of this app is that it makes it very easy to back up your call logs and SMSs to cloud drive options such as Dropbox, Google Drive or other external storage. The backup files are often in zip file or XML format to reduce the amount of storage space they take up. It is also very useful in accessing the backed up SMSs and restoring them to your device.
Pros:
It can be used to Backup and restore SMS and Call logs
The backup files are compressed to properly utilize storage space
It is completely free to use with no ads
Cons:
It comes with so many features that it can be a little difficult to decipher