So you like the way the iOS interface looks but either don't want to purchase a new iPhone or can't afford it? The iOS software can be attractive in many ways so don't worry we don't blame you for wanting a switch. But iOS (iOS 10) devices are not cheap. Fortunately for you, we have found a way you can experience the iOS interface on your Android device without having to root the Android or without any damage to your Android in any way. But before we show you how it works, we should point out that since this is a major device altering procedure, you should perform it at your own risk. We will not be responsible for any damage that occurs, software of hardware. You should also probably backup the data on your Android before doing this, just in case. Also please note that this method will only change the look and feel of the Android OS. In essence give you an iOS interface without changing the software. Below is full guides on how to change Android to iOS.
How to Change Android to iOS
It is a service that has been included to all the Verizon wireless devices and therefore there are no charges at all. The download of the service require approx. 1MB of data for which the standard charges are applied.
Step-by-Step Guide to Change Android to iOS
Step 1. The first step is to download the software you are going to use to make this change to your PC or Mac. Extract the files you have downloaded and run the software on your desktop. Once the installation process is complete, open the software to continue.
Step 2. The next step is to simply connect the Android phone or tablet to the PC or Mac using USB cables. The iOS on Android program will recognize the Android. Make sure that the right device has been connected by checking the details in the product's interface. If the program fails to recognize the Android, update the Android to the latest version of Android OS first before reconnecting to try again.
Step 3. Now select the version of iOS you want to install. You can choose between iOS 7 and iOS 8. You should note that the program will use the latest version of iOS. Then finally click on "Install" and wait for the program to install your selected version of iOS on your Android. The Android will be restarted once the installation is completed.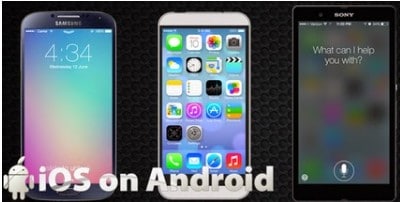 The Android device will now function much like an iOS device with the version of the software you chose would.