If you have been using an iOS device to listen to your favorite music and watch your favorite videos then there's a high chance that all of your multimedia files are stored in iTunes. The disadvantage to having your files tied up with iTunes is that your choice of storage devices for your music and videos is very limited. By transferring your iTunes files to your android devices, you can have more versatility in handling your files and easily move past player compatibility issues.
Two Ways to Move iTunes Files to Android
Manually Move iTunes Files to Android
Fortunately, you can transfer your iTunes data to your Android phone with your Mac. First, you will need to plug your Android device to your computer. Depending on your USB settings and file transfer interface, you will need to put your device into MTP mode. On your computer, open up the library folder of iTunes. If you don't know how to access it, open your file explorer and go to Music->iTunes->iTunes Media->Music. You will then see all of your music and video files stored by iTunes. The next step is to copy all those video files and then paste them on the folder in your android device where you want the files to be stored.
Using MobileTrans for Mac
You can successfully transfer your iTunes data to any Android device using the method above. However, the process can be time-consuming. And if you are not very familiar with the method, you can easily confuse file names, which may cause you to unintentionally delete your files. Now, you don't have to be discouraged about doing it. You can always let MobileTrans for Mac (or MobileTrans for Windows) do the job for you. In case you haven't heard of it, it is an application that lets you transfer files between iOS, android and blackberry devices without any problems.
Key Features:
one-click file transfer that lets you conveniently transfer your iTunes data as well as other files to your android device.
Multiple platform transfer that makes it possible for you to transfer files between iPhone, Android, Blackberry and other devices.
Quality preservation feature that allows you to backup and restore files without compromising their quality.
Permanent data erasure so you won't have to worry about other people sniffing into your personal files. You can use this feature to get rid of files that have been negatively affecting the performance of your device.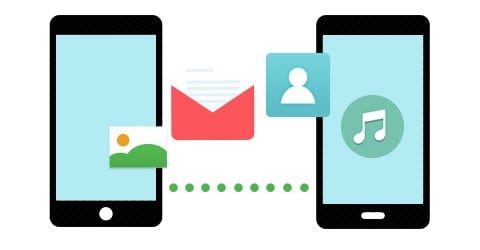 How to Move iTunes Files to Android with Mobile Trans
Transferring iTunes data to android is easy with MobileTrans for Mac. For example if you want to transfer the music to the android device,all you need is to simply do the following:
Step 3

Go to the Restore Tab

On the top right section of your software's primary window, click on "Restore from Backups" and choose "from iTunes backup file"from the provided list.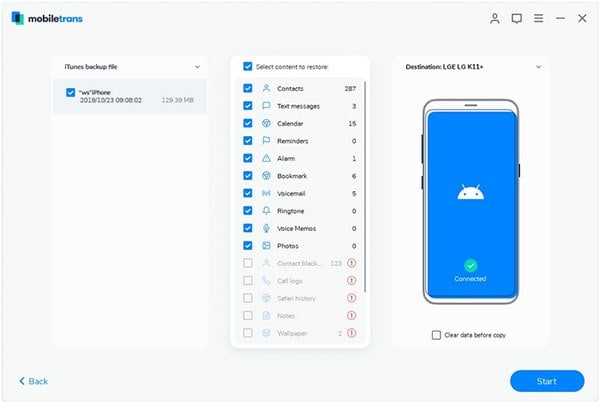 Step 4

Select the Files to Restore

Select your device from the device selection menu and choose the files that you want to be transferred.Once you're done, click on "Start Copy".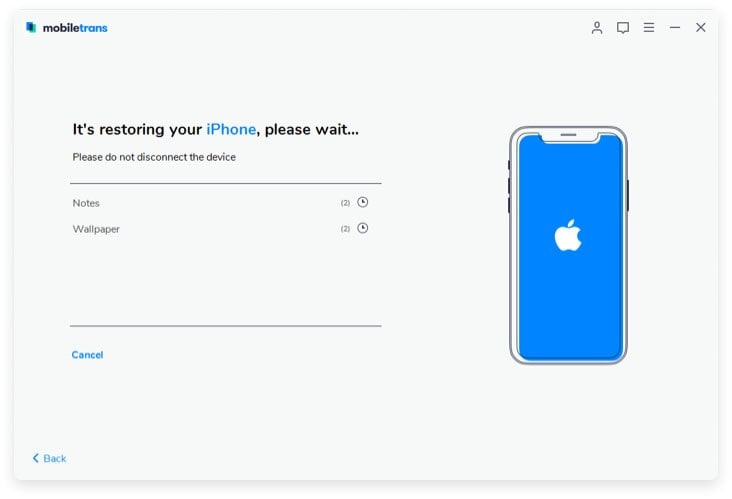 If you don't want to experience device compatibility issues with your iTunes linked files, transfer them to your android device. And, if you want to do it the easy way, use MobileTrans for Mac. To install the program, simply visit wondershare's official website and download it.