One of the first things that you may want to do after purchasing a new Samsung device would be to transfer data. Among all the data like music, videos and photos, contacts are the most important data that you will send from one device to the other before anything. If you are a die-hard Samsung user and have recently bought another Samsung device, use any of the below-mentioned 2 methods on how to send contacts from Samsung to Samsung. These methods will completely eradicate the trouble you may have faced earlier while transferring data.
Part 1: Simple Way to Send Contacts from Samsung to Samsung
There are various methods available for transferring data to and from your Android devices. But one of the easiest and quickest ways to transfer data securely is to download this amazing phone transfer tool. MobileTrans for Mac (or MobileTrans for Windows) is a highly advanced application dedicated to the safest data transfer across various devices. It makes the entire transfer process very simple and hassle-free. It allows safe and secure data transfer from one device to another. It is an extremely easy to use data transfer tool which can be used for transferring almost any kind of data that you want. It can transfer photos, videos, contacts, call logs and messages without much ado. Unlike other transfer tools, this application ensures complete deletion of the data too. The tool is very easy to install on any of your smart device for initiating the data transfer instantly.
Key Features of MobileTrans:
The application takes just one click for transferring a bulk of data in no time.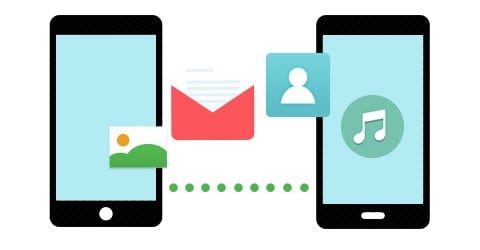 It works for all the iOS and Android devices.
It can also be employed for safe backup of your smart phone.
MobileTrans allows the transfer of your iTunes library to any of your Android device.
The tool is great when it comes to help you restore files in your device, or on iCloud and iTunes.
Step-by-Step Guide to Send Contacts from Samsung to Samsung
Step 1. The first step of this process is to download and launch this innovative tool from an authentic website. It launches effortlessly on your Mac with just one click and is ready to transfer the data of your choice. It can send contacts, videos, music and much more.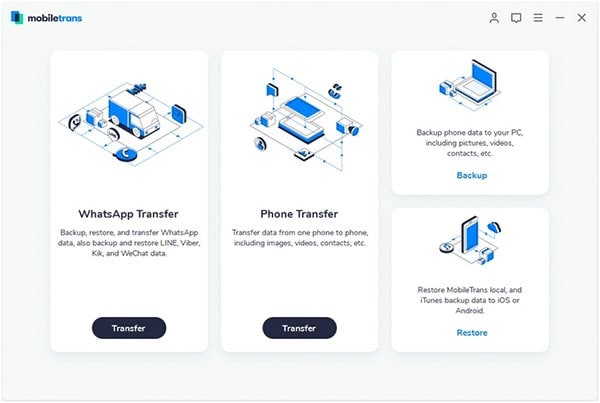 Step 2. Now, use micro USB cables to connect both the devices to your Mac. After the connections are made, click on "Phone to Phone Transfer" mode. You can easily connect both your Samsung devices though an iPhone is used here. A list of variety of data will appear on the screen. You can select anything you are looking to transfer.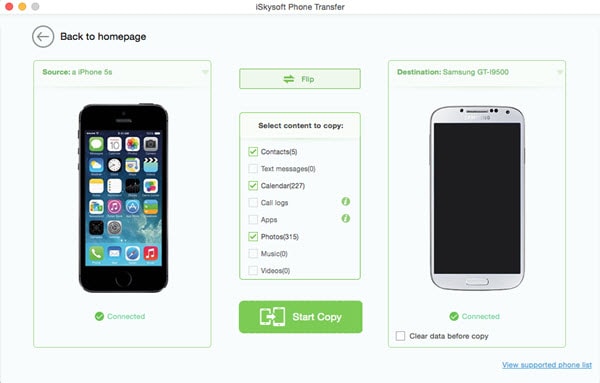 Step 3. Now, when you have selected the contacts data that it is to be transferred, click on "Start Copy". It will immediately begin to send data from one Samsung phone to the other and the task will be accomplished very fast.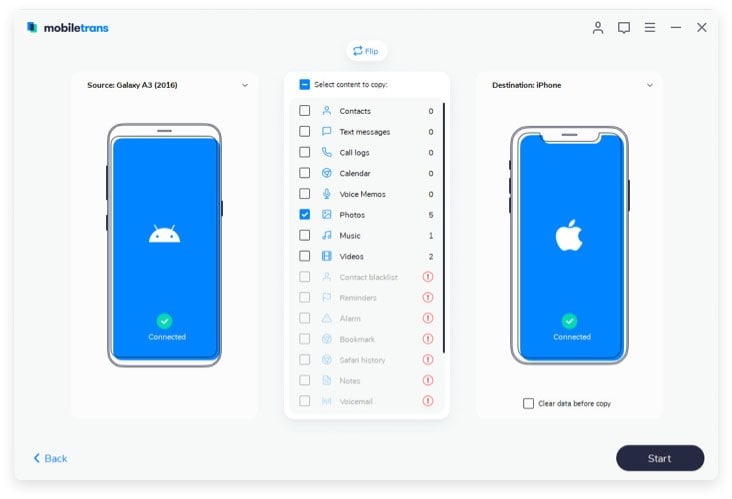 So, this app is not only easy-to-use but very fast in its operation too. All the data that you selected will be securely transferred to its target device.
Part 2: Wireless Way to Send Contacts from Samsung to Samsung
Samsung has introduced an amazing app to make the cumbersome ordeal of transferring various data from one Samsung device to another super easy. This Samsung Smart Switch mobile app allows you to send contacts from Samsung to Samsung wirelessly. Follow these easy steps to learn how to send contacts from Samsung to Samsung simply.
Step-by-Step Guide to Send Contacts from Samsung to Samsung
Step 1. Download and install the Samsung Smart Switch from the Play Store on both your Samsung devices and install them properly.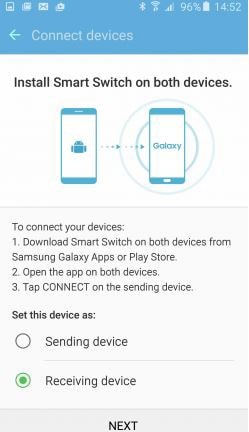 Step 2. Make sure that both your devices are within the range of 50 cm. Now launch the app on both your Samsung devices. Tap "Connect" on any of the two devices to establish the connection between them.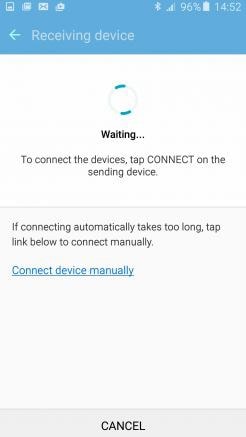 Step 3. Now when the devices are connected, a list will appear on your screen. This list will contain various data types that you may want to send to your other Samsung device. Choose the data, in this case, contacts and select the "Transfer" option.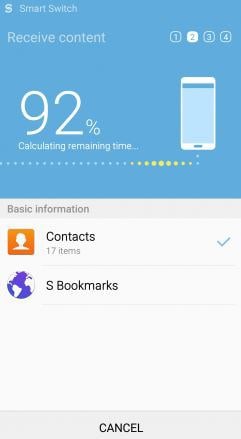 Step 4. Tap "OK" on your target device when the other device seeks permission to share the content. Click on "RECEIVE" button.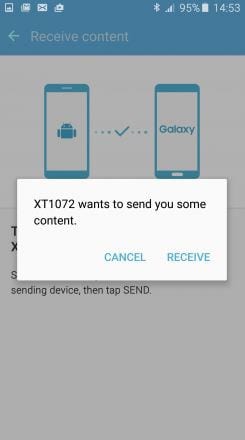 This is the wireless way to send contacts from Samsung to Samsung. So, if you are changing your Samsung phone, use any of the above said two methods to accomplish the data transfer.