If you are in love with your Android phone and at the same time diehard fan of Apple, then you no longer have to worry about running iOS apps on Android. Moreover, the best part is that you do not have to pay a single penny. By using appropriate applications such as iOS emulator, you gain the authority to download iOS apps onto your Android device. Android is catching up and has the best apps that at times beat the most preferred or downloaded apps on the iTunes Store. Fascinatingly, most of the greatest applications built for iOS are also available on Google play store in different forms. The best examples are the Apple city alternatives and FaceTime alternatives, which a user can download by searching the play store with appropriate filters. It is quite common for any Android user to fear about losing the content of corrupting the operating system while downloading an emulator that allows the download of Apple apps onto the device. In fact, a few Android emulators function efficiently and provide the needed support for the user to get iOS applications onto the Android platform. If you are one among those who are keen on trying out iOS apps, then the following paragraphs will reveal everything about running apps built for iPhone on an Android device.
Part 1: How to Run iOS Apps on Android Using iOS Emulator for Android
If you are interested in running iOS apps on your Android device because you are a die-hard fan of Apple and their applications, then get the iOS emulator for Android that will allow you to download iOS apps onto your device. Before heading further, it is essential to understand the importance of the iOS emulator and its main features.
The emulator provides the chance to access iOS apps on Android devices.
You will have all the features included in the iOS.
It will allow you to save games.
The emulator requires Android 2.3 and higher.
It supports all the gamepads.
It is essential that a device has at least 512MB RAM.
Step-by-Step Guide to Run iOS Apps on Android Using iOS Emulator for Android
Step 1. The iOS emulator, iEMU APk file is available as a free download. You can download the file to your Android device or your Mac.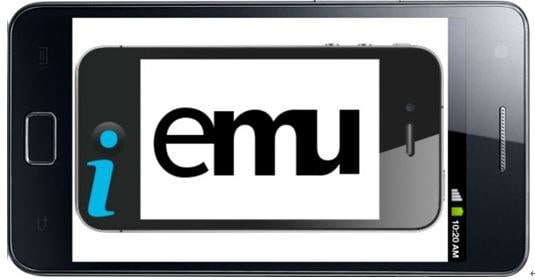 Step 2. If you downloaded the file to your Mac, then transfer it to your Android device through the USB cable. You can also use Bluetooth or WiFi hotspot to move the file. It is preferable to save the file to a known destination, such as Downloads. Navigate to the folder where you copied the APk file, and open the file.
Step 3. Begin installing the APk file using any of the file manager programs. Installation of the application will take a while. Therefore, it is imperative to be patient and allow the process to complete. Generally, the installation will be as "Padiod" on your Android device.
Step 4. After completing the installation, you will notice the "Padiod" icon appearing on your device. You can open the application, and begin browsing the iOS apps. You can then download all your favorite apps from Apple store and use them on your Android gadget. Note that "Padiod" supports only zip and ipas file formats alone. Therefore, ensure that the apps that you are downloading are in similar formats.
Part 2: How to Download iOS Apps on Android Using Cider
Cider (Cycada) is yet another iOS emulator for Android that allows you to download and run iOS apps on any Android device. The best feature of the application is its ease of installation and implementation. Cider is the latest entrant into the world of iOS emulators for Android. It is a cross-functional platform and allows applications developed for a particular operating system to function on a different one, such as running iOS apps on Android. The application is operational for both Android smartphones and tablets.
The compatible architecture of the Cycada (Cider) operating system this allows foreign applications (iOS apps) by enhancing the Android operating system with Kernel managed per-thread identities that imitate binary interface of the iOS operating system. Due to this, a user is capable of downloading iOS apps and running them comfortably on their Android device. Cider uses the approach of combining binary techniques including new mechanisms – diplomatic functions and compile-code adaptation. Currently in its advanced stage of the investigation, Cider is sure to surpass all the leading iOS emulators for Android devices.
Part 3: Top 8 iOS-like Apps for Android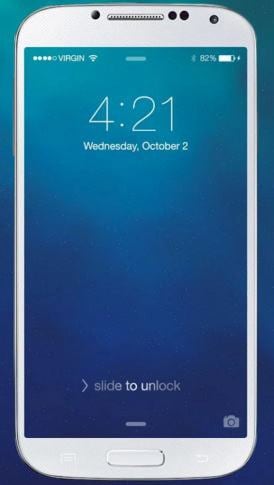 1. OS8 Launcher
The high rating of the app shows us its capability and provides the chance for a user to experience iOS theme on their Android device. Also known as, OS8 Launcher, the application is lightweight, fast, and yet keeps everything simple. With the new launcher, you can easily setup your Android device and customize completely according to your needs to resemble the desktop of your Android device as an iOS gadget. It offers complete flexibility and complete personalization. Simple does not mean that it does not provide transition effects, or lacks animation. The application supports over eight languages.
Pros:
Level of customization (very high).
Creates identical look and feel of iOS on Android devices.
Ad-free.
Small installation size.
Cons:
Limited animation options.
Cannot customize app drawer icons.
One can feel lag in certain animations.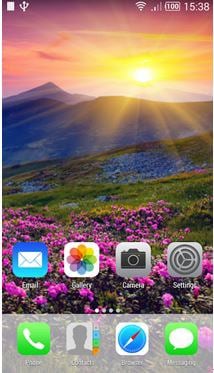 2. iLauncher
If you would like to have a launcher that mimics iOS 9 to finer details, then iLauncher is the answer. The powerful launcher will allow you to experience the speedy and smooth operation of all the apps on your device. The best part is the absence of the app drawer. All the icons are on the desktop, making it easy for a user to launch them directly. Additionally, it is easy to navigate through the apps. You will even receive the gesture controls through which you can swipe up, swipe down, and home button actions. Due to the immense customization, you can personalize themes according to your requirement. You can further change the desktop grid, have infinite scrolling, hide search bar, change settings to folder preview, and a lot many other options.
Pros:
Smooth operation.
Delete from home screen.
Identical arrangement of apps like that of iOS.
Transition effects.
Cons:
No widgets.
Icon sizes can be big on some devices.
A little expensive.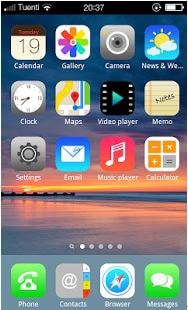 3. Full OS i Launcher
The Full OS i Launcher is a complete solution for Android users who are willing to replicate most of the icons, lock screen and other facilities of the iOS platform. Users will be able to replicate not just the lock screen, but also the notification bar, control center, music controller, taskbar, widgets, and dialer. The settings feature within the application allows you to add or remove a component.
Pros:
Smooth transition.
Personalization ability.
A light app that does not eat up RAM.
Cons:
Too many ads.
It is slow to start and lags.
Does not function appropriately in certain devices.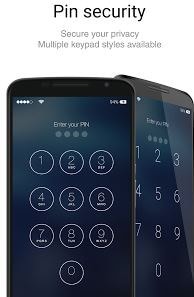 If you are using Android and willing to get the lock screen as that of iPhone, then look no further. IPhone Lock Screen provides the best outfit for your Android device. Users will receive the iOS 9 lock screen to their Android devices, which is stylish. Apart from the interface that replicates the original lock screen of iOS, the app also provides fully customizable lock screen, where they can choose from a variety of themes or use images from the gallery as the background. It further provides enhanced security as that of the iOS, where users need to enter PIN and password to unlock the device. Furthermore, there will be the absence of the Home and Menu button on the screen to ensure that others do not gain easy access to the handset. The application further provides enhanced customization features such as fonts, time format, unlock text and lot more options that allow a user to modify the appearance and features according to the requirement.
Pros:
Easy maneuverability.
Smooth transitions.
Replicates stock iOS lock screen to near perfection.
High customization.
Cons:
Too many ads that can annoy users.
Stops functioning at times.
Does not offer good service to certain models.
Lock screen toolbar issues on multiple devices.
Loads slow and lags.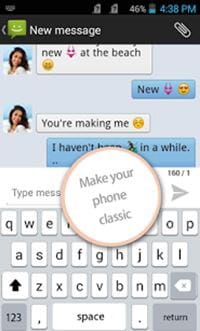 5. Classic Keyboard
It is always comfortable to have the classic keyboard layout present in any device. It makes the typing a lot easier that changing the Google preset keyboard now and then. The classic keyboard layout has everything on the same screen, making it easy for any user to operate it with ease. Interestingly, the design depicts the keyboard like that of an iPhone. Users also receive the possibility to flaunt their new keyboard to their friends! Additional features include prediction and dictionary availability, enable and disabling of sound on key press, and enabling and disabling vibration of the key press.
Pros:
Smooth operation.
Identical to iPhone keyboard.
Ad-free.
Cons:
A few keys are missing.
Keys can become big in certain devices.
Lags in certain devices.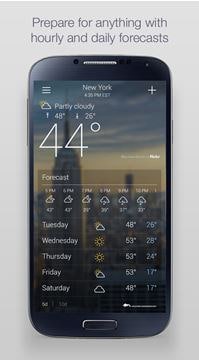 Forecast of the weather is always useful when you are heading for a long trip or planning for the weekend with your family. Preparing for the worst will ensure that you have all the goods that will protect you from uncertain weather conditions. The best feature is its synchronization with your Flick photos, which match according to your location, time, day and current situations. You can have all the details of the weather including wind speed, air pressure, and precipitation measurement. You get to see animated sunrise and sunset along with pressure modules. You also have the opportunity to browse maps, track heat and snow, and radar.
Pros:
Near accurate readings.
Smooth animation and transitions.
Intriguing interface.
Cons:
Does not work on many devices.
Hangs in between operation at certain points.
Absence of customization.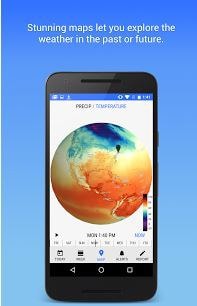 It is the most accurate source for possessing hyperlocal weather data. The main feature of the application is its ability to provide you the last minute details of the weather, letting you know when it will stop raining or start the next spell. The free-to-download app further includes 24-hour forecast, along with detailed 7-day information, allowing to you plan for the entire week or make preparations in case you are heading for a road-trip. The premium version of the application adds rain notification and alerts, down-to-minute forecasts, scheduled day-to-day summary, and widgets. The widgets will help you track the details of the weather right from your home screen.
Pros:
Wonderful animations.
Real-time weather reports.
Accurate information.
Cons:
Focuses mainly on rain.
Malfunctions in certain devices and displays inaccurate readings.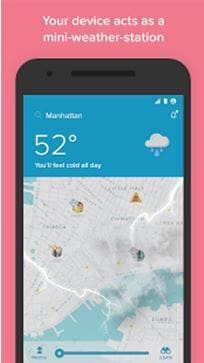 8. Sunshine
Sunshine is a minimalistic weather reporting application that learns along with you. Additionally, it even educates itself each time you report to the community on hazards and sky conditions, which it translates into weather predictions. Unlike the traditional weather apps, the application uses the sensors of the device to create an interactive and accurate personal weather forecast that helps you plan for a day. The readings are street level rather than predicting based on clinical or radar operations. You can even maintain your personal morning digest! It even shows your realistic wind speeds with real-time sky view. You could be the next weather reported. It is the leading iOS weather for Android.
Pros:
Accurate weather conditions for a locality.
Uses the device as a mini weather station.
Self-educates based on inputs received from the community.
Cons:
Misses interesting features to keep it stand out from the rest.
Currently available only for Canada.
Little expensive for in-app purchases.