Sharing media files and documents has become easy over the years with many USB enabled data storage devices like hard disk, memory cards and smartphones. Smartphones in particular have quickly gained a lot of popularity in the recent years, as a result most individuals use their smartphones to store and share media files to keep it simple and handy. Now another common way for sharing files through cross platforms is transferring files from iPhone to Android via Bluetooth. However, there are times iPhone bluetooth Android not working. No worry! Below are the best solutions to fix iPhone (iPhone 7) to Android bluetooth transfer not working.
Part 1: iPhone Bluetooth Android Not Supported? Fixed!
Why Bluetooth file sharing doesn't work even though both iPhone and Android devices have Bluetooth?
1. Though Bluetooth is a wireless technology which has been integrated into both iPhone and Android smartphones, wireless file sharing capabilities are limited because both the devices work on different operating systems. Developers have come up with a few solutions over the years for this issue, the most common solution is to have the same third-party Bluetooth file sharing application on both the devices. Since there aren't file sharing many applications which are available for both the iPhone (iPhone 7) and Android smartphones, this may seem quite difficult to some users.
2. Even if Bluetooth sharing is enabled after downloading and checking many applications on both the phones, problems concerning sharing speed may arise while sharing larger files. A typical movie file which may range from anything between 700 Mb to 3gb, and it is difficult to get them across via Bluetooth because it may take around 40 minutes to 1 hour to just send one of these larger files.
3. Because of the growing popularity of both the devices, developers have come up with a revolutionary solution for this long standing problem. Now it has become a lot easier and faster to share files on cross platforms with a new software, and it is also packed with many other thoughtful features.
---
Part 2: The Best Way to Share File from iPhone to Android
After some extensive research, MobileTrans for Mac (or MobileTrans for Windows) has made it possible to share files over cross platforms like iPhone (iPhone 8), Android and even Blackberry without any problems. And it has also increased the file transferring speeds radically. Apart from this, the software is packed with plenty of features that enable the user to send contacts, text messages, reminders and even documents instantly across different smartphones.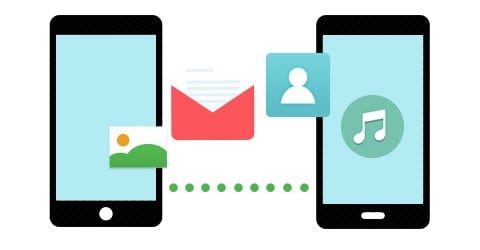 ---
Key Features of iSkysoft Phone Transfer
1. Phone to Phone Transfer:
In This mode the user needs to plug in both the phones via a USB cable, once both the phones are connected the software will scan the phones for all the available data very quickly and show the options to transfer the files. It is also possible to change the sending and receiving devices with a 'Flip' button which is located at the top of the windows in the phone to phone transfer mode.
2. Back up Your Phone:
This is an additional feature that allows the users to back up the data on their smartphones, iPads and even iPods to the PC, this can prove to be helpful when people are changing their phones or just to keep the files safe in case the data on the phone gets corrupted due to some reason.
3. Restore From Backups:
In This mode the software will show a list of all the backup files saved using this software along with the date, these backup files can easily be applied to the connected device. It is also possible to select the type of files will be transferred from more than one of the saved backup files.
4. Erase Old Phone Data:
This mode is the one stop solution to clear all the data of the connected device, so that the phones is ready to receive new files from either a backup file or even other devices that are connected to the PC via the 'iSkysoft Phone Transfer' software.
Though it is mainly designed for sharing files from iPhone to Android as Bluetooth capabilities are limited over cross-platforms, this software provides many features that are essential for managing media and data on these smartphones.