Most of iPhone users have the need of backing up their data, on computer or in cloud. It's too easy to make new data on the phone, like chatting online, taking photos in daily life, etc. The storage is far from enough. To backup data on your iPhone (iPhone 7 and iPhone 6S), there are free ways, like using iTunes and iCloud. However, there are always issues that you can' t predict happening when you backup your iPhone with iTunes or iCloud. Next, there is a list of some common "iPhone won't backup" issues and troubleshooting, so that you can get the issue solved correctly and immediately.
Part 1: The Best Solution for iPhone/iTunes Won't Backup
For iPhone/iTunes won't back up, you can get help from a reliable iPhone backup tool like MobileTrans for Mac ( or MobileTrans for Windows). This tool enables you eaily backup iPhone or any other phone models in just one click. It automatically detect and scan your phone data once connected. You simply choose the contents you want and backup them to your computer. More wonderful features make this iPhone (iPhone 8) backup tool outstanding:
Backup iPhone contacts, messages, call logs, music, videos, and more in 1 click.
Restore phone data from phone backup, iTunes backup, iCloud backup, etc.
Tranfer data from phone to phone, including Android, iOS, Symbian and BlackBerry OS.
Erase your phone data to protect your personal information.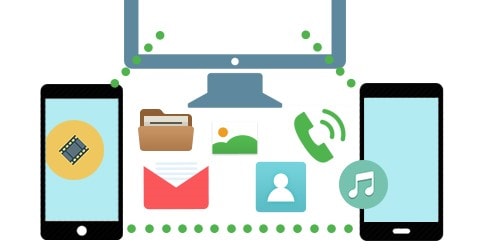 ---
Steps to Back up iPhone Data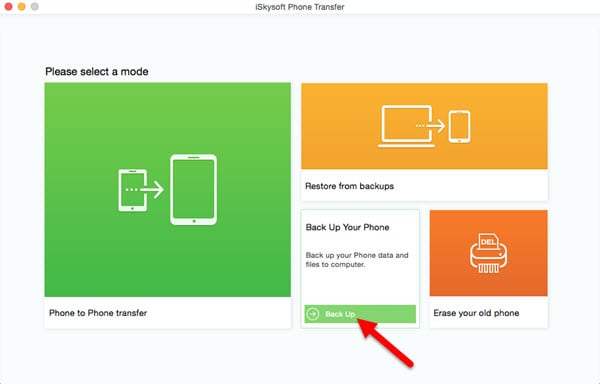 Step 1. Launch iPhone backup tool
After installing this backup program on your computer, launch the program. And go to the "Back up Your Phone" tab to open the backup window.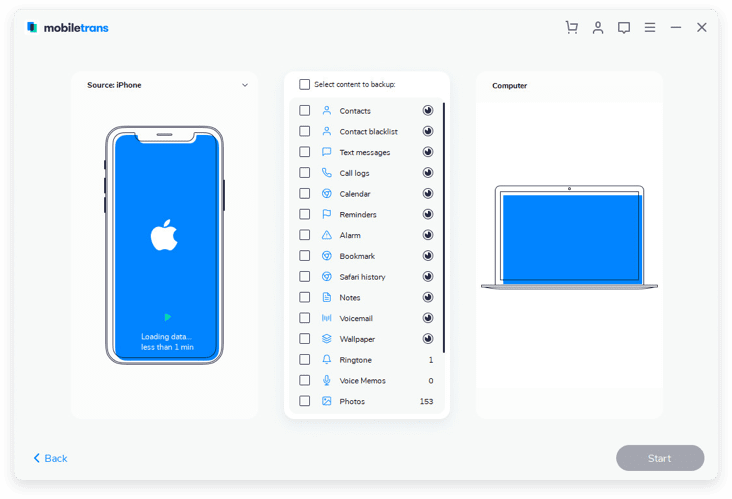 Step 2. Connect iPhone to your computer
Then connect your iPhone (iPhone 8) to your computer with USB cable. You will see your phone data shown on the program interface.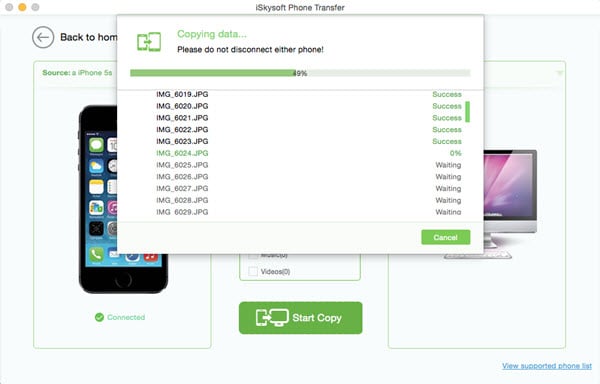 Step 3. Start iPhone backup
This backup tool can detect your iPhone date and show it on the program interface. You can simply check the contents you want and back up them to your computer. That's it.
---
Part 2: 7 Common Troubleshooting on iPhone/iTunes Won't Backup
#1. iTunes could not back up iPhone because the backup could not be saved
You could try this:
- Navigate to the C:\Users\USERNAME\AppData\Roaming\Apple Computer\MobileSync
- right click on the "Backup" folder and select "properties";
- select the Security tab and click the edit button and highlight "Everyone";
- check the "Full control" checkbox and hit "Apply" and then "OK" twice.
#2. iTunes Wi-Fi syncing
First you need to check the system requirements for wi-fi syncing. For an iOS device using iOS 5 or later on the same Wi-Fi network as your computer, with iTunes 10.5 or later and one of these operating systems: Mac OS X v10.6.8 Snow Leopard or later and Windows XP, Vista, Windows 7 or 8. Update your iTunes and operating system.
#3. Your iTunes shows different messages
Your iTunes shows different messages like the backup session failed, a session could not be started, an error occurred or an unknown error occurred -1. The cause for these issues could be a program that monitors the Winsock protocol for Windows conflicting with Apple software. These programs usually use a Layered Service Provider (LSP) that can help identify the particular program installed. For items other than Bonjour, which is from Apple, you can check with the publisher for updates to resolve the conflict between their software and Apple software.
#4. You receive a message that the backup could not be saved on your computer
If you receive this message - the backup could not be saved on this computer , verify again your programs.
#5. You receive message that you have not enough free space available
If you receive this message, first step is to check the capacity and demands. If you exceed the capacity, it is well known as for any device, that you need to see your content and refine it.
#6. iCloud Backup doesn't back up media files
Yes, this is right iCloud Backup doesn't back up music, movies, and TV shows that you didn't purchase from the iTunes Store, or any podcasts, audio books, or photos that you originally synced from your computer. iCloud Backup will restore your purchased music, movie, and app content from the iTunes Store, App Store, and iBooks Store during the background restore process. Previous purchases may be unavailable if they're no longer in the iTunes Store, App Store, or iBooks Store.
#7. You see most of your time that the iTunes is frequently slow
This issue can be shown as for potential conflicts. So, it is recommended to check your programs and their updates. Bytemobile is usually associated with cellular data connection software. You may want to check if your provider has instructions to disable or uninstall that portion of the software, such as these instructions from AT&T.