How do you get iPhone themes for Android? If you own an Android phone, maybe you have thought about the idea of giving it a bit more of an iPhone look. While this might sound ridiculous, it is actually possible to give your Android phone an iPhone look with the use of iPhone (iPhone 7) themes which are compatible for an Android device. In this article, we are going to showcase top 5 iPhone themes which you can install on your Android phone. While there are plenty of paid themes that will provide you with more options for customization, the ones included in this list are all available for free download. They are as follow:
Download iSkysoft Phone Transfer to Transfer Data Between Android and Other Phones
1. iPhone VO Theme Lite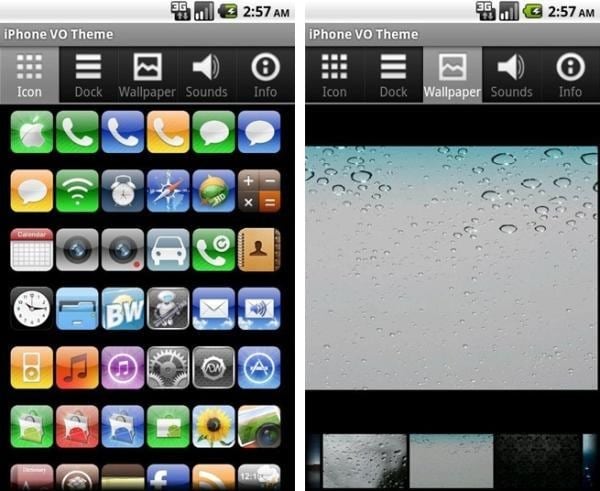 iPhone VO Theme Lite is one of the classic iPhone themes which you can download for free. It will give your Android phone a good-looking launcher along with classic backgrounds, icons, and even sounds. If you prefer the usual iOs icons, then this is the right them for you. You can see that the background of the icons are a lot colorful compared to the original platform. One good thing about this time is that it has a drawer app shortcut, thus allowing you to browse through sounds, backgrounds, and a lot more compared to other themes where you will need to browse through the launcher's preferences. Lastly, this theme works with for those who have Launcher Pro 0.86, ADW Launcher 1.3.0+, or Go Launcher 2.35+.
---
2. iPhone Go Launcher EX Theme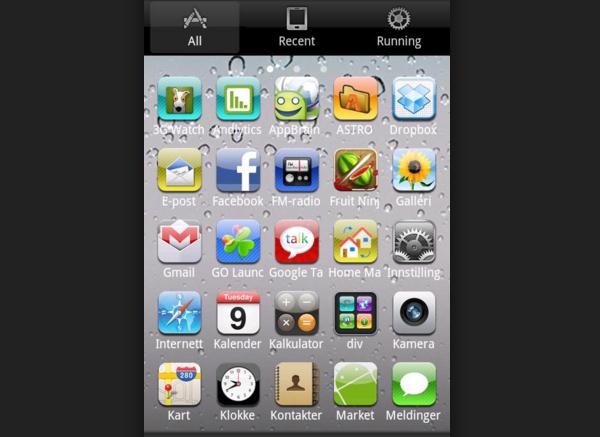 If you are an avid user of Go Launcher EX, then this theme can give you the default iOS look. This would include the classic icons, dock, as well as 3 wallpapers. Furthermore, you can choose a different background for the app drawer. If you have a different launcher, like the ADW or Launcher Pro, then you don't have to worry as there's actually a similar theme for all three launchers which also contain the same icons and wallpapers.
---
3. iPhone Black Go Launcher Theme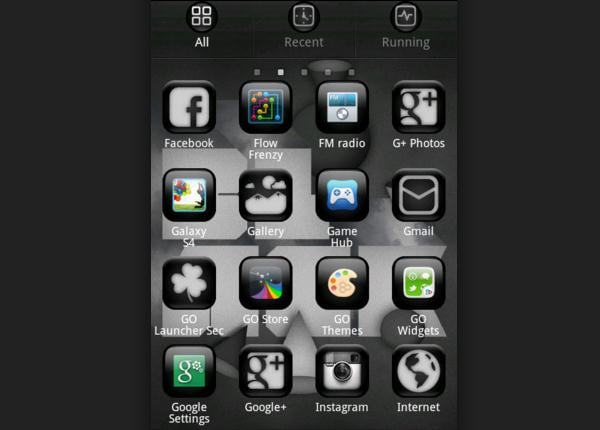 iPhone Black Go Launcher Theme features a range of cool and elegant backgrounds, wallpapers, icons, and more. This theme is actually perfect for those who prefer dark colored themes, and the multi-colored Apple logo located on the wallpaper would make your phone look more iPhone than Android.
---
4. iPhone VD Theme Lite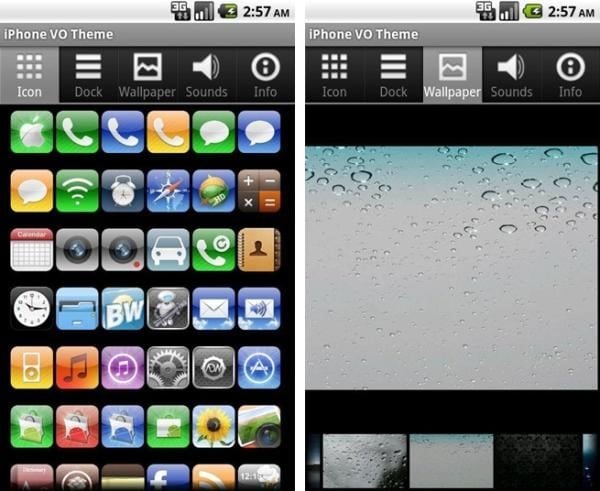 Just like the previous theme, iPhone VD Theme Lite also features icons which are all wrapped in black and rounded containers. You can use this them if you have ADW Launcher, LauncherPro, or Go Launcher installed on your Android phone. It also features a drawer app which allows you to easily browse through the options of the theme without the need to go through the launcher's preferences.
---
5. iPhone 3.0 Go Launcher Theme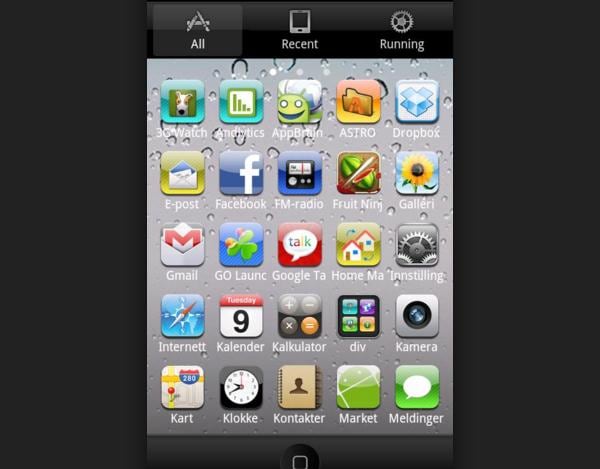 This particular iPhone 3.0 Go Launcher Theme brings forth more vector-ish icons along with a cleaner, but overall, the looks is definitely familiar. The good thing is that the Market product page contains recommendations for apps and widgets in order to provide your phone with the ultimate iPhone-ish appeal. Lastly, its wallpaper closely resembles the default background that iPhone has.
---
Steps for How to Install iPhone Themes on Android
Now that we've given you the top 5 iPhone themes for Android free download, it's time to go through the step-by-step installation process in order to finally give your phone the iPhone look you've been dreaming of. Here's how: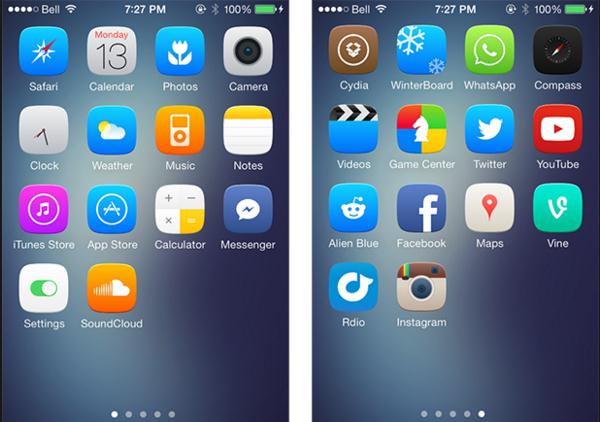 Step 1: Download and install the software
The very first step to consider is to download a launcher. You can download one from Google Play, and depending on the theme you want to choose from the previous list, you could either go for Go Launcher EX, ADW Launcher, or LauncherPro. Go Launcher EX works wells with all the above mentioned themes and will allow you to customize the size of the widgets, your home screen, the number of pages to be available, and several other details, making it a far better choice.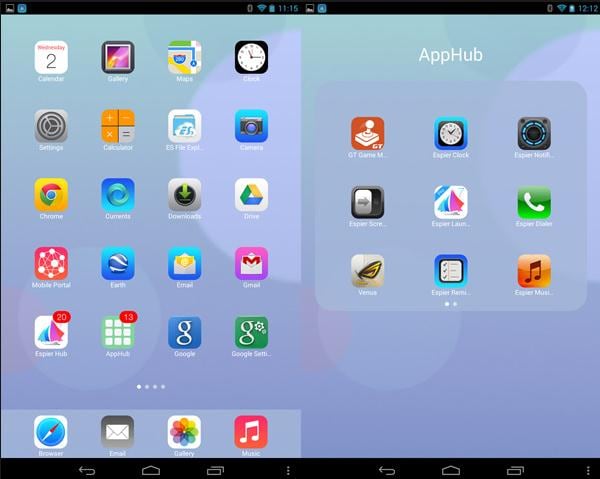 Step 2: Open and boot-up the program
After you have successfully downloaded the launcher, open it. You will then see a number of introduction screens right after the Go Launcher EX boots up.
Step 3: Select the theme of you have downloaded
The next step is to install your preferred theme. Launchers already have several themes which you can download any time you want to give your Android an iPhone look. However, before choosing a theme you have to make sure first that it is compatible with your device. Once you have finally decided on a theme, go to the menu of your phone and choose your downloaded theme then apply it. Your chosen theme will be on display, and you will now have an iPhone-ish look for your Android device.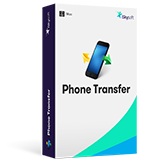 MobileTrans - Cross Platform Transfer, Risk-free and without Losing Quality
Only few steps can help you transfer data from Android to other phones and vice versa.
It supports to transfer Android phone data to PC and Mac safely and easily.
iSkysoft Phone Transfer supports to restore iCloud and iTunes backup file to Android.
The program also supports all iOS devices including iPhone 7.