If you want a complete backup of your device, the only way to go is to use a backup tool. Not only do these apps and programs make it easy for you to back up everything on your device, they are also a good and secure solution for restoring the device whenever you need to. For Android device uses, there is no shortage of these apps, all of which are quite effective in their own right. It therefore not uncommon to find most Android device users unsure of which one they can use to back up their device. This is the main reason we decided to review some of the best in the business and help you make a decision. The following are the top 7 Android online backup tools and their pros and cons.
Top 7 Online Android Backup Tools
Below are the top 7 apps that can be used free of charge and the data backup can be made with ease. It is also to be noted that the use of the apps as compared to the others of similar genre is easy. It can be carried out even by novice users.
Download MobileTrans to Transfer, Backup and Restore Phone Data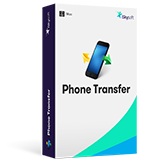 MobileTrans - Cross Platform Transfer, Risk-free and without Losing Quality
All you have to do to create the backup is connect your device to your computer and select the data to be backed up.
You can also use the program to restore the backup or any other backup file such as iTunes and iCloud.
It is compatible with all Android devices.
It is also a phone transfer tool which means you can use it to transfer data between devices.