Setting up a new device requires download the apps and building the content right from the scratch. People holding onto huge data in their devices will think twice about upgrading to a new device. Even if they did, transferring the data to a computer requires the use of software preferred by the phone manufacturer, and the same may not offer compatibility in recognizing data created by another program. For a few people setting up their new device is fun, as it gives them the opportunity to explore the options and the features present. However, most of the users who wish to use the handset with ease and without causing any trouble would feel a headache when they require copying the content. If you are among them, then this article is for you. Learn about Samsung transfer app that allows you to move content from one gadget to another without worrying about the operating system. The cross-platform programs give the chance to move content regardless of the device, the operating system, and phone manufacturer.
Top 5 Samsung Transfer Apps
Download MobileTrans to Transfer, Backup and Restore Phone Data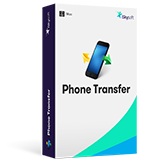 MobileTrans - Cross Platform Transfer, Risk-free and Without Losing Quality
Transfers almost everything including apps and app data.
Creating a backup of the phone without any quality loss.
Restores a device from any backup file.
Supports over 3,500 devices and networks.