In the current digital world, there is always a need to share contacts on iPhone, be it between friends, family, or colleagues. Contact sharing is also very important when you are replacing your phone, as it helps to ensure that you are able to retain all the contacts on your phonebook. With the coming of smartphones, sharing iPhone contacts has become an important feature for most iPhone users. Below is a look at some of the various ways on how to share contacts on iPhone (iPhone 7).
Part 1: How to Share iPhone Contacts to iPhone
Sharing contacts between iPhone (iPhone 8) is pretty much the same as sharing contacts between other phones. However, since iPhone contacts are stored in the phone's memory and there is no direct way of exporting them, a third party application must be used. One of the applications you can use to share contacts on the iPhone is MobileTrans for Mac (or MobileTrans for Windows).
It is a data transfer application that allows you to share data such as contacts, music, videos, messages, applications, and other files between smartphones. It is a great solution that comes in handy when sharing contacts, especially in the case where you are switching from one phone to another. In addition, you can use the application to transfer data between phones on different platforms, for example, between an iPhone (iPhone 8) and an Android phone.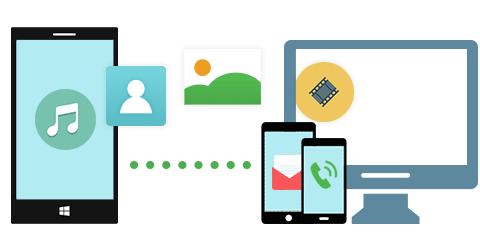 Key Features of iSkysoft Phone Transfer:
One-click data transfer
It is a great application for transferring phone data, and it allows you to instantly transfer your files between iOS, Android, Blackberry and Windows Phone devices. This is a great function that you can use to share your iPhone contacts between another iPhone or a smartphone across a different platform.
Backup and restore your phone's data
In addition to transferring phone data, iSkysoft Phone Transfer comes with a backup function that allows you to securely backup your phones data. The application also allows you to easily restore your data to your old phone or a new one in a simple process. This is a great function that helps to ensure that your phone's data remains safe, and you can always access it even if it is lost.
iCloud restore
iSkysoft Phone Transfer also comes with an iCloud restore function, which allows you to restore any data you have backed up on your iCloud account. This is a great feature when you want to restore your data into a new phone, but you do not have your old phone with you.
Multiple device support
iSkysoft Phone Transfer is a great data transfer application that supports a wide range of devices on different platforms, including Android, iOS, Windows phone and Blackberry.
---
Steps to How to Share Contacts on iPhone
Step 1: Launch the phone transfer
Install and launch iSkysoft Phone Transfer on your computer. On the application's main interface, Click on the "Phone to Phone Transfer".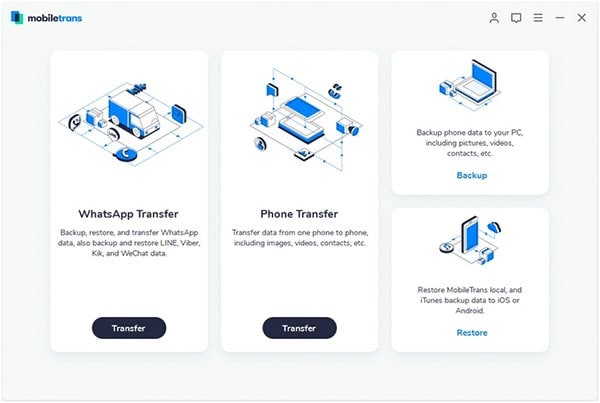 Step 2: Connect iPhone to computer
And then connect both iPhone to the computer using a USB cable and select a source and destination device. Once the phones have been connected, the application will start scanning the data on the source device and displayed it.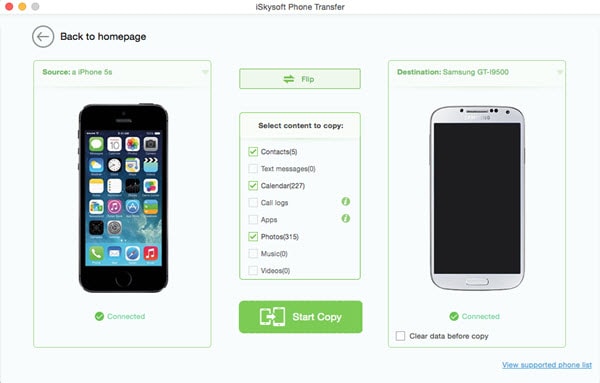 Step 3: Share multiple contacts on iPhone
On the displayed information, check on Conctacts and click on "Start Copy" to start to share all contacts on iPhone (including iPhone 8).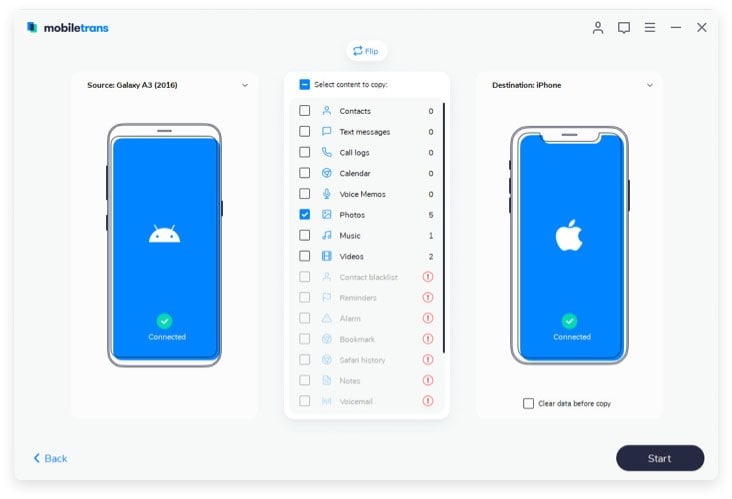 ---
Part 2: How to Share iPhone Contacts with Family Sharing
Family Sharing is a function that comes with iOS devices, which allows you to keep in touch with your family members. The function allows up to six people in the same family group to share iTunes, iBooks, and App Store purchases. Family Sharing can also be used to share calendars and contacts so as to keep everyone connected.
To share contacts using family share: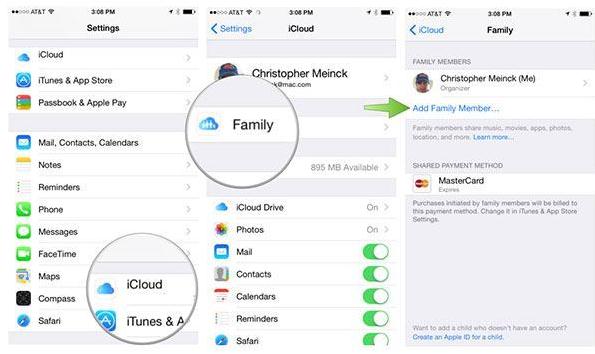 Step 1: Go to Settings > iCloud and select Set Up Family Sharing. Follow the onscreen instructions to finish the set up.
Step 2: Send an invite to other family members (a maximum of 5) who have Family Sharing set up on their devices.
Step 3: Once the Family members have joined, the Family Sharing features will be activated and you can start sharing contacts.
---
Part 3: How to Share Contacts on iPhone with iCloud
Another way in which you can share your iPhone's contact is using Apple's iCloud system. To share your contacts: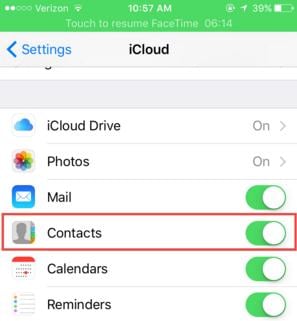 Step 1: Sync your iPhone contacts with the iCloud service.
Step 2: Go to www.icloud.com on your computer browser.
Step 3: Select the contacts you want to export and then click on "Export vCard". A VCF file containing the contacts will be downloaded on your computer.
Step 4: Plug in the phone you want to send the contacts to on your computer using a USB cable.
Step 5: Copy the VCF file to your phone's local storage.
Step 6: Go to the contacts app on your iPhone and import the contacts.
---
Part 4: How to Share Contacts on iPhone with Bluetooth
Bluetooth file sharing is one of the oldest methods of sharing contacts on phones, and it has been in use since the technology was introduced. However, your phone and the phone that is receiving the contacts must have the same Bluetooth application in order for the sharing to be successful. Some of the Bluetooth applications you can use to share contacts on iPhone include Bluetooth Share Free Application, iShareFiles application, and My Bluetooth Lite application.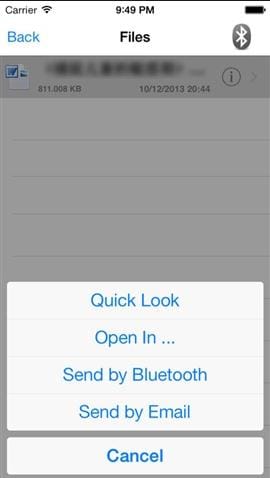 Step 1: Download and install a Bluetooth application on your iPhone. Ensure that the phone receiving has the same Bluetooth application.
Step 2: Launch the application on your phone and follow the instructions on how to complete the connection process.
Step 3: Go to the Contacts section and select the contacts you want to send.
Step 4: On the options, select "Send by Bluetooth" to start sharing the contacts.