Apple isn't the only device that allows switching from Android. Microsoft has an app called Switch to Windows Phone app specifically dedicated to the switching from Android to Windows. This app also enables the transfer of text messages, media and contacts from Android to Windows device without any hassles. This app seems to be a good attempt at breaking the barriers in the adoption process. However, this would have been more useful if integration of restoring or backup platform would have been offered.
Around 80% of cell phone users in the world have their devices powered by Android. Competitors like Apple are trying to develop strategies to convince the Android users to switch to their technology. Microsoft has as well jumped into this race of offering migration feature. For this, you'll have to install the Switch to Windows phone app on both the Windows and the Android device. The transfer process needs to be initiated on the Android side. During the transfer process, the data is temporarily saved by the app on the Microsoft's One Drive servers and can be retrieved once the Windows device is all set for use. This needs to be done when the Windows device is not yet ready. If the phone is ready, then a direct transfer can be initiated from the Android cell phone and the data transfer can be done with the aid of local WiFi.
The Best Alternative to Switch to Windows Phone App
The Switch to Windows App poses few problems to the users. There are several alternatives available for this app. However, the best one is Phone Transfer (or MobileTrans for Mac). This app is an easy to use app for file transfer from various devices to Windows Phone in just a matter of a click. Photos, messages, sms, calendar, contacts, call history, music, video and apps can be transferred with Transfer app. Whether you are upgrading your phone or switching it, you can transfer original data in an easier manner. This app is highly recommended for Windows 10 users.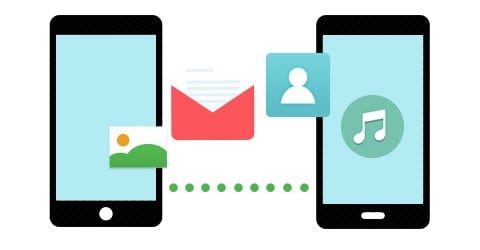 Why Choose This Switch to Windows Phone Alternative:
• Quick, easy and safe transfer of data from iPhone, iPod, Nokia and Android Phone.
• Transfer of data to a personal computer which can later to backed to other devices.
• Easy retrieval of information such as contacts, messages on new devices.
• Easy transfer of iTunes playlists to other devices such as Symbian Phone, iPad, iPhone, Android Phone and iPod touch.
• Transfer of data from the backup created on cloud storage devices.
• Easy restoration of data from other devices.
• Seamless transfer of data from one device to another.
• Easy backup of phone data and then restoration of data from iCloud backup, Samsung Kies backup and iTunes backup.
• Cross platform transfer between various devices such as Blackberry, Android, Symbian, Windows Phone and iOS.
Steps to Transfer Files to Windows Phone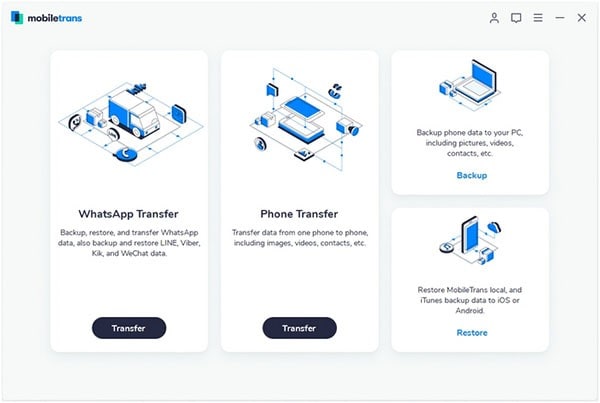 Step 1: Download Switch to Windows Phone alternative app
Download the Phone Transfer software. And install the software by following the built-in instruction. And then launch the program. Select the "Phone to Phone Transfer" tab and then select the Start option to access the transfer window.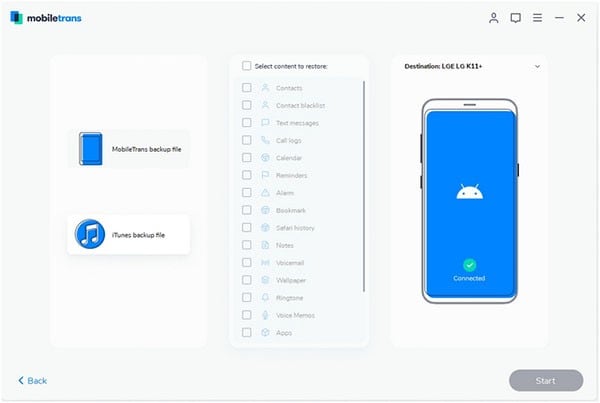 Step 2: Connect the devices to the computer
Use the USB cable and connect any two devices which could be an Android, a Symbian device or a Windows device to the computer. After successful connection has been established, the software will automatically scan the device.