"Is there any safe way to transfer photos, videos, SMS, Contacts and other files from Symbian to Android?" The web is filled with solutions and questions about how one can transfer data from one phone to another. Some ask this because they have bought a new phone and want to get rid of the old device. Some may want to know how to transfer from one device to another simply because they want their data all across the devices that they frequently use.
However, the tragedy is that there may be only a few solutions that work for you. There are many tools and soft wares that let you copy all your data to another device but these methods have proved to be very time-consuming and hence inefficient. We will therefore look at one simple way by which you can transfer data from Symbian to Android.
How to Transfer Contacts and other Data from Symbian to Android
Symbian is a mobile operating system (OS) and computing platform designed for smartphones. But it is discontinued now. Therefore, the current phone transfer software does not work if you want to transfer data from Symbian. Here we'll introduce a traditional and effective way to transfer contacts and other data to Android phone.
Step 1. Connect your Nokia Symbian phone and Android devices to the same computer via USB cables.
Step 2. After recognized, synce your Nokia Symbian phone contacts with Nokia Suite.
Step 3. Go to Contacts, then select the contacts you want to transfer to your Android phone.
Step 4. Go to File > Export Contacts, then save the contacts in a folder in the format of .vcf, now you can see the .vcf file in that folder.
Step 5. Transfer the .vcf file to your Android phone, go to Contacts section of your Android mobile. Setting > Import from Phone memory/ SD Card
In this way, you can transfer contacts from Nokia Symbian to Android phone successfuly.
If you also want to transfer videos, photos or other data between Android phones, or between Android and iOS devices, MobileTrans will be an ideal choice. The program is designed as such that it will enable you to transfer files simultaneously and in a very little amount of time. You can transfer videos, music, contacts etc. in just a click.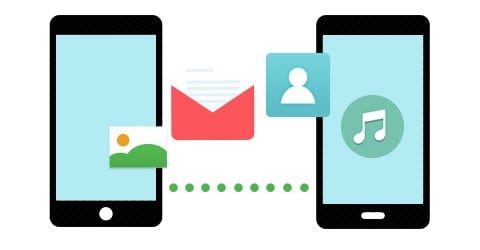 Also see more features:
1) Transfer files in just a click
With Phone Transfer, it is all just a matter of click. The software is very easy to use. You can transfer all your videos, music, contacts, movies and much more in just a click.
2) It does not matter which platform you have
This phone to phone transfer tool makes you get away with this problem by having support for almost all platforms you can think of. You can transfer files between Symbian and Android, Android and iOS, iOS and Nokia, BlackBerry and iOS, etc.
3) Never worry about losing important data
Phone Transfer can help you to back up the files. It is a program built not just for transferring files but also for helping you back-up your data easily and safely.