More Apps available in the market, it proves to be the most appreciated part of technology. SmartPhones and the Android systems seem to be taking a leading front. Obviously, by now you know that you can use your Android device to control remotely other devices. This piece is about top 3 best iTunes Remote Android Apps that one can easily download from Google Play Store.
What is Android Remote for iTunes?
Simply explained, this is an Android App that that is specially designed to enable you to use your Android device as a remote for iTunes. iTunes remote Android Apps have had positive reviews from its users, below are 3 top Apps that are selected concerning their functionality, performance and users' experience. Check out their features and drawback to know which App wiil fully surve your needs.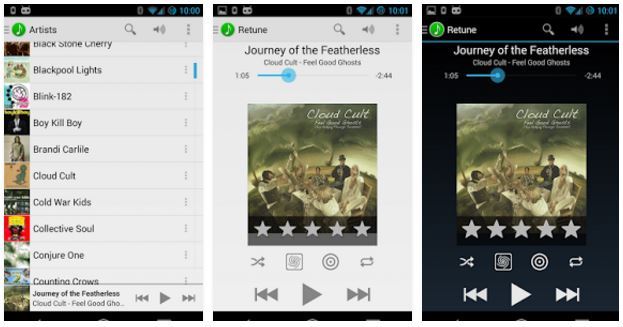 This unique iTunes Remote App allows you to use your Android Smart-device to control your iTunes. You can use this App to change TV shows, songs, and movies from any range within your home. You should also note that Retune comes in different versions including the recent iTunes 11.
Supported DACP Servers
•AlbumPlayer TouchRemote
•iTunes v10 to latest versions
•MonkeyTunes for the MediaMonkey v1.7.1.1
Retune Features
•You can view all your iTunes albums, songs, artists, genres, and composers.
•Play and view all iTunes TV shows, rentals, movies, iTunes U courses, podcasts, and audiobooks.
•Search for your media files including; TV Shows, iTunes U courses, podcasts, movies, and music.
•Set the iTunes speakers that you want to use and the volume level.
•Shared library and support
•iTunes Radio support ( for iTunes 11.1 )
•Supports both tablets as well as phones.
•Able to control the iTunes volume using the Android device's volume buttons
•Can pause the song playing when you receive a call and automatically continue playing afterwards.
•It has a sidebar support for easy and quick navigation.
•Retunes is abundant in features, and you can always take a look at the official site before you install.
What is the drawback?
•Retunes seems to be a well appreciated App considering the numerous positive reviews. Nevertheless, you could face some compatibility and support issues considering the different versions of iTunes.
---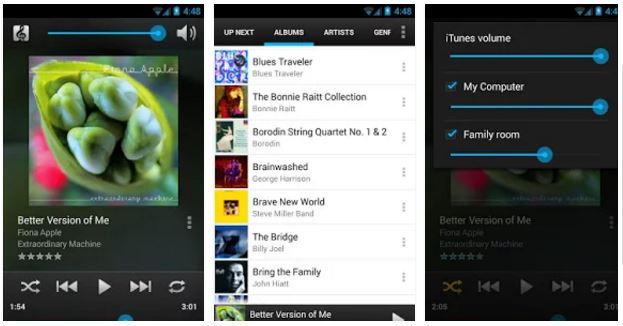 This is one of the top rated Android iTunes Remote Apps available in Google play store. It is a full-featured, reliable App for controlling your iTunes. With this App installed on your Android device, you can control iTunes connected via Wi-Fi.
Remote for iTunes Features
•Tablet support.
•Search iTunes library.
•Pro quality, and very easy to use.
•It will pause when you get a phone though it requires the phone's permission.
•Ability to connect to several iTunes.
•Rate and view track ratings.
•Wi-Fi auto-reconnect/Stay-connected.
•Start your Genius playlist from the current track.
•Use your Android device's controls to adjust the iTunes volume.
Remote for iTunes proves to be a versatile App with so many features that aren't listed above.
What is the drawback?
•The app is not free, and you eventually have to purchase the Full version.
•Unfortunately, Remote for iTunes application appearance, user-interface and features vary with the Android version of the device.
---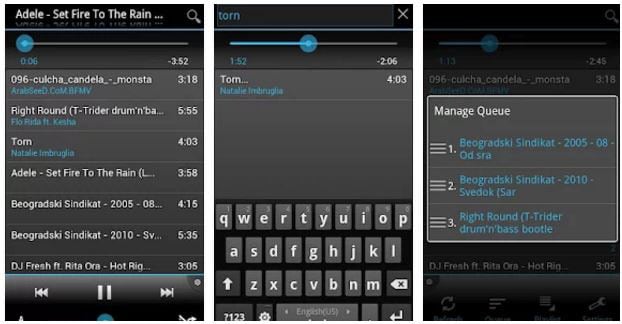 This is a free iTunes remote for Android. You can as well use it to play, forward, pause, and adjust volume in just a simple click.
Tengai's iRemote FREE Features
•With a single swipe, you can create a concurrent playlist
•Easy to setup
•Beautiful home-screen widget
•Works on both PC and Mac
What is the drawback?
Tengai's iRemote Free is quite a simple App with little drawback including bugs related to the version installed.
It is always nice to have a remote power to your iTunes, with the availability of numerous Android remote for iTunes it can be challenging to choose the right App for your needs. Though features and compatibility will vary depending on the Android version of the device, the above list can be quite helpful as you search for the best. Always install Apps from a trusted source to ensure that you only use genuine and reliable products.