If you have been using iTunes on your Mac or PC to manage your music files, you may be wondering how to transfer iTunes to Android. Even though Apple's music manager hides a lot of details like file formats and locations, and direct synchronization to Android is not avaliable, you can still transfer music files from iTunes to Android. With the help of these six third party apps, your desire to transfer iTunes to Android can easily become a reality.
There are several methods that you can use for transferring iTunes to Android Phone. Let us delve into them:
#1: How to Transfer iTunes to Android with Phone Transfer
The easiest way to transfer iTunes to Android is using MobileTrans for Mac (or MobileTrans for Windows). This software allows you to restore data from iTunes backup, iCloud backup and BlackBerry back. You can also transfer photos, SMS, call history, apps, music, video, contacts and calendar between iOS, Blackberry, Symbian OS, and Android OS in a single click.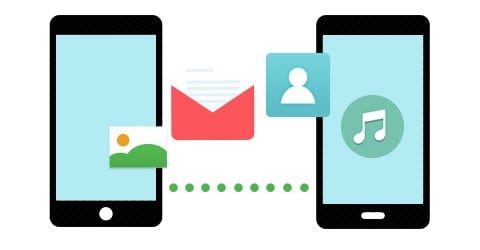 Here are some of its great features:
Backing up your phone data to your PC
Scanning and erasing data from your old phone
Retrieving data to your phone
Transfer data from phone to phone
---
Steps to transfer iTunes to Android Phone on Mac
Step 1: Download iSkysoft Phone Transfer. Install it on your computer and launch it.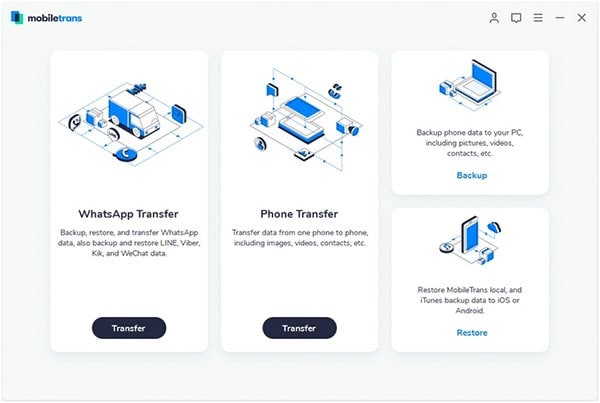 Step 2: Connect your Android device to your Mac using USB cables. Go to the "Restore From Backups" tab and select "from iTunes backup file".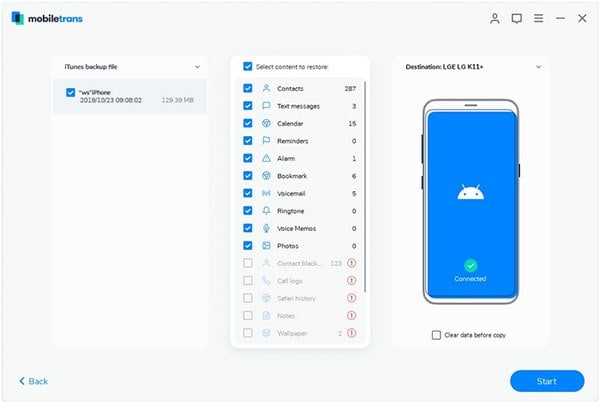 Step 3: Check the contents and click "Start Copy" to start transferring iTunes to Android phone on Mac.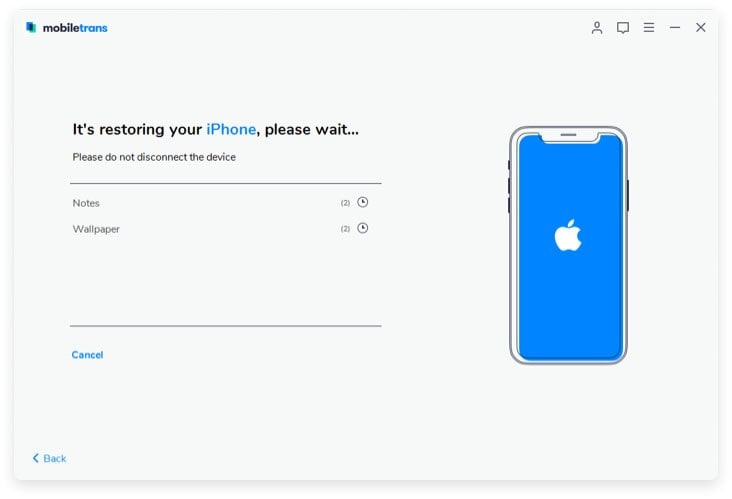 As you can see, transferring iTunes to your Android need not be an uphill task. iSkysoft Phone Transfer is undoubtedly the best option as you need not manually copy and paste the files from iTunes or have a Google account.
---
#2: How to Transfer iTunes to Android with Google Play
If it is tedious, time-consuming, and causing you a lot of effort to keep sets of your favorite songs to your device, how much more if you have other devices you also want to store music in? As an example, gone are the days wherein you need to re-download the content to your Android devices that are not compatible with Apple Products, thanks to technology and the help of iTunes to Android Transfer app. Let's all face it. Apple's monopolistic flair when it comes to transferring music and files can be downright frustrating. It's not a problem when all your devices are all compatible with each other. That is, all being Apple or all being Android. But the problem lies when you have to transfer music from iTunes to Android or vice versa. Good thing there's an application that can do just that. As the name implies, this app from both AppStore and Google Play lets you transfer your music from your Iphone to any Android devices like Samsung, HTC, Sony, and more. With its easy to use feature, you can now listen to your favorite songs without being tied down to only one device. The best news is, you don't have to re-download music again. All you have to do is sync them using iTunes to Android Transfer app in Google Play.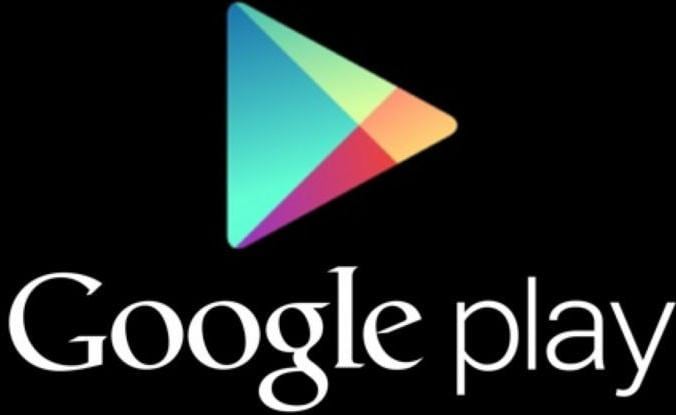 Pros:
You can transfer your music without worrying about compatibility between devices.
It transfers music fast.
It has easy-to-follow instructions.
Cons:
Few people are familiar with the app and it has low referral reputation.
It has lengthy instructions that should be properly followed.
It has an interface that is not quite clear and misleading for some.
---
#3: How to Transfer iTunes to Android with DoubleTwist
DoubleTwist is your go-to app for all your music playback needs. That is, it merges all your songs into one podcast so you don't have to jump from other music application to another. This music player app is a whole new experience as it proves how it has become easier and faster now to keep your songs and your playlists without having to worry about re-saving and re-downloading music, because it can now sync them with your Apple and Android Devices like Samsung, HTC, Sony and more into one podcast, it provides less hassle and more fun to most users.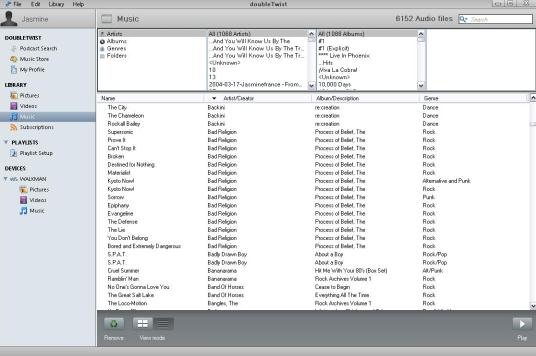 Pros:
1. It syncs all your songs and gathers them into one podcast so you need not worry about using other music apps for playback
It has a good sound equalizer that users can adjust for better listening experience.
It has lock screen controls so users can manipulate the player even without unlocking the device
It supports MTP sync on windows 7, AirSync and Airplay.
It has great integration with iTunes.
Cons:
The app crashes sometimes. Although, the app is still in its trial and error development stages.
It doesn't play and support "flac" file types.
Long video ads cannot be skipped in free versions of the app.
Player needs resetting if some files are not recognized and copied.
It doesn't have gapless playback.
You have to pay for other features to work.
---
#4: How to Transfer iTunes to Android with AirSync
AirSync is an excellent add-on feature that comes with the doubleTwist app for Android. AirSync enables you to keep your iTunes music collection synchronized with your Android device without connecting a USB cable. Once a wireless connection is established between your Mac/PC and your Android device, Airsync will sync music on itunes to Android.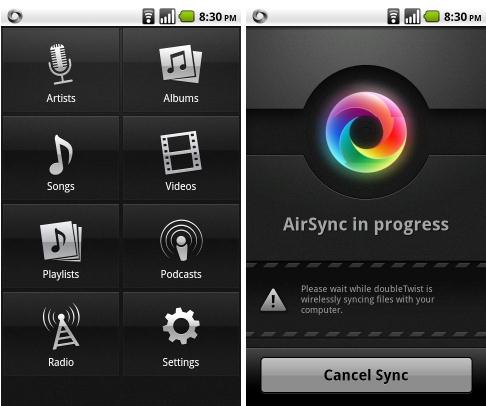 How to Use:
To use AirSync to transfer music from your PC, you need to install doubleTwist and AirSync through the Android Market. A small fee is usually charged for installing AirSync. To pair your Android device with your computer, you must use the unique number that will be shown on your Android device. Usually, the doubleTwist client on your PC will request for this number once it has detected your mobile device. After this has been done, your device will appear in doubleTwist and you can transfer your music.
---
#5: Transfer iTunes to Android Using Sync iTunes with Android
Sync iTunes with Android enables you to transfer your music, playlists, videos and podcasts from iTunes to any Android through a wireless connection. The app is also called Synctunes wireless pro. It is compatible with Mac and Windows as well as Android tablets and smartphones. It organizes the songs you have transferred by artist and album on your mobile device and allows you to filter the tracks you want to synchronize.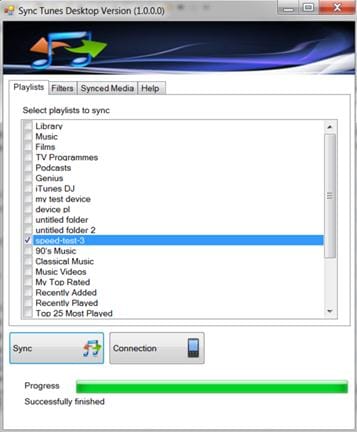 How to Use:
To use the Sync iTunes with Android Pro, you must uninstall the free version first. Then install the paid version on your Android device and the desktop client on your PC or Mac. After installation, ensure that your Android device and computer are connected on the same Wi-Fi network. Then start the Synctunes app on your Android device. Next, load the Synctunes desktop app on your computer. It will auto detect your Android device and request for an ip and port number to connect to the Android device. Type them in and allow it to connect. Then you can drag and drop your iTunes playlists to sychronize them on Android.
---
#6: Transfer iTunes to Android Using iTunes to Android Sync-Windows
Android Sync-Windows can be used to transfer iTunes media files from a Windows PC to an Android tablet or smartphone. It enables you to transfer playlists, podcasts, videos, music and other iTunes files to Android and then you can sort them by album or artist. This app is actually the free version of Synctunes wireless. It allows you to sync a maximum of 100 songs per session. It is advisable to try this version before using the paid version.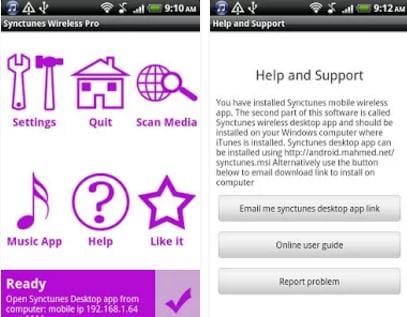 How to Use:
The free version works with a free windows application. To use it, you need to install the Android app from the Google play store. Then install the windows application. Connect your Android device and PC on the same Wi-Fi network, then note the port number and IP address of your Android device. Install the Synctunes windows desktop app. After installation, the app will start automatically. Enter the required IP address and port number and then you can select the playlist you want to sync to your mobile device.