When it comes to transferring data from one phone to another, someone has to think of the most effective and efficient phone content transfer tool. A majority of people are aware of iTune and iCloud phone transfer devices. Although they offer an excellent service in migrating content from one phone to another, they do have challenges that make them not to be the best phone transfer tool on the market today. For instance, iTune and iPhone take too much time to backup and restore messages. Also, the dual do not move the photo library and none purchased movies and music. Additionally, there are high risks of losing text messages especially when they are transferred in huge numbers or volumes.
How to Transfer Messages from iPhone to iPhone Using iSkysoft Phone Transfer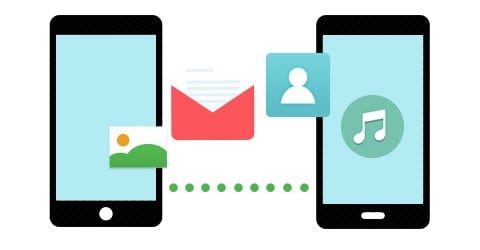 However, the above challenges can be overcome by only using a more advanced program, MobileTrans for Mac (or MobileTrans for Windows). iSkysoft phone transfer for Mac or Windows is a state of the art software that support and facilitate efficient content transfer from one iPhone to the other without losing a single content. The software is 100% free and is available online for use by everyone. The better with iSkysoft, an excellent mobile transfer tool, is that it helps you transfer content to another phone in case your iPhone (iPhone 8) does not have enough memory so that you can restore them later in your phone.
More features of iSkysoft phone transfer for Mac or Windows.
The software offers unlimited phone transfer including email address, company names, lyrics, playlist text messages, multimedia messages, photo album, contacts and many more.
iSkysoft phone transfer is more than a phone transfer tool; it is also an excellent backup tool that allows you to backup your phone content safely in your computer.
It supports data retrieval from iCloud backup. Additionally, it helps you restore data from phone transfer. You are able to restore data that you transferred to another phone anytime you want.
It is an easy-to-use phone transfer software. It easily and quickly backup content from iPhone, iPad, Nokia phone, Android phone, iPod to PC.
Ability to restore data from multiple backup modes
Supports multiple restore from multiple backup modes including iTunes backup, iCloud backups, Blackberry backups, Samsung Kies backup and many more.
---
How to Transfer iMessage Texts and SMS from iPhone to iPhone (iPhone 7)
Step 1: Download and launch the software
Launch iSkysoft phone transfer for mac or windows in your computer by double-clicking on its icon. In case you do not have the program already installed in your computer, consider downloading it online free of charge.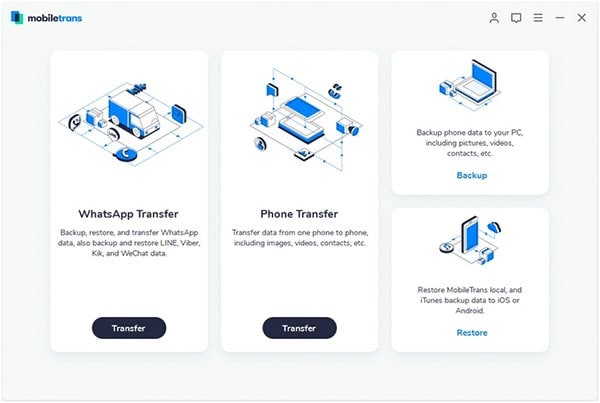 Step 2: Connect two iPhones to the computer via USB cables
Connect your iPhones to the computer using the USB cables. When connecting, authorize you iPhone to Mac and continue. Click on the tab "PHONE TO PHONE TRANSFER" to open the transfer window. The two iPhones will be shown on the interface of the program. The source device will be identified for you.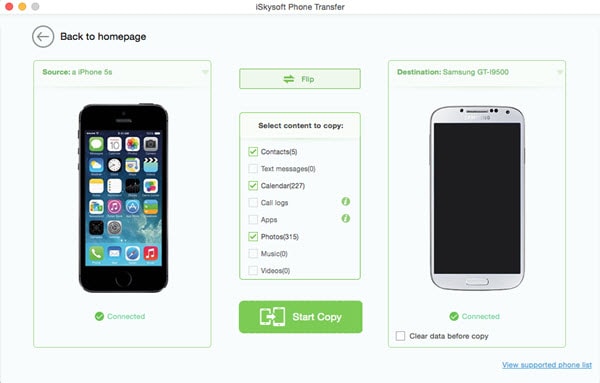 Step 3: Check and start transferring the messages from iPhone to iPhone
Start phone to phone transfer. Check and select the iMessage texts and SMS file and click the "START COPY" button. The software will start transferring the messages one after the other till all of them are transferred completely. You can also check other data to transfer to your new iPhone.
With iSkysoft phone transfer tool, you can get all of the content in your old iPhone to your new iPhone safely and securely. What a wonderful phone data transfer tool.